Separated by 66 years but drawn together by an Oxy bumper sticker, David Wigglesworth '50 M'53 and Keegan McChesney '16 became fast friends a decade ago. Keegan remembers his oldest friend, who passed away in March
I had completed my first year of studies at Occidental when a serendipitous encounter in July 2012 sparked the beginning of a decade-long intergenerational friendship. My mom's car, adorned with an Oxy bumper sticker, was parked outside the Kirkland (Wash.) Library. A passerby saw the sticker and left a simple note (with his email) on the windshield: "Hi Oxy-ite! David Wigglesworth, Occidental Class of '50." My mom sent me a photo of the note, and I emailed Dave later that day.
When I met him for lunch, Dave was 85, retired, and new to the Seattle area—having moved with his wife, Gayle, to be closer to family. Despite the 66-year age gap, we became fast friends. That summer I took Dave to a Sounders soccer match and gave him a tour of Seattle. We became so smitten with each other that we both wrote articles about our unlikely friendship: Dave for Occidental magazine and I for the Oxy Weekly .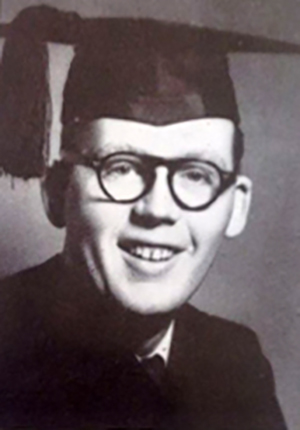 Long before our chance meeting, Dave had lived an extraordinary life. A native of Passaic, N.J., he majored in political science as an undergraduate at Occidental and returned to complete a master's degree in 1953 (his thesis studied the history of water in California). During the Korean War, he served as an instructor in the U.S. Army Infantry Leadership Course at Fort Dix, N.J. He then utilized his G.I. Bill to get a Ph.D. in cultural anthropology from the University of Florida. His studies took him to Mexico, where he met his first wife, Rita. There he taught and had his first son, Mitch; three more children (Marc, Miles, and Janet) followed.
The family moved across the world as opportunities arose. Dave worked as a consultant on international and organizational development projects and served on the faculties of universities and colleges in Mexico, Myanmar, Guinea, and Libya. In 1973, Rita tragically passed away, leaving Dave a widowed father of four.
Eight years later, at a dinner party in the Bay Area, Dave met Gayle Coates, a bank executive and future mystery novelist. They fell in love, married, and joined families; thus, Dave adopted his fifth child, Danielle.
Dave and I bonded over literature, history, politics, and world affairs. As I studied and traveled the world, we stayed in touch via email, getting together whenever I was back in town. One day he gave me a priceless gift: original copies of the Lanny Budd Novels series by Upton Sinclair, which were among the few works Dave held on to after he and Gayle donated their vast collection of thousands of books to the Houston Public Library.
My junior year, after returning from a semester abroad in Nepal, Dave gave me another precious gift—a beautiful 120-year-old hand-carved wooden artifact that still hangs in my house today, with this note taped to the back:
"In 1958, I went to Rangoon, Burma (now Myanmar) for a two-year stay as a director at the Burma-America Institute … a friend went to Nepal and brought us this. It was reported at that time to be at least 50 years old and is said to be a lintel above a doorway. It is a piece of Nepal that I think you might like to have."
The last time I saw Dave was back in February, just weeks before his death on March 4 at the age of 95. His beloved Gayle had passed away last October. We went out to lunch and caught up, as old friends do. He reflected on his long life and offered poignant advice on mine.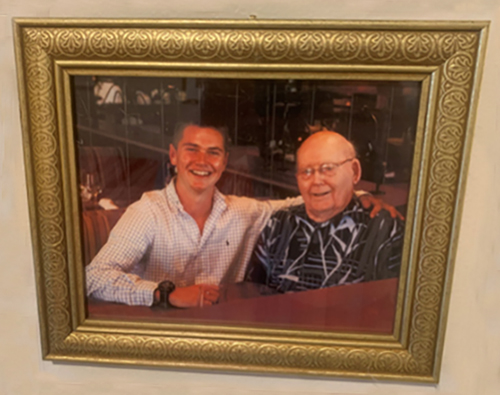 After our meal, Dave invited me over to his place, having recently downsized to a studio apartment. Dave had given up most of his material possessions; a dozen or so framed paintings and pictures were among his few remaining items. As I scanned the walls, I noticed a familiar photo: the two of us sitting at Hector's, the restaurant where we first met.
Our friendship meant a lot to both of us, and for that we have Oxy to thank.
Dave was a dear friend and mentor; he had a tremendous, positive impact on my life. He encouraged me to pursue my dreams, be a global citizen, and a lifelong learner. I miss him dearly, but I will carry his friendship with me for the rest of my days.
Thanks, Dave, for everything. 
Keegan McChesney '16 lives in Seattle, where he works for LISC (Local Initiatives Support Corporation), a national nonprofit focused on affordable housing and community development.