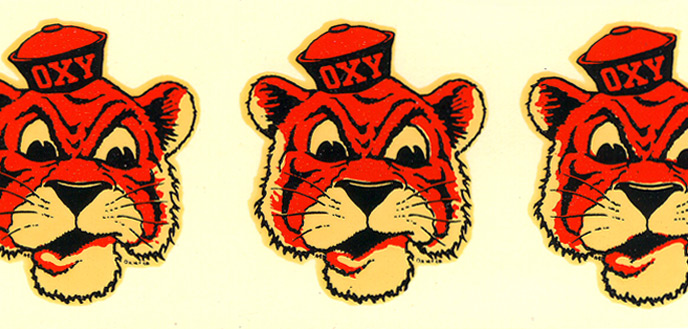 Oxy's oldest—and most popular—Oswald logo was created in the 1930s by a decal manufacturer in Los Angeles. And boy, did he get around. Here's the untold story of one tiger's many aliases—and the most prolific artist of the 20th century you've never heard of 
When a papier-mache tiger that had been trotted out for athletics com­petitions for nearly a quarter-century was "destroyed in a student melee" in February 1948, as The origin of the name is simple enough.Occidental Magazine reported the story, Mrs. William T. Carlisle of Chicago (mother of Oxy student Alzada Carlisle) ponied up for his successor. The following September, she presented the College with an 80-pound replacement modeled after a mounted tiger specimen in Chicago's Field Museum. The Carlisles were honored in a ceremony at the Huntington Hotel in Pasadena attended by President Arthur G. Coons '20 and student leaders, who promptly christened the new tiger "Oswald."
While the 1948 bengal was supplanted by a costumed mascot in the 1950s, cartoon likenesses of Oswald retain a prominent place in the College's graphic identity. There have been countless depictions over the decades—Tom Trotter '50's series of Fang covers are among the best-remembered—but the most timeless image of all may be that of Oswald in a sailor cap, the letters OXY emblazoned across the brim, with a slightly puckered puss that manages to be angry and endearing in equal measure.
Introduced in the 1930s, Classic Oswald (as we'll call him) was revived more than a decade ago as a symbol for Tiger Club, the College's athletics booster organization. That precipitated a new wave of merchandise sold in the Oxy bookstore: pennants, frames, keychains, blankets, T-shirts, sweatshirts, magnets, stickers, even a nail file. Not bad for a tiger in his 70s—and a uniquely Oxy image.
Only he isn't remotely uniquely Oxy.
To alumni of the University of the Pacific in Stockton, he's known as "Tommy Tiger." Auburn University's legions of football fanatics refer to him as "Aubie."The nation's 33rd president and Show Me State native provided the moniker for "Truman the Tiger" at the University of Missouri. But to devotees of Louisiana State University, he'll always be "Sailor Mike."
And that's only scratching the surface. In What's in a Nickname? Exploring the Jungle of College Athletic Mascots, a study of more than 2,000 colleges by author Ray Franks revealed that the Tiger was second only to the Eagle among the most popular mascots, with 68 colleges and junior colleges adopting the symbol "largely due to the popularity of that sleek and powerful animal at Princeton University."
The strong associations between colleges and their cartoon mascots prompted Franks, a veteran sports information director from Amarillo, Texas, to publish What's in a Nickname? in 1982. (His book inspired Roy E. Yarbrough, director of sport management studies at California University of Pennsylvania, to write Mascots: The History of Senior College & University Mascots Nicknames, in 1998. A third edition is in the works.)
Franks awarded Arthur Evans—head artist for the Angelus Pacific Co. of Fullerton from 1932 until his retirement in 1977—the moniker of "Most Prolific Cartoonist," reporting that he was responsible for at least "90 percent of the college mascots" being used at the time. "Art Evans is a legend around here," longtime Angelus office manager Jean Ruppe is quoted as saying. "Colleges and high schools would send a rough idea of what they wanted, and Art would get busy and come up with a sports mascot."
"Your Oswald was drawn by Arthur Evans—Dad always said you could tell Arthur's work by the eyes," says Tim Waddell, president of Angelus since 1993 (following in the footsteps of his father, Stanton Waddell, and his grandfather, company founder Hugh C. Waddell Jr.). But as to where he appeared first—well, that's anybody's guess. "Back when your tiger was originally done, nobody had even heard the word licensing," Waddell says. "If Art drew a good tiger and somebody wanted a tiger, we used it."
The situation is hardly unique to tigers, of course. The original "Joe Bruin" logo for UCLA was also employed by the U.S. Coast Guard Academy, Ursinus College, Cornell University, and countless high schools. And the University of North Carolina at Chapel Hill's familiar ram mascot was adopted by Cornell College in Iowa and Fordham University, among others.
During his 45-year career at Angelus, Evans (who died in 1981) penned an astonishing assemblage of many of the best-known icons of college and universities from coast to coast. A 1963 trade ad for Angelus shows more than 100 mascots, a Who's Who of Division I giants that includes the Duke Blue Devil, the Purdue Boilermaker, USC's Tommy Trojan, Oregon State's Benny Beaver, the Georgia Bulldog, the Oklahoma Aggies, and many more. Even Pomona's Cecil Sagehen—Oswald's oldest rival—is an Arthur Evans original.
The more you study the art of college mascots, the easier it is to make a case for Evans as the most prolific cartoonist of the 20th century you're never heard of. "Other printers also copied Arthur's designs and sold them not only to schools but to anyone who wanted a mascot," says Waddell, who joined the family business at age 15 and later graduated from Cal State Fullerton with a B.S. in business management. "I see Art's work on all kinds of stuff."
College merchandising was in its infancy when Hugh Waddell founded Angelus in 1932, nine years after the creation of the National Association of College Stores, a trade association based in Oberlin, Ohio. Waddell got his start making customized tire covers for auto clubs and the like, back when spare tires were mounted on the exteriors of cars. "Business was going along great until somebody back in Detroit came up with the great idea in putting the spare tire in the trunk," Tim Waddell says, and that necessitated a new business model for Angelus.
Somewhere in his travels Hugh Waddell met an Ames, Iowa, businessman who made customized T-shirts and pennants. That inspired him to tap into the college bookstore market—and, armed with a portfolio of Evans' artwork, he began criss-crossing the country pitching the mascots and logos that would drive the company business for decades to follow. Hugh Waddell served two terms on the NACS board of trustees, and Angelus carved out a large niche of the ­college decal market, alongside Potter Manufacturing of Eugene, Ore. (founded in 1923), and Pine Decals of Olathe, Kan. (founded in 1963).
For the body of work Evans left behind, details on the artist himself are in short supply. "I think he may have been a friend of Bill Knost, who was the general manager when Angelus started," Tim Waddell says. "I know he worked for Disney for a while, and he decided that he would rather work with my grandfather. He really enjoyed his work."
In an era when licensed merchandise generates $4.3 billion in sales of collegiate licensed merchandise annually, it's become essential for colleges and universities to trademark their most popular logos. That prompted most of them to revamp their existing artwork in the last couple of decades, sidelining many of Evans' most popular (and impossible-to-trademark) creations. Furthermore, the 1990s and 2000s ushered in a bigger, fiercer age of mascots—ones who spent more hours in the weight room. (The current Oxy Athletics logo reflects this trend.)
The resurgence in popularity for some of Evans' classic creations suggests that newer isn't necessarily better. And more than 70 years after his creation, feelings for Classic Oswald run deep among his many suitors.
A recent claim by the son and nephew of W.A. Prescott that the University of Alabama graduate created the logo for LSU—where Sailor Mike is also known as "Mike the Tiger"—was met with a shudder by a graduate of bitter rival Auburn who writes about sports under the handle "WarBlogle."
"In another sick twist, the article goes on to say that Prescott and his brother-in-law went on to open J&M Bookstore in Auburn," he wrote. "Is this some kind of joke? Next are you going to tell me that the Toomer's trees were actually planted by ­Harvey Updyke's great-great-grandfather?" [Updyke is the University of Alabama fan who was charged in 2010 with poisoning Auburn's famous century-old oak trees.]
There's no supporting evidence to suggest that Prescott had a hand in the creation of the logo; in its own literature, Angelus refers to the image as the "Auburn Comic Tiger." But part of the appeal of Sailor Mike to LSU fans "is that it was one of the primary tiger marks used during a very successful period for LSU athletics which included the university's first football national championship [in 1958]," says Brian Hommel, director of LSU Trademark Licensing.
So what's the bottom line? In a 1963 trade ad for Angelus, an ambush of bengals crowd around the message "A Tiger … is a Tiger … is a Tiger. … We've made them tough and fierce, happy and comic, educated and versatile, but every one a 'Tiger.'" If Oswald, Aubie, Tommy, Truman, and Sailor Mike can all just get along, we can all learn to share.