From meeting the president to dressing up as reindeer, Campaign Semester was rewarding and unpredictable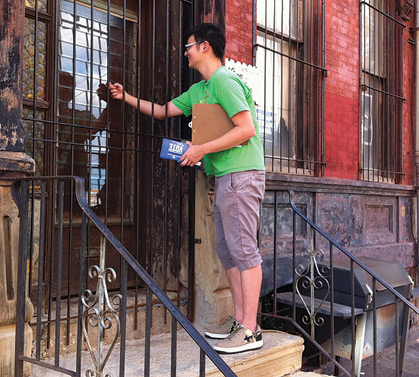 Steven Lin '14 was a little nervous at first. As an information coordinator and canvassing director with the Obama for America team in northwest Philadelphia—an area blighted by crime and drug-dealing—"I was knocking on doors that I had never before imagined I would knock on," the Taiwan native recalls. But he and his teammates firmly believed that they could help President Obama win re-election. And due to their efforts, Lin says, "registered voters in the region increased by 15.1 percent, and almost 98 percent chose Obama. We are proud that our hard work paid off."
In a classroom that stretched from Honolulu to Boston, 32 Oxy students learned real-world lessons this fall as participants in Campaign Semester, the only program in the country that offers a full semester of college credit for working on a political campaign. Coordinated by politics professors Peter Dreier and Regina Freer, Campaign Semester gives Oxy students an opportunity to learn about the political process firsthand.
"Some of their candidates win, and others lose—but either way, this is a life-changing experience for many students," says Dreier, the E.P. Clapp Distinguished Professor of Politics and chair of the urban and environmental policy department. "They work harder than they've ever worked before, but they love the excitement, and they learn that they can do things they never thought they could do."
Campaign Semester was created in fall 2008 because so many students wanted to volunteer for Barack Obama '83's historic presidential bid. It was reprised for the midterm elections in 2010. This year, participants toiled for 10 weeks for both Obama and Mitt Romney in four battleground states, as well as seven hotly contested Senate campaigns nationwide.
The program is open to all students, regardless of major. "I am a novice when it comes to politics, and I knew I would learn more working on a campaign than anywhere else," says Shannon O'Hara '15, who worked for former Hawaii Gov. Linda Lingle's GOP Senate campaign. (Lingle lost.)
Participants were required to keep a detailed weekly journal throughout their time in the field. After Election Day, they returned to Oxy for a five-week seminar to put Campaign Semester in a broader context by completing assigned readings, writing a research paper based on their observations, and giving a public presentation on campus. We asked them about the experience as well.
Madeleine Toll '15 (worked for Sen. Claire McCaskill in Missouri): I wish I could fully describe the feeling of being done with the election. I worked 15-hour days most of the time (closer to 20-hour days near the end). I spent that time doing a few specific tasks: reconfirmation calls in the morning; training volunteers on our automated dialer system and/or canvassing; making more confirmation calls; entering data at night; and creating the canvassing packets for the next morning.
Nathan Reynolds '15 (worked for Sen. Sherrod Brown in Columbus, Ohio): Kevin Coleman '14 and I did just about everything and have an endless supply of great stories. We dressed as reindeer and protested outside a Romney rally; we had the police called on us for another small protest; and we helped set up press conferences.
Genesis Coronado '14 (worked for Sen.-elect Tim Kaine in Virginia): Even though working on a campaign can be extremely exhausting, I would recommend it to every student out there who is interested in getting a hands-on political experience.
Mason Atkins '15 (worked for Sen.-elect Elizabeth Warren in Boston): For the Get Out the Vote weekend, I was moved from the finance department (where I was the intern) to campaign operations. I helped take inventory of supplies we needed for phone banking and to send to field offices from our campaign headquarters. On Election Day I was stationed at Boston College to drive students to the polls. I ended up driving close to 50 students that day.
You could have cut the tension with a knife before the results were counted and the networks called it a victory for the Warren campaign. Then it was on to the Fairmont Hotel for the victory party. Sen.-elect Warren delivered a beautiful speech; she closed by bringing up that Ted Kennedy's first election to the Senate was 50 years ago that day. There were no dry eyes left after that.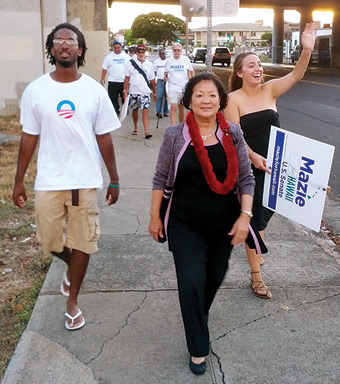 Gregory Earnest '14 (worked for Sen.-elect Mazie Hirono in Honolulu): Now that the campaign is over, I am not sure what to do with myself. I went from 100 mph to about 15 mph overnight. Our professors warned us about the hectic work schedule, but I did not know about all of the wonderful connections I would make. Since the staff on this Senate campaign was a bit short-handed, I was able to experience things that other interns usually don't. The volunteers here showed me so much love, and always took me out for food or over to their houses.
Karthik Raman '15 (worked for the Obama campaign in Philadelphia): Much of my work was geared toward the construction and maintenance of a neighborhood team. I also got the opportunity to meet some of the president's surrogates, such as Kathleen Sebelius, secretary of Health and Human Services, and Kamala Harris, California's attorney general. It was a lot of work to make sure we would get out the vote, but the results on Election Day made all that work worth it.
George Summers '15 (worked for the Obama campaign in Alexandria, Va.): There was quite a lot of energy in the office and in the surrounding community, and I met a lot of rather interesting people, such as a Danish DJ who was working on his graduate degree and decided to help with the campaign. One day I got to volunteer at an Obama rally at Woodbridge. I didn't get to meet him, but my Danish friend did!
Tyler Rosen '15 (worked for Sen. Brown in Cincinnati): I feel like I actually made a difference in the grand scheme of things. While I mostly did work for Sen. Brown's campaign, we worked with the Obama campaign for Get Out the Vote efforts. And I think that it was largely through those efforts that President Obama managed to carry Hamilton County (where I was stationed) and all of Ohio. So by working for Sen. Brown, I managed to help the president get re-elected! It was awesome to be at a ­victory party on the night of the election, watching the votes come in and hearing commentators talk about how significant Hamilton County was to the election as a whole.
Jessica Schneider '15 (worked for the Obama campaign in Norfolk, Va.): Meeting the president was great. I actually asked him if he remembered Professor Boesche, who is my adviser and favorite professor. He said, "Of course," and asked me to tell Professor Boesche hello, which I did—we've kept in good contact throughout the year. He told me that Oxy was a great school and thanked me for coming all the way out to Virginia for the summer to help him get reelected, after which I was very happy to inform him that I was in fact going to be there through November—I was in until the end!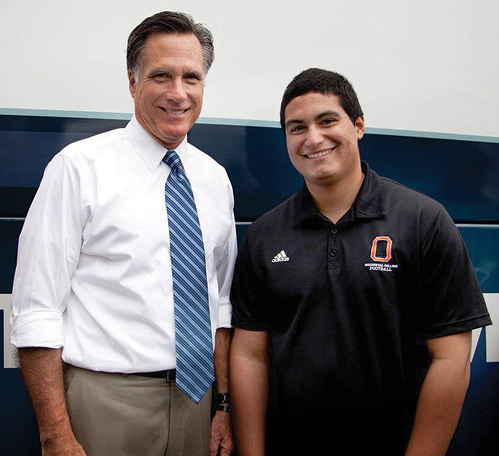 Jordan Dias '14 (worked for the Romney campaign in Ohio): I met Mitt Romney at a rally in Lebanon, Ohio, at the Golden Lamb Restaurant and Inn on October 13. I found out the day before the event that I was going to meet him, so I was both excited and nervous as the time led up to the event because I wanted to make a good impression. I had the opportunity to shake his hand and introduce myself and tell him where I was from and my involvement in the campaign. It was an honor to be recognized, and I will never forget the experience.
Jill Marucut '14 (worked for the Obama campaign in Philadelphia): Upon my arrival in Philly, I expected to work long hours, reduce my sleeping hours, and partake in the campaign diet—pizza upon Chinese food upon pizza—on a day-to-day basis. I understood that participating in Campaign Semester would take a toll on my body, but I figured that they were temporary and small sacrifices amid the larger scheme of things.
During those 2 1/2 months, my coworkers became my friends, my personal motivational speakers, and bountiful sources of inspiration and humor. While canvassing hundreds of doors per week, I met people with such beautiful, humble, tear-jerking, and soulful stories, explaining why they believe in voting, in President Obama, in politics, and in the American people.
Jordan Dias: To put it bluntly, [Romney's loss to Obama] is the most disheartening feeling I have faced in my life. Comparable to football games lost in the closing seconds. There is no moral victory, as the only result that matters is that we lost. I take away valuable experiences and connections from working on the campaign but it will take a while to get over the demoralizing reality of our defeat.
Madeleine Toll: I have gotten more out of this experience than I ever imagined. I used to have anxiety on the phone, but I am now confident in my abilities to communicate well. I used to be worried about managing volunteers, and doling out tasks. Now, I can communicate the importance of activities, and can properly appropriate tasks to volunteers. I can persuade people of the importance of issues I care about. I can knock on a door and be confident in myself and my abilities to communicate. I have grown into a confident young adult with years of campaigns ahead. I have job offers. I have connections.
Mason Atkins: Most internships are done to learn skills and boost resumes; this internship was bigger than a bullet point on a LinkedIn profile. This is something that will change the country and influence generations to come. That's something I will carry for the rest of my life.
Tyler Rosen: I'm actually anxious to get back to campus for a couple of reasons. I now realize how easy I have it when I'm at Oxy—I don't have to drive places every day, I have my meals prepared for me, and the only real stress comes from schoolwork.