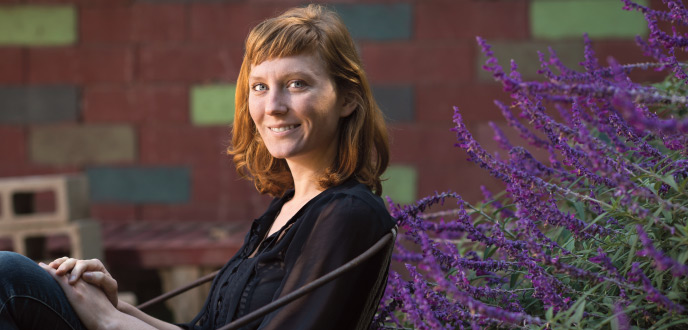 Margaret Gallagher '13 brings an eye for nature and a touch of whimsy to a street campaign marking Oxy's Eagle Rock centenary
Margaret Gallagher '13 doesn't have a car anymore. She crashed her Toyota Corolla just before returning to Oxy for her junior year. Out of necessity, she started riding her bike everywhere, a transformative process that changed the way she viewed the city.
"I got to see a lot of things I wouldn't have otherwise—simple things like looking into people's front yards, and more special things like seeing coyotes that would be warned away by a car," she says. "I felt like I was really discovering something about Los Angeles, and about how we as human beings navigate our worlds."
The experience inspired her to do an art project—"something that examined the psychological framework we build as inhabitants of Los Angeles." So she created A Bicyclist's Map of Los Angeles—an abstract collective that ties together dozens of moments she has experienced biking through the city. "So many people who see it seem to relate to it," Gallagher says. "They recognize little scenes and places, and they're delighted."
Her unique perspective on her adopted community prompted the College to hire Gallagher to illustrate a series of street banners to commemorate Oxy's 100 years in Eagle Rock. She started on them soon after graduation, working on 3-by-6-foot sheets of watercolor paper spread out on her living room floor. "I wanted my scenes to evoke something beautiful about Los Angeles, and capture how lovely the campus is, but also convey a sense that it's a complex ecosystem here—a habitat of people and plants and animals and architecture together—and that Oxy has a place in that. Thus the coyotes digging around in trash bins and howling at the moon, and the solar array looking beautiful but sort of awkward on a glowing skyline."
For Gallagher, who was raised on a 50-acre farm about 30 miles outside of Portland, Ore., drawing has become "a way to imagine and understand possibilities about the world around me, in a mostly non-literal way. I use a mix of detailed realism—almost scientific sometimes—and fantastical subject matter." Everything she depicts is based on something she has seen for herself or in ­photos. "It might be floating on a pink cloud or knocking down a building, but I'm obsessive about making it look like it should."
As Gallagher makes a name for herself in the L.A. art community—she had a joint show in August at the Pehrspace in Historic Filipinotown—she is increasingly comfortable talking about her work. "I'm a little reclusive by nature, so I like not having to be around so many people. I have more time to focus my energy on one project at a time, to garden, and to explore my neighborhood." And while she enjoys living near the L.A. River, she misses the daily insights of her Oxy professors: "They were such an important guiding force for me in the past couple of years—it's a little like leaving home again."
She and fellow art history and visual arts major Florence Roth '11 organized a craft fair at the Pehrspace in November. L.A. SALT featured 30 local artists selling handmade clothing, jewelry, ceramics, prints, and more—most of it priced well under $40. "It was an amazing experience," Gallagher says. "We had a good turnout and good press, so we're excited to throw another one in the spring."
There's little chance of her running out of ideas anytime soon. "Since childhood I've drawn things the way I wished they were—the world with a little more magic in it," she says. "Like myself with a magic horse." And with a magic horse, who needs a car?