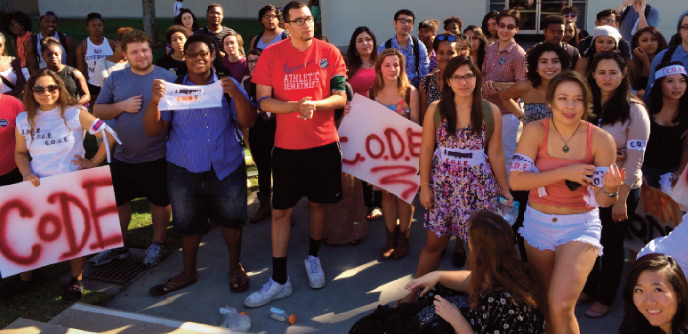 A group of faculty and students call for a renewed commitment to Oxy's mission of excellence and equity
Since the first efforts to enroll African-American students in the late 1940s, diversity at Occidental has been part of an ongoing—and sometimes contentious—dialogue. With equity embedded in the College's mission and its latest strategic plan, the conversation was elevated this fall by a group of faculty and students calling itself the Coalition at Oxy for Diversity and Equity (CODE), which questioned whether the College's historic commitment is wavering.
In response to those concerns, Jorge Gonzalez, vice president for academic affairs and dean of the College, unveiled a wide-ranging plan at a December 5 faculty meeting. Gonzalez's 17-point program—which outlined a variety of initiatives addressing faculty and student recruitment, the curriculum, alumni engagement, and other aspects of campus life—was a formal response to a 29-item agenda issued in October by CODE.
"I truly appreciate the interest of those who want to put a spotlight on diversity. That's at the heart of what Oxy is about," Gonzalez told the assembled faculty. "This involves almost every aspect of the College community—and it should. This is something all of us together have to work on to make it happen."
But it is not enough to enroll a critical mass of diverse students, he added. "We need to focus on student experiences and student outcomes after they graduate. … It's important for us to make sure everyone has the opportunity to succeed while they are here."
Reaction to Gonzalez's plan was mixed. At the meeting, some faculty called it "wonderfully comprehensive," "ambitious," and a program "that shows a lot of people thought long and hard about it." In a written response released December 10, CODE called it "a welcome step forward," but added, "Simply put, there's little new here. … Nothing in the administration's plan offers anything that would enable Oxy to join the ranks of those institutions that are doing the most exciting work in these areas."
While CODE is a new group on campus, Oxy's engagement with the issue of diversity is not. Under the leadership of John Slaughter, Oxy's first African-American president, the College adopted the 1990 strategic plan Of Excellence and Equity, which for the first time made diversity central to its mission.
Throughout this process, the conversation has always included questions as to whether Oxy has made enough progress or is moving quickly enough. At its peak in 1996-97, 52 percent of Oxy's student body was non-white—as compared to 6.7 percent 30 years earlier. That same year, student protestors accused President Slaughter and the College of straying from their commitment to diversity and organized a three-day sit-in in the Arthur G. Coons Administrative Center after the percentage of incoming freshmen of color slipped below 50 percent for a second consecutive year.
CODE points out that Oxy, which U.S. News & World Report ranked No. 1 in student diversity among 160 national liberal arts colleges from 1998 to 2001, now ranks 13th among all 240 liberal arts colleges assessed this year (a group led by the unranked University of Hawaii at Hilo, with 73 percent students of color). Today, according to U.S. News, only four of the country's top 50 liberal arts colleges—Amherst, Soka, Swarthmore, and Wellesley—rate higher than Oxy in student diversity. (Currently, 42 percent of Oxy students are non-white.)
Among its official peer comparison group of 16 colleges, Occidental ranks third in faculty diversity, trailing Pitzer and Pomona. According to the U.S. Department of Education, in 2011 people of color made up 19.1 percent of faculty at private four-year institutions. Currently, 29 percent of Oxy's tenured and tenure-track faculty are scholars of color, compared to 20 percent in 1994-95.
While CODE and the administration agree that more can and should be done at Oxy, there are disagreements over how, including whether a new senior vice president for diversity position should be created. In his presentation to faculty, Gonzalez said that the administration does not want to limit responsibility to a single person. Rather, he said, it should be a collective responsibility of senior staff. CODE argues that "an expert who is mandated with the responsibility to ensure the success of a comprehensive plan" is essential to success.
"We all have a lot of work to do," Gonzalez said. "We are committed to making this a long-term priority, and we plan on resuming this important conversation when classes start in January."