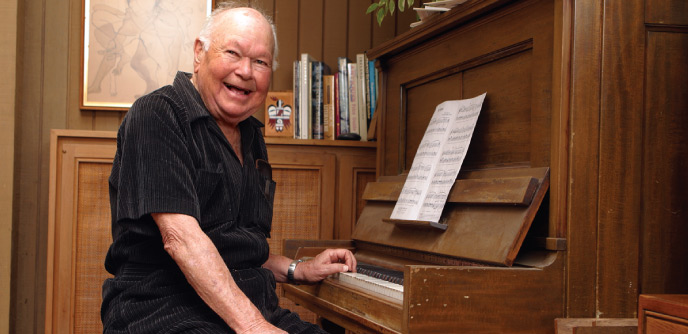 Professor Alan Freeman '66 M'67 and actress Joanna Hall Gleason '72 pay tribute to their friend and mentor, Omar Paxson '48
As the magazine was going to press, professor emeritus of theater arts and rhetoric Omar Paxson '48 died. Click here for a full obituary.
Epilogue for Omar
What a privilege to be Omar's student, his colleague, and—most of all—his friend for more than 50 years. His special talent was his interest in others. It caused each one of us to believe if only for an instant that we were his most favorite person on earth. And you know what? When he turned the beacon of his attention on us for that one moment, we were his favorite. Perhaps that's why it feels so deeply personal to so many of us to lose him.
As for me? I burst with gratitude. Omar taught me the principles of my craft. He taught me the aesthetics of tragedy and comedy, of unity and style. He exemplified discipline and collaboration, and professed that every problem can be fun to solve, or as he preached, "Theater problems are happy problems!" He taught me that theaters were sacred places filled with compassion, and worthy of reverence and respect for the truth. Moreover, Omar listened to me and counseled me. Another special talent. Finally, he gave me the job that became my life's work. Thank you, Omar. For my adulthood.
Alan Freeman '66 M'67
Professor of Theater
Fire in His Belly Laugh
When I took an Independent Study course with Omar, we would meet a couple of times a week and read through Saint Joan by George Bernard Shaw. We'd read, then discuss. I'd learned the lines, but couldn't get off the ground doing them for an audience of one. Omar! In a tiny office! Shaw!
I was terrified. Omar loved this play, and I dreaded disappointing him. More discussion as I avoided acting the part. As the weeks progressed, he let our discussions veer off into conversations about school, life, theater—always theater. He was a great listener, and a great question asker. We returned to the play. One day, he asked about Joan, France, Shaw, asking me to take my time, to slow my thinking before answering … then suddenly, he said, "Now, answer without thinking!" He fired random questions at me (What did I eat that day in the Cooler? Why do I slouch?), and suddenly we were doing lines from the play. I felt like I was both falling and flying.
His enthusiasm was electric. I was so exhilarated that I started giggling, and he bellowed a guffaw so huge I jumped, which sent him into gales of laughter. His was the first belly laugh I'd ever heard up close.
We were done for the day.
His confidence in me became a cornerstone of my future career. Omar was a gift to an aspiring actor, both as playwright and teacher. He's vivid in my memory. Those work sessions, essential. I look back on that time spent with Omar as an honor.
And that laugh …
Joanna Hall Gleason '72
Fairfield, Conn.
Learning the Game
I was pleasantly surprised to see a picture of myself at about age 12 or 13 with Grant Dunlap '46 on the contents page of the Fall Occidental. My parents hired Coach Dunlap as my tutor at that time, and I later attended Oxy for four years, playing baseball for the first three of those years. Grant's son, Doug '71, and I were teammates, and I learned a great deal from Coach Dunlap. Thanks for the memories, and please pass along my best to the Dunlap family if you can.
Robert Mysel '70
Tustin
Correction by an Embarrassed Editor
In "Memoirs of a Reluctant Reunionite" (Fall 2013), a photo misidentified as author Barry J. Maron '63 is actually classmate Robert MacLennan, who not so reluctantly attended Alumni Reunion Weekend last June. Occidental Magazine regrets the error. (And for those of you looking for answers to our History of Civ survey: Come back next issue.)