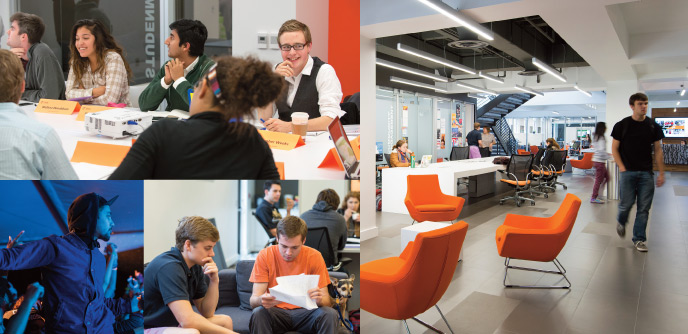 Oxy's new student center blossoms into a hub of activity
When Damian Mendieta '16 was co-president of Occidental's La Raza Coalition last year, it was difficult to find a place for his group to congregate. "Most of the time, we just hung out on the grass," he says. But since the opening of the Rose Hills Student Activities Center inside Johnson Student Center in August, La Raza and dozens of other student organizations have dibs on the center's three renovated meeting spaces, including the Bengal Room, a 1,203-square-foot multi-purpose programming space for performances and social gatherings. They're also invited to use new display cases and the prominent video screen located behind the concierge desk to promote their clubs or causes.
"It's really helpful having this space because most people cross through here," says Mendieta, who as a programming assistant for Oxy's Intercultural Community Center spends his office hours in the new space advising students who want to be engaged with the Eagle Rock community, are looking for professors on campus or good classes to take, or need help planning an event.
While the ICC maintains its home base just off campus, it's one of several organizations to gain a new location within the center's new Community in Action suite. The ICC's neighbors include the Office of Civic Engagement, the Neighborhood Partnership Program, a Career Corner offshoot of the Career Development Center, and Associated Students of Occidental College.
John O'Neill '15, ASOC's vice president of internal affairs, says his organization has seen an uptick in traffic and visibility since moving from a small room in a trailer near Bell-Young to a cozy and utilitarian space in a high-traffic zone. "The new ASOC office is right in the middle of campus and in the middle of where students actually go—the post office, the Marketplace, classes," he says. "All the offices open into the same main space, so everyone spills out, and collaboration is inevitable. And all the offices have glass doors and windows, which means we can always see who's around."
In addition to holding regular office hours, the ASOC hosts weekly meetings on Monday nights in the Studenmund Conference Room. These late-night gatherings offer opportunities for campus leaders to interact and discuss priorities. "This is when groups can ask for funding," Mendieta says. "A lot of interesting conversations happen then."
Genaro Cabrera has gotten to know the new $2-million center as intimately as anyone else on campus. As the Office of Student Life's program assistant, he helps members of the Oxy community book rooms and plan events in the new space. He says that the renovations have helped usher in a new era of interaction, particularly for incoming students. "It's definitely going to impact their experience as to what a student center means," he says. "They really get the sense that this is a student space first."—JOY HEPP