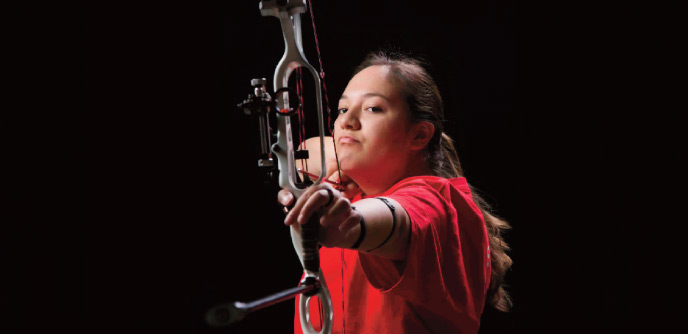 Paralympian archer Ashlee Sheppard '11 raises her game to the world stage
By George McIntire '11 | Photos by Jim Block
In a secluded patch of San Francisco's Golden Gate Park a couple of arrow shots from the ocean, Ashlee Sheppard '11 is sizing up her target with her instrument of choice, a Hoyt Pro Comp Elite 2013. Her first two shots land millimeters to the right of the bull's-eye. She's about to wind up for the third time when a fellow archer remarks, "Wow, that's a really nice bow you got there. You must be some kind of pro, huh?"
With a full-time job in asset management at Stifel Financial in her native San Francisco, Sheppard isn't paying the bills with a quiver of arrows. But what she's accomplished is something more. Representing the United States at the World Para Archery Championships in Bangkok in November, Sheppard placed ninth individually and won the silver medal in the team rounds. "She shot stellar for a rookie," says archery national team captain Jeff Fabry, a gold medalist at the 2012 Paralympic Games in London. "Ashlee improved a lot in a short period of time. I see huge things in her horizon"—including a shot at the 2016 Paralym­pics in Rio.
Sheppard has a hereditary affliction called peripheral neuropathy, which causes weakness, numbness, and pain, usually in the hands and feet. She describes her main symptom as "limited sensory feeling in my feet, which means my balance is poor and my feet constantly hurt—often unbearably by the end of the day." For a sport that ­measures success by the ability to hit a miniscule target from long distances, "It has affected my archery in many small ways," Sheppard admits. At outdoor tournaments, "Some­times I will be in full draw, ready to shoot, and I will lose my balance, either randomly based on how I shifted my weight or maybe because there was a light breeze." She adapted to her condition by using lighter weights to balance her bow and taking on average five seconds from set-up to shot, which is significantly shorter than most pro­fessional archers.
Compared to a Tiger Woods or Serena Williams, who were hitting their respective balls well before the age of kindergarten, Sheppard came to archery relatively late in life. In high school, she swam and played water polo but had to quit due to the physical toll on her body. With her mother's help, she researched alternative sports and happened upon the centuries-old sport. "We stumbled upon an archery ad in a magazine during a road trip and decided to give it a shot," she recalls. "Soon after, I bought my first compound bow and was shooting every Saturday morning."
Even though her newfound hobby was sidelined due to her workload as a high school senior, "Ashlee showed natural talent from the start," says her father, Howard Sheppard.  She got back into the game as a sophomore at Oxy, when she discovered a nearby archery range. She competed in about six college tournaments a year, including the U.S. Archery Intercollegiate Championships, all of which she traveled to by herself.
An epiphany came in summer 2010, when Sheppard was invited to compete at the European Grand Prix with the U.S. para archery team. "I lost my first match in the elimination round, and that didn't sit well with me," she recalls. "I came home from that event determined to be a better shooter. I am still nowhere close to where I want to be, but I'm definitely closer than I was that summer."
Perhaps Sheppard's biggest obstacle to getting to Rio is finding time to practice and compete in tournaments while also working a 7-to-5 schedule in San Francisco's financial district. She practices twice a week at an indoor venue in Daly City and once every weekend at an outdoor site in Pacifica. At the start of 2013, she sat down with a tournament schedule and allocated the vacation days she had to those events she thought she could make. She had to scratch several competitions that fell during a busy time at work, and there also was the biannual World Para Archery Champion­ships to consider. "I didn't shoot many of the events around the United States in hope that I would make the team," Sheppard says, and she now has a ­silver medal to show for it.
"Ashlee would not be where she is now if it was not for her constant improvement on the field," says Tiffany Hsu, a member of the Cal State Long Beach archery team from 2008-2011, whom Sheppard met through competitions. "There's still a lot to learn, but that's the thing with archery: You're constantly learning and hopefully improving."
"I knew nothing about archery before I met Ashlee, but her passion for her sport is infectious," says her boyfriend, Ian Boehme '11, a fellow economics major at Oxy. "I enjoy going to her competitions and talking about it with her, and I can see how archery has evolved her personality. I believe she has gained a lot from archery and uses the discipline and work ethic honed from her competitions and practice in everyday life."
Less than 1,000 days away from the Rio games, Sheppard has her bow squarely focused on Paralympic gold. She'd better start saving those vacation days now.
San Francisco-based freelancer George McIntire '11 wrote "Day of the Dead" in the Fall 2013 issue.