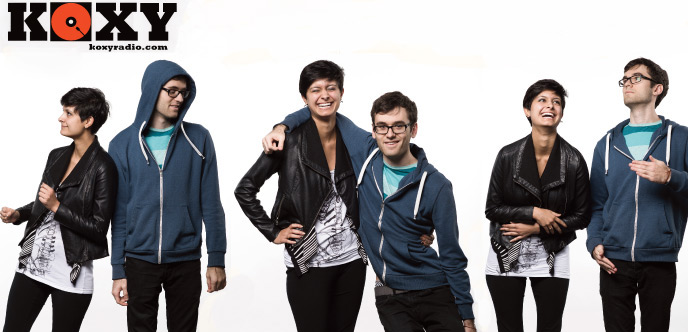 A world removed from its original dormitory broadcasts, KOXY thrives in the digital age with an eclectic mix of music and chatter
Born as an offshoot of the College's speech department in the post-war 1940s, campus radio station KOXY has broadcast everything from original dramas and sporting events to Quad happenings and quiz shows ("Who Is Mr. Prof?") in the decades that followed. With the installation of oscillators in buildings around campus, students were able to enjoy KOXY programming in the comfort of their dorm rooms. That was until some cleanup work in the College's underground tunnels in the mid-1970s (in compliance with a citation from the Occupational Safety and Health Administration) inadvertently destroyed the wiring, putting an end to KOXY broadcasting as we knew it.
KOXY came back to life as an online entity in 2000, expanding the station's reach around the globe. "KOXY provides a wonderful opportunity for the Occidental community to coalesce around music, art, and ideas," says programming director Allan Van Vliet '15. Marc Campos photographed some of the dozens of personalities who make that happen.

—Raven Juergensen '16 and "KOXY is our chance to share some of the newest and coolest tunes with everyone who listens in, until the day where we gain enough ­followers to form an independent musical nation that does nothing but listen to electronic music and make bad puns." Jack Durwood '15, electronic music enthusiasts (as well as everything from moomba/breakcore/stephouse to top 40 remixes to disco and funk) and hosts of "Drop the Bass."

—Allan Van Vliet '15, host and creator of "Dead Wax," a blog and weekly radio show which aims to bring conversation and critical thinking back into mainstream music culture. "Music plays an important role in shaping the world and in influencing the way we think."

—Mealani Kaiser '15, whose "Da Pau Hana Show" spins a mix of Hawaiian, Jawaiian, and reggae sounds. "Hawaiian music was a big part in my life growing up, and I wish to share that same music with the Oxy community."

—Javier Sevilla '15, aka DJ Ultima, whose "Sound of Harder Stylez" show turns up the beats per minute to embrace the "slamming hard rave beats" of the hardstyle (150 bpm) and happy hardcore (180 bpm) styles of electronic dance/rave music. "Unsuspecting listeners will have their minds blown as they find themselves overcome by the infectious rhythm of a hardstyle bass kick and the uplifting euphoria of a happy hardcore melody."

—Ben Poor '15, second-generation host of "That Show You Like," which Aaron Vogel '15 started in fall 2011. He co-hosted with Vogel last year, adding "a unique Seattle flavor to Aaron's national hip-hop mix." "I love that KOXY broadcasts online, so my friends in Seattle, New York, or Peru can tune in with ease."

—Frida Gurewitz '17, whose show, "Guilty Pleasures," "has also allowed me to carve and create a new confidence which can be used in and outside of the KOXY booth." "My show is a place where you can listen to music you're embarrassed to say you know all the words of and listen to. I guess this sort of accounts for the title."

—Marty Guerero '16, whose "10/10 No. 1 Radio Show" celebrates "two very tight-knit music ­communities: contemporary disco and chiptunes" [music inspired by the sounds of 8-bit computer and game consoles]. "My quest is to not only introduce people to prominent artists in each of the communities, but also give new talents a small spotlight."

—Dexter Blackwell '17, co-host (with "I've been to countless concerts and festivals since my middle-school days and I never get tired of seeing my favorite bands, since everyone comes to L.A."Oren Torten '17) of "The Incredible Expanse of the Simian Mind," which revolves around "nonsensical and random questions designed to spark interesting and comedic dialogue" with an "interesting new guest" each week.