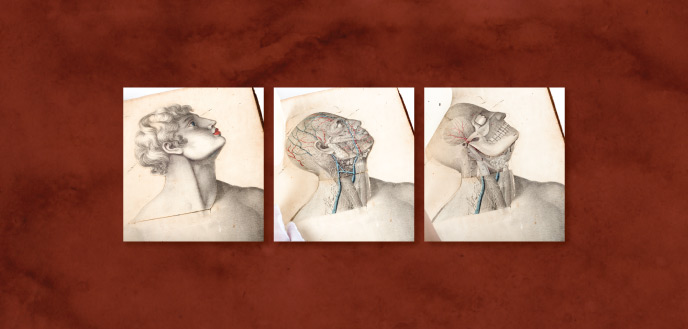 Working with community partners and documenting the history of Northeast Los Angeles, Oxy's Special Collections fosters direct links to the classroom and the academic life of the College (and on top of all that, there are some pretty amazing books)
After retiring from his legal career two years ago, Barry Holt '73 began to contemplate the future of the library he had accumulated over a lifetime—including his first career as an archeologist and ethnohistorian. "If I died tomorrow, and my kids are confronted with my books, what are they going to do?" says the former chief administrative judge for the Department of the Interior. "I thought it was better to stave off the possibility they'd end up in a dumpster someplace."
Lisa Sousa, associate professor of history and expert in the indigenous peoples of Mexico, shudders at the idea. Holt's recent gift to Occidental of roughly 200 volumes he accumulated while working on his Ph.D. in Mesoamerican ethnohistory includes facsimiles of Aztec and Nahua manuscripts "that are primary sources critical to the study of ancient and early colonial Mesoamerica," says Sousa. "To purchase these now would cost a fortune. When I got the email announcing the gift, I was thrilled."
The Holt Collection is the latest in a series of gifts over the last century to Oxy's Special Collections, which is perhaps best known for its 16,000-volume Guymon collection of mysteries and detective fiction; one of the world's leading collections of material on poet and 1905 graduate Robinson Jeffers; and its World War II Japanese-American Relocation Collection. 
But Holt's donation also represents a new, more focused strategy for Special Collections, one that is intent on shaping it to foster direct links to the classroom and the academic life of the College. "It's not just the material we have in Special Collections, it's how we use it and how we engage with students and faculty in their teaching and research," says Dale Ann Stieber, special collections librarian for the last decade and College archivist since 2011.
Sousa already has put Holt's gift to work, using some of the codices to illustrate a recent guest lecture in professor Nancy Marie Mithlo's Native American art class. "They will definitely be of use for my research and teaching. I will certainly be using them for my Indians of Mexico course," she says.
In the 2014-15 academic year, 40 classes took place in the Special Collections reading room on the third floor of the Academic Commons. "The work that Dale and her colleagues are doing is transformational," says adjunct professor Jem Axelrod, director of Oxy's new
Institute for the Study of Los Angeles
. "They have taken a fairly random selection of materials and shaped them into a collection that serves both students and faculty." Sousa agrees: "Special Collections has done an excellent job of building collaborations with faculty to make resources available and to provide support and co-teaching around undergraduate research."
The Holt Collection builds on a traditional strength of Special Collections, which dates back to the Board of Trustees' decision in 1937 to establish the Robert Glass Cleland Collection on Latin America, donated by the 1907 Oxy graduate, professor, and historian. Latin American studies and the history of the western United States are among several primary areas of concentration that have emerged over the last five years, the result of a collaboration between Stieber; her special collections colleagues Eli Chartkoff, Helena de Lemos, and Anne Mar; former College librarian Robert Kieft; and faculty; as well as a detailed review of much of the collection by rare books consultant Jeff Weber.
"Working closely with faculty informs all of the decisions we make," Stieber says. As a result, some 19th- and 20th-century materials have been moved into the library's open stacks, while others have been offered to research institutions that can make better use of them. Those materials for which a new academic home cannot be found will be sold, with the proceeds going to support Special Collections activities.
Other areas of concentration include:
Cultural, visual, and print history, with materials that range from Assyrian cuneiform tablets to modern fine printing. This collection illuminates the history of the book and is supported in part by the endowment created by famed librarian and scholar Lawrence Clark Powell '28.
Political and social movements of the early- to mid-20th century, which includes documents and materials from Arthur Young 1910 and John Parke Young 1917, both of whom were international economic advisers to emerging economies.
a reconceptualization of some existing collections as a source of material on how the United States grappled politically, legally, economically, and culturally with slavery's collapse after the Civil War. Reconstruction America,
The archives of the College itself, which have expanded beyond traditional materials such as administrative records and College and student publications to include electronic records, websites, and social media as part of an effort to more fully document campus life.
Local history is an area where multiple strategic goals converge: engagement with community partners; documentation of previously neglected aspects of Los Angeles history; recognition of Oxy's own 128-year history in Boyle Heights, Highland Park, and Eagle Rock; and creation of a hands-on resource for student and faculty research. "There is lots of potential for us to become the archive of record for Northeast Los Angeles," says Stieber. "We are trying to broaden our connections to gather history that may not have been saved otherwise."
One of the centerpieces of this effort is the newly acquired Joe and Henk Friezer Photography Negatives, an archive of more than 100,000 negatives that document life in Northeast Los Angeles from 1949 to 2013. The images represent a lifetime's work by the late "One Shot" Joe Friezer, onetime photographer to the Dutch royal family and longtime freelancer at the College; and his son, Henk, who remains active today.
Complementing the Friezer images is the 2-year-old NELA Newspaper Project, a partnership between Oxy, the Eagle Rock Valley Historical Society (headed by Eric Warren '69), and the Highland Park Heritage Trust to preserve and digitize more than a century's worth of local newspapers. Initially funded by a grant from the John Randolph Haynes and Dora Haynes Foundation, the ultimate goal is to digitize the roughly 341,000 pages of 29 different local newspapers and make them easily accessible—not only to students and faculty, but to the public.
"These newspapers document more than a century of everyday life in the historic and diverse working-class communities of Northeast Los Angeles," says Mar, who works with Oxy's community partners on the project. "We want to make an important contribution to the historic identity of this area and make this resource more widely available."
Access is key, agrees Axelrod, regardless of where physical copies of materials actually are stored. He points to the collaboration between Special Collections and two historic women's organizations, the Women's Twentieth Century Club of Eagle Rock and the Highland Park Ebell Club. The finding aids Oxy created for the clubs' archives give scholars an online portal into the material, even though it remains in the custody of the clubs.
While digitization plays a key role in the future of Special Collections, old-fashioned paper and ink remain central to its work. In her field, Sousa says, key materials have only just begun to appear online, and students need the scholarly apparatus of the print edition to have a clear idea of what they're seeing. Keyword searches also tend to rule out serendipity—"the random, unexpected juxta­position of things that catch you off guard," she says. "Sometimes you might think something is fascinating, and then you stumble across something else. You have to sit down and read and let the sources take you to the story, let the evidence build up. That's the way you do solid research."
Primary sources offer students a window into the past that secondary materials cannot, says James Ford, assistant professor of English, who calls Special Collections "one of Oxy's greatest intellectual resources." Students in one of his classes, for example, ended up debating the significance of punctuation marks in a Harper's Weekly engraving celebrating the Emancipation Proclamation. "Only seeing a 150-year-old document first-hand could generate that sort of close attention, unprompted by a professor," Ford says.
Given that collections at most academic institutions are geared to graduate students and faculty scholars, "the fact that you don't have to go off campus to get access to these materials is amazing," Axelrod adds.
For Barry Holt, the gift of his books closes a circle that began with the research he started in the library during his freshman year at Oxy. "The College really helped support my existing interest in prehistoric MesoAmerica and was part and parcel of my subsequent academic career," he says. "I'm thrilled that my collection has a good home and will be used by other students."
< C. Bernard Cooper '20, a philosophy major, kept a scrapbook documenting his four years at Oxy, which he donated to Special Collections prior to his death in 1971. A longtime manager of merchandise of Bullock's, Cooper chaired the Alumni Board of Governors from 1944 to 1945. He rode in the 1970 Rose Parade, left, as mayor of Pasadena.
> 
Donated to Oxy
 by E.T. "Ned" Guymon Jr. '22, the Guymon Mystery and Detective Fiction Collection holds 16,000 volumes of first editions spanning from 1740 to 1975, plus manuscripts, film scripts, periodicals, photos, and this framed original drawing,
left
, by English illustrator Sidney Paget from
The Hound of the Baskervilles
, first serialized in the
Strand Magazine
from August 1901 ro April 1902. Guymon's fanciful nameplate—
center
, designed and illustrated in 1935 by Cornelis Botke—appears in every one of his volumes, as well as on the arm of former Special Collections student worker Alison Reed '08.
Photos by Marc Campos.