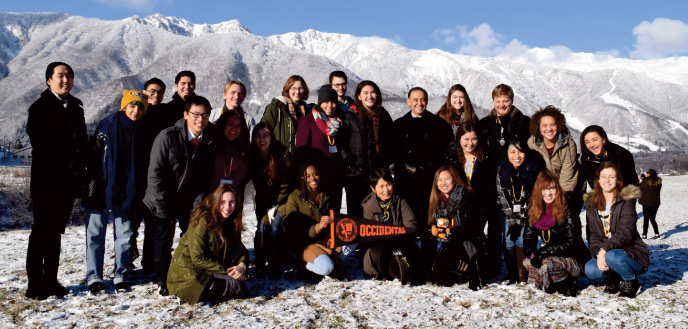 Japan's Kakehashi Project promotes better understanding of its culture by sending 23 Oxy students to the Land of the Rising Sun
With the burden of finals behind them, nearly two dozen Oxy students made a 5,500-mile journey to Japan from December 14 to 22 at the invitation of Harry H. Horinouchi, consul general of Japan in Los Angeles. Out of 83 applicants, 23 lucky undergrads (six freshmen, 10 sophomores, four juniors, and three seniors) were chosen to participate in the Kakehashi Project, the country's Friendship Ties youth exchange program. ("Kakehashi" means "bridge.") All expenses—including airfare, meals, lodging, and transportation—were paid for by the Japanese government.
Chaperoned by Jorge Gonzalez, vice president for academic affairs and dean of the College, and Motoko Ezaki, adjunct assistant professor of East Asian languages and cultures, students visited education and research institutions, modern and traditional industry sites (from a miso plant to a wasabi farm), cultural heritage sites, and local government offices. They also experienced a homestay.
After two nights in Tokyo, where the group did some sightseeing and learned more about Japanese government and policies from lecturers such as Meiji University Professor Emeritus Akira Nakamura, they boarded the bullet train for Nagano Prefecture, site of the 1998 Winter Olympics.
"The whole week was amazing, from the awesome sites we visited to everything we learned and the people we met," Oxy Kakehashi participant Emily Henderson '16, an art history and visual arts major from Olympia, Wash., wrote in her blog. "I understand Japan a little better now but I have a lot more to learn, and I can't wait to learn more and (hopefully) go back some day."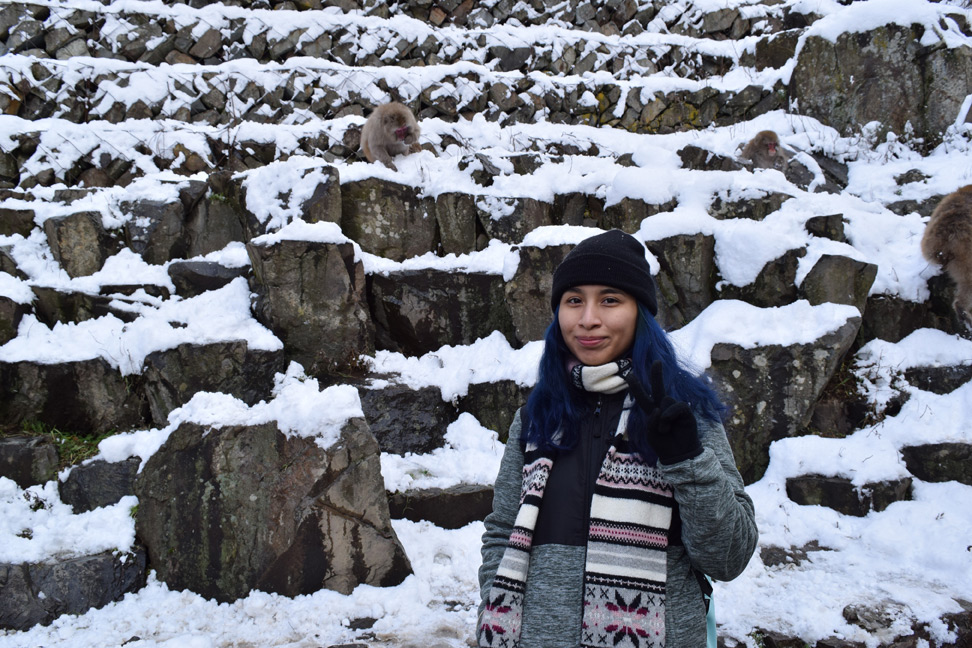 Mayra Gonzalez '17 (an English major from Los Angeles) poses with a resident of Jigokudani Monkey Park in Nagano Prefecture.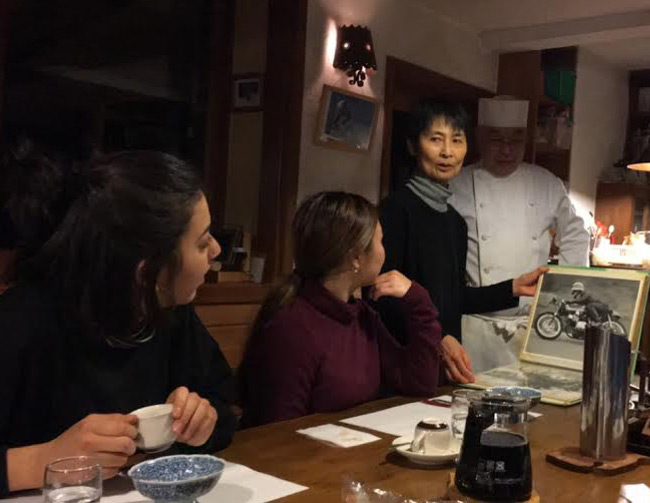 Delegates Rosie Yasukochi '18 (undeclared; Seattle) and Marjorie Morales '17 (kinesiology; San Francisco) listen to a host family's stories of motor­cycle racing as Professor Ezaki translates.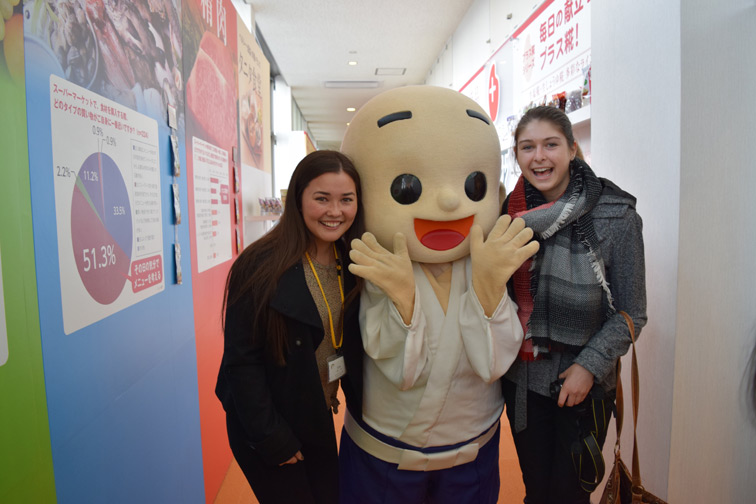 Kira Elliott '19 (undeclared; La Mesa) and Charlotte Cullip '18 (undeclared; Harbor Spring, Mich.) smile with Marukome Boy, mascot of Marukome Inc., before taking a tour of the company's miso factory in Nagano.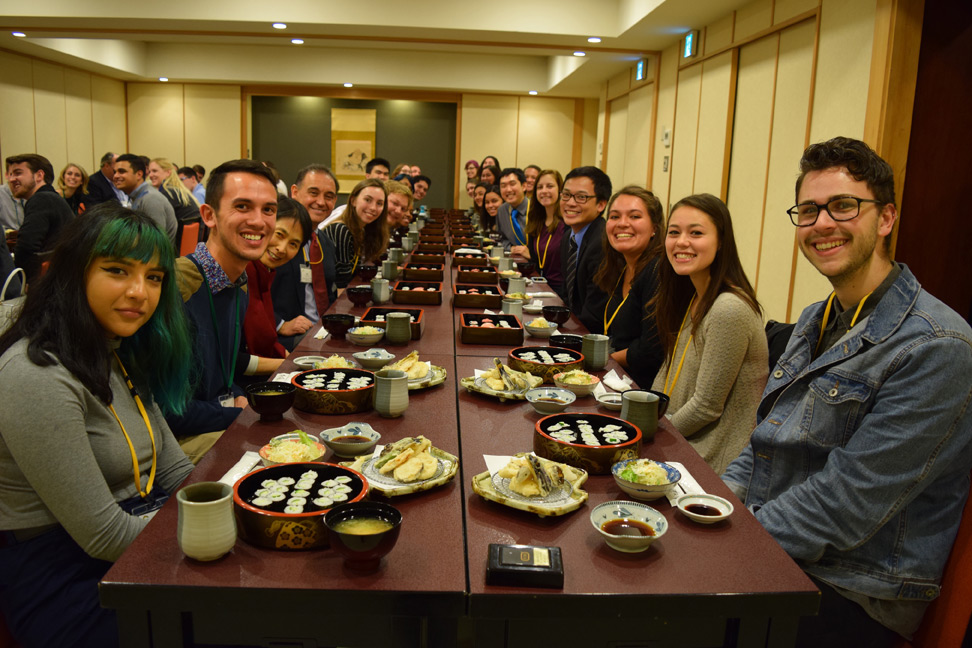 The group enjoys a delicious welcome meal of sushi upon ­arrival in Nagano Prefecture.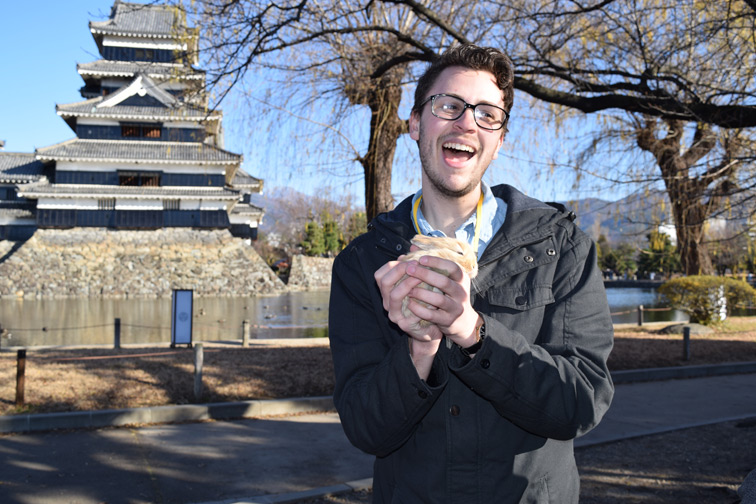 Ben Weiss '16 (sociology; Madison, Wis.) holds a bunny in front of Matsumoto Castle.