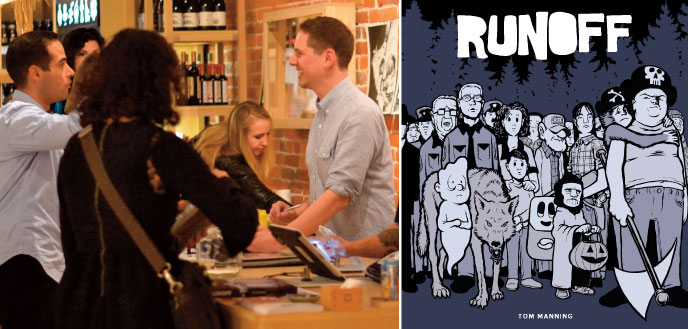 With the collection of his noir/horror comic book series
Runoff 
into a single volume, Tom Manning '99 revisits 
the culture he grew up in, and the story he began at Oxy
By Peter Gilstrap
Tom Manning '99 splits his time between two places. One is Oakland, where he works at a biopharmaceutical company and lives happily with his wife Stacy, 4-year-old daughter Mali, and son Liam, who turns 2 in March. 
The other is the small town of Range, Wash., an isolated, woodsy berg filled with mysteriously mangled bodies; ghosts, vampires, and wolves that beckon a monster from the depths of the local river; an unexplainable, interdimensional force field; and a tiny, cute being that may or may not be an alien. 
Luckily for Manning, the commute isn't too bad. It takes place in his head. "Oh yeah," he admits with a laugh. "I feel like I'm living in two very, very ­different worlds. It's not ­necessarily schizophrenic, but they're completely different worlds."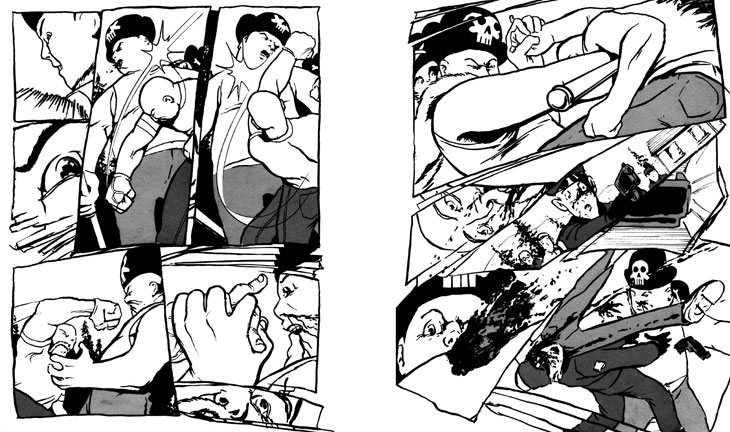 The fictional Range is the setting for Runoff (One Peace Books; $24.95), a 450-page graphic novel that collects the comic-book series that Manning began as an Oxy student and self-published from 2000 to 2007. At roughly seven hours a page, that's a lot of writing, drawing, inking, and lettering.
"It feels like walking around with a movie paused in your head all the time," he says, "and when you can finally sit down to do that next page or panel, it really feels like all these people have been waiting for their next move. They can take a bathroom break."
"I think Runoff is incredible—it's one of my favorite graphic novels," says Angela Kang '98, a friend since their student days and currently a writer and co-executive producer for AMC's smash series "The Walking Dead" (itself based on the comic book by Robert Kirkman). "Tom writes and does all the art himself, which is kind of rare. The artwork is extraordinary, but he's also a really great storyteller. The plotting and the pacing are so well done. It's really scary and really funny and tells a very satisfying story. It's a huge achievement."
The Enumclaw, Wash., native's obsession with comics began in fourth grade, when his grandmother bought him Uncanny X-Men #221. "X-Men shaped a lot of the way I saw life and race relations," says Manning, "because that's kind of the core subject of it. The mutants are a hated and feared minority." (When Stan Lee and Jack Kirby created the series in 1963, he notes, "it was about the Civil Rights Movement.")
Manning lived close to the Muckle­shoot Indian reservation, "this whole other world where you could buy fireworks and alcohol and cigarettes," he recalls. "But you could ­always feel the divide when you went from Enumclaw to the reservation.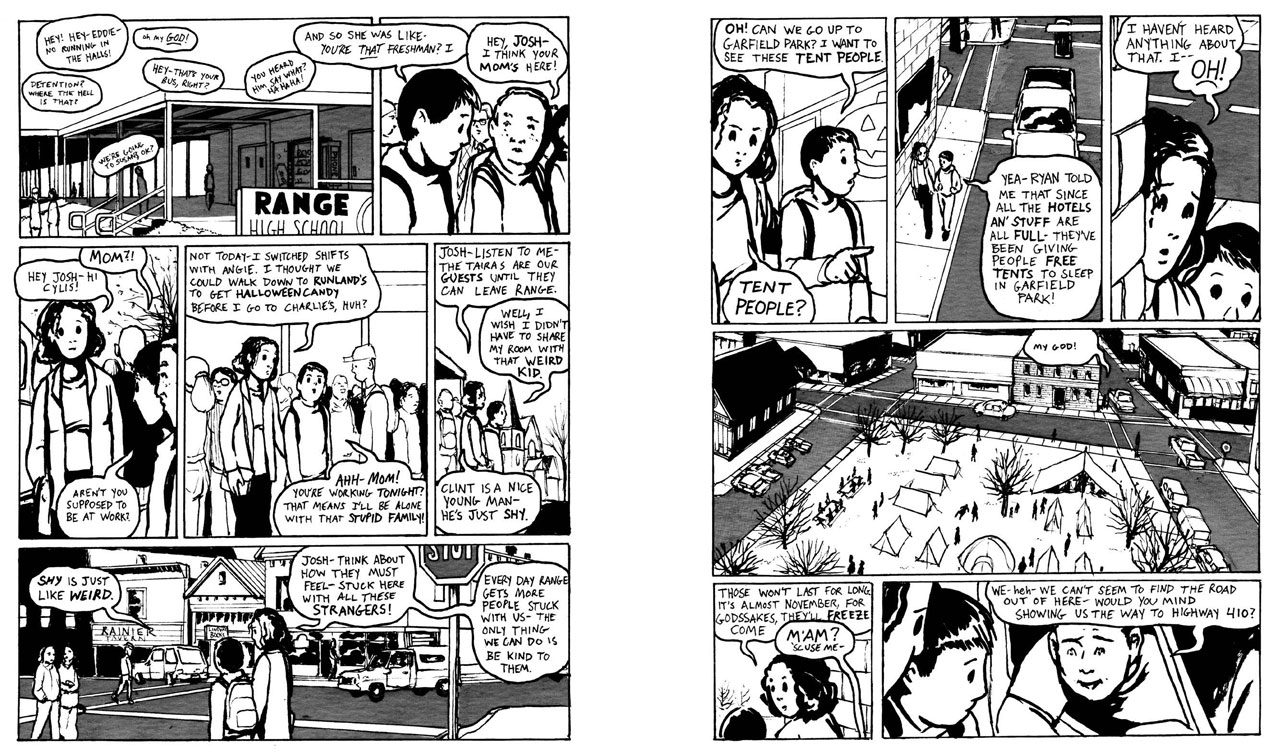 "Racism was an unfortunate part of the town I grew up in," he adds. "People wore Klan outfits on Halloween to high school, and were not told to take them off." As a sophomore, Manning helped start a club named Students and Teachers Against Racism to plan cultural events at Enumclaw High School. 
Though he's fond of his hometown—Runoff is dedicated to Enumclaw—the local racial issues helped lead him to Occidental. "At the time there was a big push for multiculturalism at Oxy," he says. "That is one reason I wanted to go there, to be part of a diverse student body."
Manning enrolled at Oxy as a kinesiology major, but switched to art history and the ­visual arts, taking "massive amounts of classes at Art Center College of Design," he says. "There were a lot of things about making comics that lent themselves to graphic design. It had never occurred to me that you could do that as a profession."
For a guy who admits he eschewed art classes—"I was afraid they'd make me draw like they did"—and ultimately earned a master's in design from Yale, this was a serious revelation, aided in large part by professor Linda Besemer. "She's the most important art professor I had at Oxy," Manning says. "She was my senior thesis adviser, which ended up being a comic book called Racecar."
"Tom was a great student," Besemer says. "He did one of the most unique senior comprehensive projects by creating his own graphic novel. It wasn't just a few storyboards; it was a full 100-page novel, in which he conceived and wrote the story, created the characters, and hand-drew and inked all scenes."
Despite having his book optioned by 20th Century Fox, graphic novel work "doesn't feed the kids or pay the mortgage." (In its original incarnation, Runoff sold thousands of copies.) That's covered by his day gig at Amgen, where Manning is senior manager of user experience and design strategy. Healthcare is "one place that I think needs a lot of design love and help," he says. "I set a direction for a creative team that's trying to generate a product or a piece of software or an idea. It's called design thinking. I'm a big ­believer in it, but I'm used more as a chin-scratcher than a pencil-pusher now."
Fulfilling? Yes, but it's far from the imaginative, twisted realm of Runoff and his upcoming book Eric, the story of a drug-addled ex-rock star. "I find a lot of meaning and passion in what I do," says Manning, who published the first 80-page chapter of Eric in 2009 (which is available for purchase on his website), and is now 300 pages into the project, which he hopes to complete this year. "But if I won the lottery, I would probably just make comic books and be happy as a clam. That would be my dream come true."