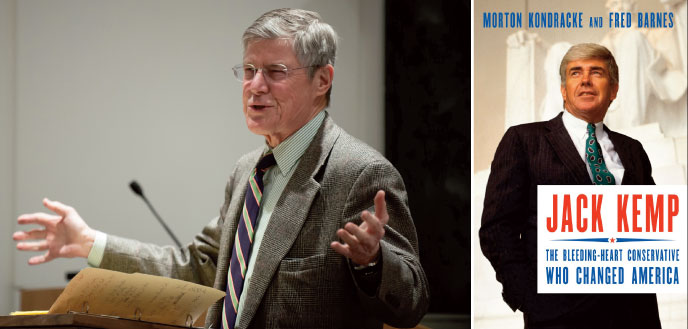 Biographer Mort Kondracke makes the case for 
Jack Kemp '57's legacy as a conservative for the ages  
By Dick Anderson
It's not unusual for biographers to become enamored of their subjects, but Mort Kondracke stakes a pretty big claim in his recently published biography Jack Kemp: The Bleeding-Heart Conservative Who Changed America. The 1957 Oxy graduate, who died in 2009, "was the most important politician of the 20th century who was not president, certainly the most influential Republican," Kondracke writes with co-author Fred Barnes. "In this era of political bleakness, both Republicans and Democrats are citing him as a model of what politicians ought to be."
Kondracke—a veteran political analyst and journalist who spoke in Mosher Hall three years ago as Occidental's first Kemp Scholar—was approached to do an oral history by the Jack Kemp Foundation, whose ongoing mission is "to develop, engage, and recognize exceptional leaders who champion the American Idea." He did more than 100 interviews with figures from all walks of Kemp's extraordinary life—from quarterback to congressman to Housing and Urban Development secretary to a vice presidential slot on the GOP ticket in 1996. He talked with Oxy classmates and NFL compadres Ron Botchan and Jim Mora and visited the College archives accompanied by Kemp's wife of 50 years, Joanne (Main) '58.
Kondracke spent the better part of three years holed up in an office in the Library of Congress as the Jack Kemp Chair in Political Economy doing research and writing. Once he signed a contract with Sentinel, a conservative imprint of Penguin Books, he enlisted Barnes to help finish the manuscript: "Fred wrote the best articles on Kemp that anybody did in the '80s and '90s, and he knew contemporary politicians that I had lost touch with while reliving Jack Kemp's life."
At one of the few recent GOP forums that wasn't commandeered by Donald Trump, seven Republican presidential candidates addressed the war on poverty January 9 in Columbia, S.C. The event was sponsored by the Jack Kemp Foundation and moderated by South ­Carolina Sen. Tim Scott and House Speaker Paul Ryan, an acolyte of Kemp's and "the highest-ranking politician on the Jack Kemp wavelength," Kondracke says.
If Kemp were alive and surveying the Republican "food fight" for president, "My guess is that he would be rooting for Jeb or Kasich or Rubio because they're not Trump and Cruz and Carson," he says seven weeks before the Iowa caucuses. "I think he would like Carson, but Carson's clearly unqualified, and Jack would be absolutely appalled by Trump. Trump and Kemp are the exact opposites except for high energy. Kemp never attacked anybody, was pro-immigration reform, and thought that demonizing minority groups was terrible."
While Kondracke hopes his book will change the current political environment, he's not holding his breath. But he knows Jack Kemp would never give up: "He was relentless. You might be 20 points behind, but if you still think you can win, then you can."