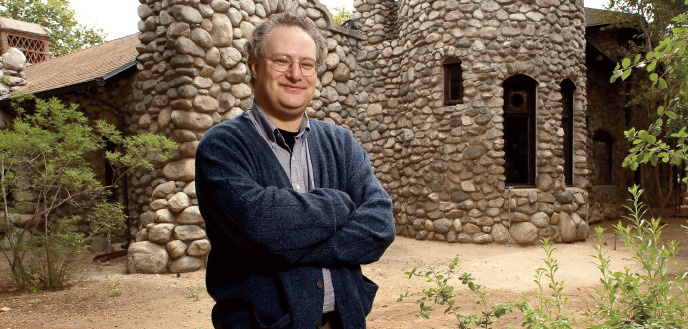 Under the guidance of adjunct professor Jeremiah Axelrod, Occidental marshals its resources for a new Institute for the Study of Los Angeles
By Jim Tranquada
Two years ago, Jeremiah "Jem" Axelrod—an adjunct professor of history, American studies, art history, and urban and environmental policy at Oxy—was inspired by his colleagues and students' enthusiasm for ­research on Los Angeles to design and propose a new institute dedicated to teaching and research about the city.
This fall, just before Thanksgiving, Axelrod had the pleasure of formally announcing the launch of Occidental's new Institute for the Study of Los Angeles. Rooted in the College's strategic vision of an academic program intertwined with all that metropolitan Los Angeles has to offer, the institute and its interdisciplinary mission are the product of a collaboration between dozens of faculty from 11 departments, a long list of community partners, and President Jonathan Veitch, who secured a major grant from Howard Ahmanson '72's Charitable Community Trust.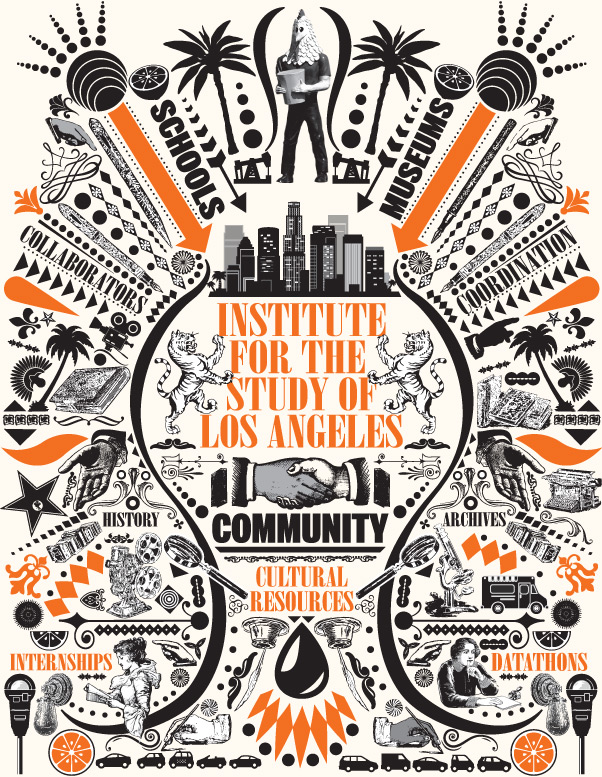 "The institute is a natural outgrowth of the teaching and research that faculty and students have been doing for years, our active community partnerships, and Oxy's emphasis on hands-on learning," says Axelrod, who will serve as the institute's director. "But Oxy has the potential to do much more to support collaborative, community-based, student-centered research on the history, culture, and social dynamics of Los Angeles and Southern California."
Located in the history department, the institute will not offer any classes of its own, instead acting to support existing departments and programs by collecting new resources, connecting faculty with potential community partners, and offering course development and faculty research grants. (The institute will be administered by a 14-member steering committee of faculty and staff.)
The institute will be working particularly closely with the Center for Community Based Learning to identify new opportunities for student and faculty research, internships, and archival projects, he says. One of the institute's budget priorities will be to provide additional logistical and staffing support for the center, according to the institute prospectus.
Even before its formal launch, the institute played a role in the NELA Newspaper Project, a partnership between Oxy and local historical groups. "Our work will have a particular focus on the multicultural heritage of Northeast Los Angeles, and the institute will be pursuing similar opportunities to bring other partners together to identify and preserve endangered source materials, including a signature oral history program," says Axelrod, author of Inventing Autopia: Dreams and Visions of the Modern ­Metropolis in Jazz Age Los Angeles (2009). "Our goal is for the College to become the key archive for Northeast L.A."
Oxy's institute will be unique because it revolves around student research, with new internships with community partners and in Special Collections; summer research fellowships in collaboration with the Undergraduate Research Center; and small direct-research stipends. "It's amazing the difference it can make if you can help students pay for such simple things as parking and photocopying," Axelrod says. Research and course development funds also will be available for faculty, and community partners will be invited to collaborate on courses.
To promote public dialogue on regional history and culture, the institute plans to foster an ongoing series of events that connect Oxy with the larger community. Among the possibilities: a speaker/performance series, an artist/scholar residency program, an annual academic symposium, and workshops designed to foster collaboration between community partners, students, and faculty.
"It's an ambitious agenda," Axelrod says. "But Oxy is in the middle of an exciting, diverse urban area with a rich and underappreciated history that is undergoing tremendous change. I think our students are going to make a real difference with their work."