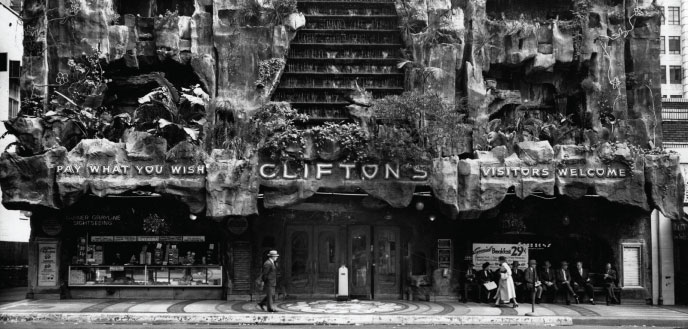 Recalling the lessons of emeriti professors Joe Birman and Léon Dostert, and a plateful of memories from dining at Clifton's
A Professor, a Mentor, and a Friend
Dr. Joe Birman (Appreciation) was a very important person to both me and my husband, Matt Laroche '76 (who just retired after 34 years as a geologist for Chevron). Although I did not pursue a career in geology for long, Dr. Birman profoundly impacted my life as a professor, mentor, and friend.
As college students he treated us with respect, had a great sense of humor even when we played pranks on him (a couple of my classmates and I walled up the doorway to his office from the inside), and he rescued my geology class when we got the Land Rover stuck out at Tick Canyon the first time we went by ourselves to do "reconnaissance" as he had suggested we do! Instead of being mad at us, he took us all out to dinner. That was the kind of person he was. He was kind, and supportive, and went beyond the call of duty at times to help his students. He was a mensch.
When we made our first donation to the Joseph H. Birman Geology Endowment Fund at Oxy, we were surprised by a phone call from Dr. Birman—or Joe, as he insisted we call him since we were long past being his students. I had the great honor of hearing him speak at my 30th class reunion and sharing a meal with him. He was still so ­energetic, had a twinkle in his eye, and was as kind as I remembered him to be. I know he will be missed and fondly remembered.
Carol (Peckens) Laroche '78
Spring, Texas
Merci, Dr. Dostert!
"The Trials and Triumphs of Léon Dostert" (Fall 2015) was brilliant! As a comparative literature major, I labored over difficult volumes in French, especially the 20th-century authors, with professors Dostert and Annabelle Rea. Dr. Dostert conducted his seminars in an informal but demanding way, a powerful fireplug of a man, always ready to correct one's grammar or diction.
I'll never forget a discussion in French concerning existentialism, when I posited what for me was a breakthrough idea: that this philosophy, with its focus on the absurd, as well as the concurrent acceptance of responsibility, resulted as a reaction to the absurdity of massive numbers of deaths in World War II, especially in Hiroshima and Nagasaki. I also saw a source or root of existentialism in a Martin Luther-like negation of the Catholicism that would absolve the individual of moral responsibility.
Dr. Dostert vehemently disagreed, scoffing with his uniquely formidable Gallic contempt, because not only had I criticized Catholicism, but also seemed critical of the remnants of the warlike mentalities in that era within his generation. Especially with the massive Vietnam War protests, perhaps he seemed to feel that his valor in World War II was somehow impugned.
Before starting a gallery in Santa Fe in 1980, I had a quasi-career as Gandhian volunteer and a lobbyist for the United Nations in the U.S. Senate in the late 1970s. My deepest gratitude for Dr. Dostert (and Dr. Rea) came after I was able to speak for 30 minutes entirely in French with Canadian Prime Minister Pierre Trudeau at a Special Session on Disarmament—about how ending the arms race depended on getting the superpowers, like two apes on a treadmill, to step off the treadmill and then spend money on things beneficial to humans, rather than preparations for nuclear war.
From his studies at Oxy in the 1920s (a surprise to me!) through his brilliant career, Paul Robert Walker '75's article paints a powerful picture that clarifies all that Dr. Dostert had gone through.
Stephen Fox '69
Santa Fe, N.M.
Growing Up With Clifton's
Just finished reading your latest edition and the Clifton's article ("The Man Who Fed L.A.," Fall) that really brought back great (and not so great) memories.
My folks enjoyed the original Clifton's on Olive along with the first Philippe's French Dip (displaced by the 10 Freeway) in the 1930s, before it was moved near Chinatown.
I remember as a kid they took me to the Broadway Clifton's, and I later frequented it weekly after finishing the swing shift (3 p.m.–midnight) at Utility Trailer Co. in City Terrace, where I bucked rivets until Ben Culley got me into Oxy (with a military service deferment) in the fall of 1950, just after the war in Korea started during the summer.
Those were pretty hairy times for men of draft age. In addition to maintaining a 2.0 GPA, we had to join the Air Force ROTC and salute everything that moved.
Our family later regularly ate at two different Clifton's in West Covina, while my kids were growing up. Those San Gabriel Valley locations are no longer in business. I look forward to trying the reopened Broadway Clifton's, but I don't think the current milieu will have the old nostalgia.
Thanks for triggering my trip down memory lane.
Murray Via '54
Irvine