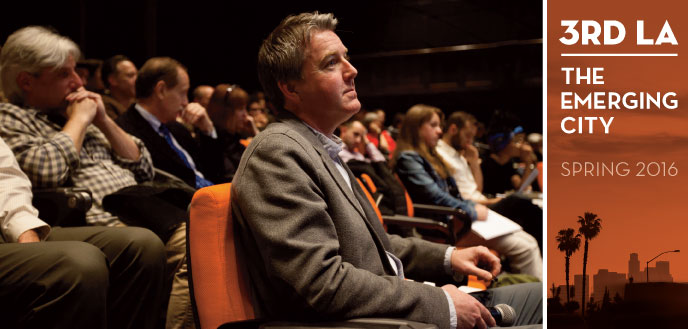 With architecture critic and adjunct professor Christopher Hawthorne setting the agenda, Oxy's 
3rd L.A. series brings the city into the conversation
By Samantha B. Bonar '90
Last year's "3rd L.A."—a series of public conversations about Los Angeles' past, present, and future as a place to live and work—proved to be one of the best attended events ever hosted by Oxy. Even the series' creator, Los Angeles Times architecture critic and ­adjunct professor Christopher Hawthorne, was taken aback by the popularity of the six panels. "There's a real appetite for this kind of conversation about the city and where it's going," he says. "From the beginning, we had a much bigger audience than any of us ­anticipated. I think everybody has a sense that the city is in a major transitional moment."
For the second iteration of 3rd L.A., which begins February 17, Haw­thorne and Occidental will be hosting conversations on subjects including the future of the lawn in an era of climate change, Los Angeles' 2024 Olympic bid, and how digital services like Uber and Airbnb are reshaping the American city. 
Confirmed panelists include designer Elizabeth Diller, former New York City transportation director Janette Sadik-Khan '82, Lyft's director of transportation policy Emily Castor, South Los Angeles streets advocate Tafarai Bayne, writers Allison Arieff and Matt Buchanan, and many others. UCLA's Hammer Museum and San Francisco Planning and Urban Research (SPUR) are joining Oxy in co-presenting events this time around.
The project is an example of Oxy's innovative, collaborative approach to learning that seeks to integrate its curriculum with the city's cultural and intellectual resources. "We'll be reading a lot about L.A. urban and architectural history to prepare for the panels," says Hawthorne, who is teaching an Urban and Environmental Policy course this semester. "It's a traditional academic seminar mixed with this public programming."
Hawthorne attributes part of the series' success to organizers' striving "to be creative about format and not just have four or five people on stage saying things that they've said dozens of times before. We really try to mix things up. We want this to be meaningful and accessible.
"I think everybody has a sense that the city is in a major transitional moment—what Mayor Eric Garcetti described as a 'hinge moment,'" Haw­thorne adds. "There are some people who are really optimistic about what's coming; there are some who have a lot of anxiety about where the city is headed and what we're leaving behind. Oxy is being a leader to help set the agenda for what that conversation consists of."
Programs in the 2016 

Third Los Angeles 

Project series include: 
Turf Battles: The Lawn in 

Los Angeles 
What is the relationship between civic and residential architecture and the post-lawn garden in L.A.?
February 17, 7:30 p.m., 
Choi Auditorium
Streetfight: A Conversation With Janette Sadik-Khan

 '82 
The former Big Apple transpor­tation commissioner and newly published author discusses street ­design, the public realm, and ­mobility in Los Angeles, New York, and other cities.
March 16, 7:30 p.m., 
Billy Wilder Theater, 
Hammer Museum
Three Eras, Three Olympiads 
Exploring the cultural and architectural legacy of L.A.'s 1932 and 1984 Olympiads—and examining the details of the city's 2024 ­Summer Olympics proposal.
March 30, 7:30 p.m., 
Choi Auditorium
Homelessness and the Right to the City
Organized by students enrolled in Hawthorne's UEP class. Speakers to be announced soon.
April 6, 7:30 p.m., 
Choi Auditorium
City on Demand: Technology and the New Shape of American Urbanism 
How are new digital services ­affecting the way we build, live in, and move through U.S. cities? A special two-night co-presentation with SPUR in San Francisco.
April 21, 6 p.m., 
SPUR Urban Center, San Francisco
April 27, 7:30 p.m., 
Choi Auditorium
Click
here
for reservations and more details.