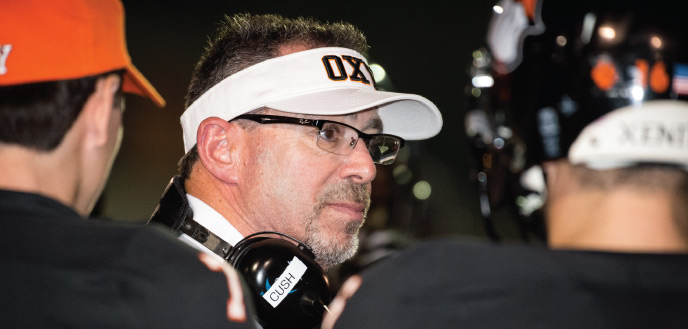 A Q&A with first-year Oxy head coach Rob Cushman
Rob Cushman was preparing for his third season as head coach with the University of Minnesota, Morris, when he learned of the head coach opening at Occidental. In a four-decade career, he's also had head coaching stops at Augustana (Ill.) (2011-14), Eastern Oregon (1997-2001), and Feather River Community College in Quincy, where he built a program from scratch and went 34-21 over six seasons (2002-07).
Less than 10 days later, Cushman was announced as the Tigers' new coach. Little did he know what he was walking into: In the months since then, the Athens, Greece, native (who was raised by his adopted family in Hood River, Ore.) has had to deal with upset players, irate parents, angry alumni, and an uncertain future for Oxy football. He has impressed many since with his unflappable nature and genuine optimism.
"The timing of all this is real interesting," admits Cushman, returning to campus December 18 after a weeklong stint in Tijuana helping to coach an American team of NCAA Division III All-Stars against a group of all-star players from private Mexican universities. "I think I have over 15 prospects to call tonight. All we do is push this big rock up the hill."
What were your thoughts about the challenges coming into the season?
I didn't know it was quite as bad as it was, but I knew it was going to be tough. I thought we'd get through the year and then fix it—recruit, develop staff, etc. I got here, and there were a lot of things I was very concerned about.
What was going through your mind after the season opener (a 61-6 loss to Puget Sound, Cushman's alma mater)?
I was really concerned going into the game in terms of our depth. The biggest issue was not being able to compete in practice. Not being able to handle any injury. I know the score doesn't indicate that, but I liked how we competed on defense. There were only three returners on offense. New quarterback, inexperienced offensive line. I felt that if we could hang in there and we could keep growing—we could get better, but that just didn't happen.
How many current players do you expect to return next season?
Fifteen to 30.
How do you convince recruits to come to Oxy?
This is an opportunity to play right away, to develop, to be coached and to get a world-class education. Why wouldn't you be a part of that?
What do you say to current parents who were upset at the cancellation of first two games, then the remainder of the season?
We tell them that the situation that we faced when we first got here led to the ­results and the termination of our season. There are a variety of issues that played into that. Instead of looking back, we're trying to fix what went on in recruiting, change the culture, and change the direction.
Is this the biggest challenge you have faced as a coach?
There's no question. I'm going into my 40th year and I've never had anything like this. I've had some difficult years and difficult seasons. I've been in situations where we didn't have resources to be the team we wanted to be. But never have I been in a situation where we couldn't line up and play and finish the season.
What are your days like now?
We're working every waking hour at it. We can put a product on the field that can be competitive. Recruiting is the lifeline. I want to build this roster to 75 or 85. It's not going to happen overnight, but we have a chance to do that in the coming years.