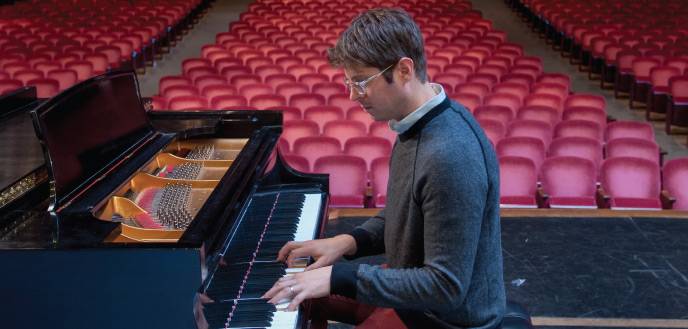 Assistant professor of composition Adam Schoenberg takes joy in the creation of new music—and he has his first Grammy nomination to show for it 
"One of the greatest compliments I ever got was, 'Your music sort of sounds like ­Radiohead meeting Aaron Copland,'" says Adam Schoenberg, who came to Occidental in 2015 as an assistant music professor specializing in composition and film scoring.
Whether that bold musical union nails the Schoenberg sound is in the ear of the beholder, but suffice to say that he's twice made the list of the top 10 most performed living composers in the country.
By the age of 37.
"You write music because it's something you believe you need to do first and foremost," says Schoenberg, "but you're also writing for the people."
That M.O. does not translate to fusty traditional works or the atonal fever dreamscapes of technicians like the Austrian composer Arnold Schoenberg (no relation). That the Oxy Schoenberg's work is so widely embraced "is a huge compliment," he says.
If he needed further validation of his acceptance, Schoenberg has been nominated for his first Grammy, for Best Contemporary Classical Composition for the 10-part orchestral suite Picture Studies. (The award honors a classical piece composed in the last 25 years, and released for the first time during the eligibility year.) Schoenberg's work was commissioned by the Kansas City Symphony and the Nelson-Atkins Museum of Art in 2012 and was first performed by the symphony under the direction of Michael Stern nearly five years ago.
Since he began composing professionally in 2006 while still a doctoral student at the Juilliard School, Schoenberg has received commissions from the Los Angeles Philharmonic, the Atlanta Symphony Orchestra, the Kansas City Symphony and the Aspen Music Festival and School, among others, and performances of his music have graced the ­Library of Congress, the Kennedy Center, and the Hollywood Bowl, to name but a few venerated showcases.
"He's a very unusual composer today because he's so positive and has such a joyous way of making music and living his life," says composer and educator John Corigliano, Schoenberg's composition professor and mentor at Juilliard, where he earned his master's and doctor of musical arts degrees.
"A lot of young composers are composing laments, that sort of thing. Adam isn't that type of person," adds Corigliano, whose own efforts have won him five Grammys, an Oscar, and a Pulitzer Prize. "His music always has a spirit of happiness and all things that are good, and I really love that in him."
Schoenberg was born in New Salem, Mass. ("not the witch Salem," he stresses)—town of fewer than 1,000 with "a general store that was sort of a post office, where you could rent VHS tapes and get ice cream." At age 3, despite the seductive small-town distractions of video and ice cream, Schoenberg began improvising on the piano. "My parents said that every single night before I went to bed I would sit down and improvise. It ­always served as this emotional outlet for me," he says.
Music was encouraged strongly by his parents; Jane, a children's book author (The One and Only Stuey Lewis: Stories From the Second Grade), and Steven Schoenberg, an accomplished composer and improvisational pianist who himself first sat down at the keyboard at age 2. (Solo toddler jamming is apparently in the family blood.)
"I was hearing music all the time in my house, whether it was my dad or on records," says Schoenberg. "Mahler, Bernstein, Barbra Streisand, Bruce Hornsby, Pat Metheny, Stevie Wonder, Keith Jarrett—you name it. It was a pretty eclectic mix."
Growing up in the 1990s, Schoenberg's tastes expanded to include Nirvana, Stone Temple Pilots, Outkast, A Tribe Called Quest, and yes, Radiohead. But he didn't join bands in high school, and admits that he's "always had stage fright."
With no firm designs on a career in music, classical or otherwise, he attended Oberlin College to play soccer, but the call of composing was undeniable. In his sophomore year, Schoenberg transferred to the music conservatory and narrowed his focus.
"It wasn't until college that I really started to study the composers," he says, mentioning influential names like Stravinsky, Debussy, Henri Dutilleux, and the subject of his dissertation, soundtrack guru Thomas Newman. "I listen to the music of today, but I've also listened to the music of our past. I sort of absorb it all and make my own sound world."
That world is inspired by everything from paintings to family to everyday life, but his creative process is quite a journey from initial spark to concert hall. Schoenberg is currently at work on Orchard in the Fog, a concerto for internationally acclaimed violinist Anne Akiko Meyers, who will debut the piece with the San Diego Symphony on February 10.
It began with a photograph. "Adam showed me a picture of the incredibly beautiful place where he got married," Meyers told the online classical music journal Miroirs CA. "There was an orchard in fog that had a very ethereal quality to it. The first movement is based on that picture."
Beginning with that photo in mind, "I started conceptualizing in January 2017," Schoenberg explains, "meaning I started improvising and then through those improvisations there's material that I like—the germ, the seed, whatever you want to call it. Then I become the composer.
"I always say—and really, this is something my father said—that improvisation is a spontaneous composition, but composing takes much more time and thought."
Come showtime in February, time and thought will reach a major nexus. He'll be making changes to the work "overnight in my hotel room in San Diego," mere hours before the parts are placed on music stands.
"Something I tell my students is you ­always need to be aware of your material," says Schoenberg, "and how you develop your ideas."
After four years as an adjunct professor teaching theory and composition at UCLA's Department of Music, Schoenberg was recruited by Occidental after an international search that drew candidates from Istanbul to New York.
"Having Adam come in with so much energy and excitement and ambition singularly for this program has just been a great injection of energy into our efforts," says associate professor of music and department chair David Kasunic. "And so we feel that we're at an important and pivotal time in the history of the music department here, and that's exciting." 
"I believe that we can make this the best music department in the country for a liberal arts college," Schoenberg says. "I was intrigued because I'm the only composer on the faculty, and so I could really come in and help create a program that I think can be inspiring for the students, but also be forward thinking in the 21st century, because it's incredibly hard to make a living as a musician."
Oxy junior Jonah Propp, a composition major from La Jolla, appreciates that fact. "A lot of my time in pursuing music is spent thinking, 'Oh man, how am I going to make a career out of this?'" he admits. "Professor Schoenberg is someone who has a very successful career where he's able to keep a family going, and he's doing commissions and working with students and trying to get them to really explore their creative side. He knows exactly the balance of criticism and praise for me to really grow as a composer. He seems like exactly who I want to be as an adult."
Schoenberg and his family live in Oxy-adjacent El Sereno, in a house where the garage serves as a music studio and creativity abounds. Wife Janine Salinas Schoenberg is a playwright and TV writer, currently working on "Snowfall," John Singleton's FX crime drama. Sons Luca, 4 and Leo, 2, "definitely gravitate toward the piano and sit down and improvise," says their father.
"I want to be a good husband, I want to be a good dad, I want to be a good professor, and I want to be a good composer," Schoenberg adds. "To try to juggle all of those things simultaneously, that's what I'm trying to figure out how to do better."
Bravo. 
Peter Gilstrap wrote "New Faces of 2021" in the Fall 2017 magazine. Photo by Kevin Burke.