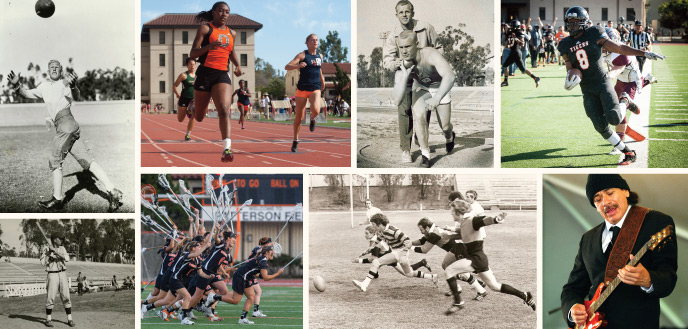 Los Angeles' oldest athletic stadium has hosted many of the College's most memorable sports moments and more than a few other milestones
In February 1917, the Los Angeles Times reported a surge of investments in athletic facilities by Southern California colleges, including USC's Bovard Field (renovated and expanded) and Pomona's Alumni Field (dug out from two feet of silt deposited by winter floods). But it was Occidental's new Patterson Field that drew the most attention from the Times in that pre-Rose Bowl, pre-Coliseum era as "the finest of the whole bunch … in a class by itself, [it] will be the papa of college athletic plants in the West."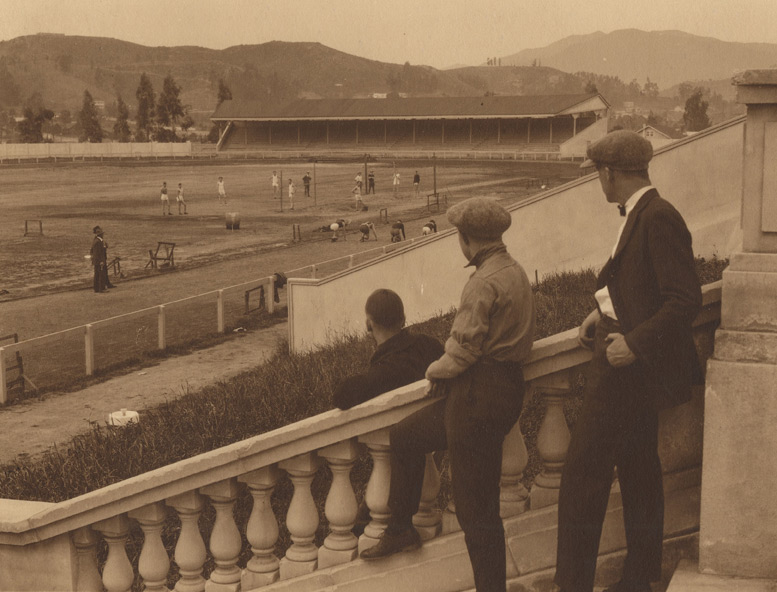 Modeled after the University of Pennsylvania's famed Franklin Field, Patterson Field—designed to accommodate baseball as well as football and track and field—had always been part of architect Myron Hunt's master plan for Oxy's new Eagle Rock campus. Yet when the campus opened in spring 1914, the athletic field was "just an expanse of leveled ground" next to Swan Hall, noted 1915 graduate Leroy Doig. It wasn't until the widow of Los Angeles banker and Oxy trustee William Patterson stepped forward with a $25,000 gift two years later that Hunt's plans could begin to be realized.
Construction began in August 1916 and was completed by the following spring. Grandstands with a seating capacity of about 8,000 rose above the quarter-mile track and field on the west, north, and east, with the south side left open for the gymnasium and pool that would eventually follow a decade or more later. One of the first uses to which Patterson was put was not football, but military training, as student Army cadets began to drill on the field shortly after the United States entered World War I in April 1917.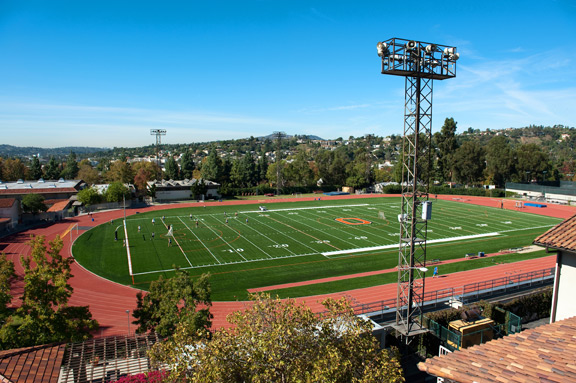 But baseball was not far behind. On May 12, the first game played on the Eagle Rock campus was a 5-2 loss to Pomona. Home plate was located at the northeast corner of the field, giving left-handed batters a huge advantage with a right-field fence just 200 feet away. To compensate, balls hit into west grandstands between the foul pole and right center were deemed ground rule doubles. Better results followed that October in the first conference football game played at Patterson, with Oxy blanking Throop Institute (Caltech) 24-0 on a sawdust-covered field (grass did not arrive until the following year).
With the demise of USC's Bovard Field in 1973, Patterson—now part of Jack Kemp Stadium—is the oldest collegiate stadium in Los Angeles. Over the last 100 years, it has been the scene of some of Oxy's greatest athletic triumphs, most crushing defeats, and a Convocation concert by Carlos Santana. Who knows what the next century will bring?