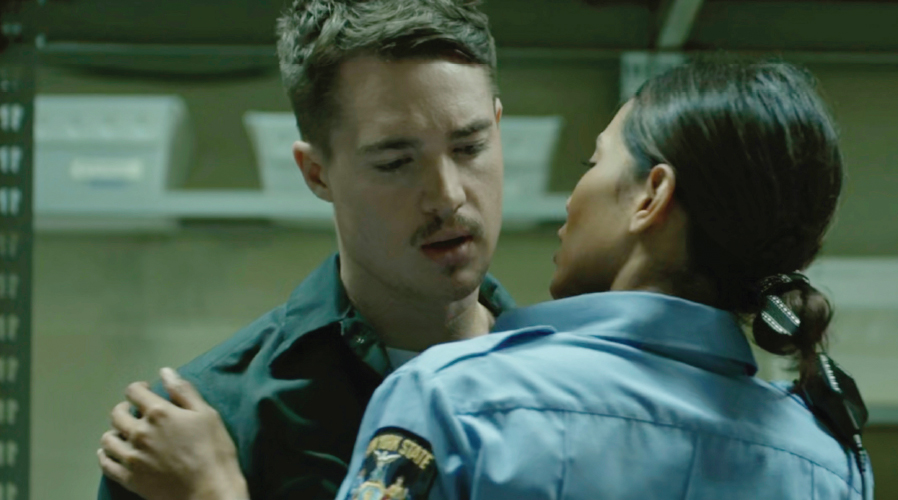 New books, articles, and films from Oxy alumni and faculty
Heartlock, directed and co-written by Jon Kauffman '05 (Darkstar Pictures; in limited release and on demand). Seven months into a 20-year prison sentence, Lee (Alexander Dreymon) is anxious to break out by any means necessary. Under the guidance of seasoned inmate Continental (Erik LaRay Harvey) Lee manipulates a female guard (Lesley-Ann Brandt) to help facilitate their escape. Heartlock marks the debut feature by Kauffman, who made his first short as an Oxy student under the tutelage of Brody Fox, associate professor of media arts and culture.
Taking Back the Boulevard: Art, Activism, and Gentrification in Los Angeles, by Jan Lin
(NYU Press). Over the last decade, there has been a noticeable renewal of public life on several of Los Angeles' iconic boulevards, including Atlantic, Crenshaw, Lankershim, Sunset, Western, and Wilshire. Focusing especially on the cultural scene of Northeast Los Angeles, Lin shows how these gentrifying communities help satisfy a white middle-class consumer demand for "living on the edge" and a spirit of cultural rebellion. Drawing on survey research, interviews with community residents and leaders, and ethnographic observation, Lin argues that the revitalization in Northeast L.A. by arts leaders and neighborhood activists marks a departure in the political culture from the older civic engagement to more socially progressive coalition work involving preservationists, environmentalists, citizen protesters, and arts organizers. Lin is professor of sociology at Occidental.
by Mathieu Cailler '06 The (Underappreciated) Life of Humph­rey Hawley, (About Editions). Humphrey Hawley is a beetle who yearns to be a ladybug—humans let ladybugs crawl on them, after all, but beetles, not so much. After going to extreme measures to be something he's not, Humphrey embraces the joys of being himself. With illustrations by Carrie Louis Wood and Rebecca Wood, Humphrey Hawley is about being "proud of who you are," Cailler told The Beach Reporter. "I want to show children, 'Hey, we all have been called 'weird.' … It's more important to strip that veneer away because everyone has something to offer." Cailler majored in philosophy at Occidental and later studied writing at the Vermont College of Fine Arts. He has published three books of poetry and Loss Angeles, a short story collection. Humphrey Hawley is his first children's book. Cailler lives in Palos Verdes.
by Frederic Wehrey '94 The Burning Shores: Inside the Battle for the New Libya, (Farrar, Straus & Giroux). Going beyond the headlines and partisan controversy over the 2012 Benghazi attack, Wehrey offers an on-the-ground look at what happened in Libya after the overthrow of Muammar Qadhafi. An Arabic-speaking Middle East scholar, Wehrey interviewed the key actors in Libya and paints vivid portraits of lives upended by a country in turmoil: the once-hopeful acti­vists murdered or exiled, revolutionaries transformed into militia bosses or jihadist recruits, an aging general who promises salvation from the chaos in exchange for a return to the old authoritarianism. He chronicles the American and international missteps after the dictator's death that hastened the country's unraveling. Wehrey is a senior fellow at the Carnegie Endowment for International Peace. His writing on Libya has appeared in The New Yorker, The Atlantic, and The New York Times. He lives in Washington, D.C.
by Thak Chaloemtiarana M'68 Read Till It Shatters: Nationalism and Identity in Modern Thai Literature, (ANU Press). In the cultural, political, and social transformations that occurred in Thailand during the first half of the 20th century, Thai literature was one of the vehicles that moved the changes. Taking seriously "read till it shatters"—a Thai phrase that instructs readers to take apart the text, to break it down, to deconstruct it—Chaloemtiarana challenges the Thai literary canon from the margins and suggests ways of expanding and enriching it. Chaloemtiarana is professor of Asian literature, religion, culture, and Southeast Asian studies at Cornell University. He lives in Ithaca, N.Y., with his wife, Siu-Ling J. Chaloemtiarana '69.
by Connie Hood '71 Islands of Deception: Lying With the Enemy, (Waves Press). In this historical novel based on her father's life story, Hood traces Hans Bernsteen's journey from a life of family wealth and prestige in Holland to near penniless immigrant intent upon assimilating in New York, to spy for the U.S. Army in the Pacific during World War II. Despite disappointments at every seeming opportunity, Hans, with his inherited ingenuity, makes a modest success. In each new situation he seems to stumble upon the very action that will bring the next challenge and the next small success until they add up to exceptional honor in service of his adopted country, but an honor that he has sworn not to reveal for 50 years. Hood lives in Ventura.
Goodbye, School, by Tonya Lippert '95 (Magination Press; April). Franny loves her school. She's played, read, studied, and even napped here. As she prepares to move to a new school, she wants to find a way to honor this special place. How can Franny say goodbye? Goodbye, School includes an author's note with information on how to guide children through periods of transition or change and acknowledge their feelings throughout the experience. After graduating from Occidental with a psychology degree, Lippert studied developmental psychology at the University of Texas at Dallas and clinical social work at UT-Austin. She lives in Portland, Ore., and currently runs mental health therapy groups at Kaiser Permanente. Lippert also has a short story in the newly published anthology Strongly Worded Women: The Best of the Year of Publishing Women (Not a Pipe Publishing; available on Kindle).
Heart of a Gypsy, by Tom Yeager '71 (warriortogypsy.com). As a student at Oxy, Yeager spent six months in Europe doing an independent study that required visiting eight countries. "From that experience I learned that travel can bring you more knowledge, love, and power into your life," he explains. In the decades since, Yeager has visited more than 35 countries, ridden horses on six continents, and seen five wonders of the world. In this 14-volume travel series, he shares his most memorable adventures through photos, observations, and his own poetry. Yeager lives in Riverside and continues to enjoy "traveling, riding horses, writing, and eating delicious sushi."
Oracle of the Reeds, by Thomas Bauer '60 (BookBaby). In his fourth novel, Bauer details the relationship between Hatshepsut, fifth pharaoh of the 18th Dynasty of Egypt, and Senmut, who rose from humble origins to become tutor to Hatshepsut's daughter, and eventually the queen's lover. Following the death of her husband, Thutmose III becomes the child king with his stepmother as regent. With Senmut's help, Hatshepsut usurps the throne and Senmut becomes the most powerful man in Egypt. Palace intrigue and Senmut's lust for power lead to the couple's fall from grace, and Oracle of the Reeds is narrated by Senmut on his return from exile to die in his homeland. Bauer lives in Morro Bay with his wife, Joyce, and his dachshund, Strudel.
Kristi Upson-Saia, professor of religious studies, was guest editor of the Winter 2018 issue of Studies in Late Antiquity (published by the University of California Press) with the theme "Rethinking Medical Metaphors in Late Ancient Christianity."