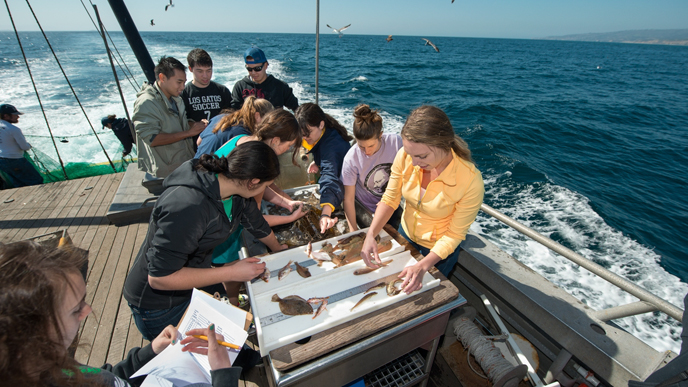 Occidental College will hold its first-ever Undergraduate Research Fair Sept. 22-23 as part of an ongoing effort to explore new ways to integrate student research into the curriculum, particularly in the humanities, arts and social sciences.
Jenny Shanahan, director of undergraduate research at Bridgewater State University and a member of the executive board of the Council for Undergraduate Research, will lead two workshops for faculty and administrators related to undergraduate research on the fair's first day.
The second day of the fair will feature presentations and posters by 20 Oxy students on their research in a wide range of fields and a third Shanahan workshop at which she will present her keynote address, "Inspiring Student Inquiry in Courses that Matter: The Case for Undergraduate Research in the Curriculum."
"One of our primary motivations behind organizing this event was to give younger students an opportunity to see first-hand both the diversity and high quality of the research projects carried out by more senior colleagues," says Amy Lyford, associate dean for the arts and humanities, curriculum and academic support.
"The diversity of the research being presented is particularly important because at most liberal arts colleges, undergraduate research is focused primarily on the sciences," adds Professor of History Lisa Sousa. The student presentations on Sept. 23 cover topics in environmental studies, public health, music, literature, art, history and sociology as well as the sciences.
That student research is drawn not only from course-related work but reflects research in all its forms at Oxy, whether the faculty-mentored summer research program, the Richter Research Abroad program, community-based learning, independent study, or the Keck Foundation Undergraduate Research Program.
The Keck research program seeks to embed undergraduate research throughout the curriculum, from first-year Cultural Studies Program seminars to advanced research seminars, from mentored summer research to internships. The Keck grant builds on Occidental's successful tradition of faculty-mentored undergraduate research, a signature program of the college for decades.
Over the past nine years, more than 200 Occidental students have been selected to present their research on subjects ranging from geology to linguistics at the National Conference on Undergraduate Research – far more than many top research universities.
Student presentations in the Johnson Hall Atrium September 23 will be:
10:05-10:30 a.m. - Panel 1
Kyle Fukui: "The Effects of Light on Guzmania monostachia Tank Acidity"
Benjamin Clark: "Fabrication & Analysis of Au Nanostructure Doped Dye-Sensitized Solar Cells"
10:35-11:15 a.m. - Panel 2
Paige Dow:  "The New Wyvernwood"
Laurel Howard: "Tuberculosis and Citizenship in Early Twentieth-Century Los Angeles"
Elwyn Pratt: "Green Space In Los Angeles' Public Schools"
11:20 a.m.-12 noon - Panel 3
Marika Tripodes: "20th Century Interpretation of the Ancient Maya through a Classical Greek Lens"
Georgia Tripodes: "The Exhibition and Presentation of Ancient Latin American Art at the Los Angeles County Museum of Art"
Tom Mirovski: "Genetically Engineering a non-Anthropocentric Narrative for the Posthuman Reader"
1:30-2:30 p.m. - Panel 4
Alyssa Cottle: "John Cage and Improvisation after 1970: Distinctions in Cagean Terminology"
Merrie Emmons: "Re-ORGAN-izing the World: A Reading of James Joyce's Ulysses"  
Jenny Dally: "Contemporary Native American Painting, Place, and Space"
Brittany Wightman: "Love, Violence, and Counter-hegemonic Discourse: Comparing Nicaraguan Women's Poetry from the Revolution and Today"
2:35-3:30 p.m. - Panel 5
Benyapa Bakewell: "Grandmother Caregivers of Emigrants' Children in Cochabamba, Bolivia"
Arielle N'Diaye: "The Musical Identity: How Public Health Organizations Utilize Music to Educate Black Young Adults about HIV in Durban, South Africa"
Ellery Ward: "Cleft Lip and Palate in India: Determining the socioeconomic factors that influence quality of life and treatment received, with a focus in rural Nainital district, Uttarakhand state"
Posters: On display from 9 a.m.-6 p.m. on the first floor of Johnson Hall
Collrane Frivold: "The reliability of malaria rapid diagnostic tests through the seasons in Madagascar: Could storage conditions affect the efficacy of rapid diagnostic tests?"
Zoe Goozner: "Endangered Acropora Corals on Isla Colón, Panamá: Baseline dataset of size, spatial distribution, and potential disease prevalence"
Louis Jochems: "Examining the spatial distribution of a poison frog species on Isla Colón, Panama"
Dana Michels: "Development of the bacterial community within the neotropical hispine, Cephaloleia congener"
Katherine Yonagi: "Potential rescue after extended training in a model of Fetal Alcohol Spectrum Disorders"
Sabrina Moffly: "Age Distribution and Growth Rates of Garibaldi from Santa Catalina Island"
Yingshuang Zheng: "Solar Panel Simulating and Recording Robot"
The Research Fair was organized by the Keck Undergraduate Research Program in collaboration with the Undergraduate Research Center, the Center for Teaching Excellence, the Center for Community Based Learning, the Center for Digital Learning + Research, and the International Programs Office.