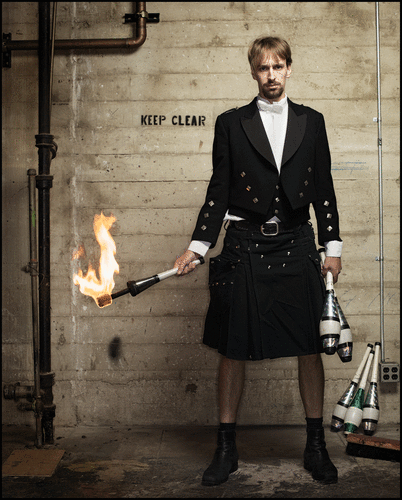 When the Flying Karamazov Brothers took the Thorne stage at Oxy on Friday, September 14, it was a personal homecoming for Stephen Bent '09, who performs with the juggling troupe under the stage name Zossima.
"I'm tremendously excited," Bent said. "The performing I get to do with the Karamazovs is deeply infused with joy and playfulness, and I'm thrilled to be able to share that with my Oxy community."
In a sense, Bent owes his very existence to the neo-vaudevillian group, as his parents' first date was to see a Karamazovs performance in 1982. Somehow that experience got encoded in his DNA, because Bent began juggling as a childhood hobby, and it quickly morphed into a teenage obsession after he saw the Karamazovs in action at age 13. He immediately wrote to the troupe, asking how he could join.
Founding member Howard Jay Patterson responded by sending the young Bent a list, which, among other things, encouraged him to keep playing the trombone, as all of the Karamazovs are musicians as well as jugglers. Bent followed that advice and pursued a music major at Oxy. When Patterson suggested Bent learn to sing, he both joined the Glee Club and started his own a cappella group.
(Bent was shut down by Campus Safety, however, when he juggled flaming torches in the Cooler while competing in an annual talent show on campus.)
After Patterson decided to leave the Karamazovs, Bent auditioned and was eventually selected to replace him. Problem was, he was still in school.
"Oxy was wonderfully supportive of my Karamazov career, despite the slight hitch of it overlapping with my senior year," Bent recalls. "That was where I really felt the advantage of being at a small liberal arts institution, rather than being one of 30,000 anonymous students at a state school. My professors knew me and trusted me to get the work done, allowing me to spend time touring and still complete my degree. I will be forever grateful to them for their support and flexibility during the craziest year of my life (so far). And now they've even booked us a gig. Thanks, Oxy!"
Bent says he is expecting shenanigans from his former classmates who attend Friday's show, however. "I would be surprised and disappointed if they don't pull some kind of crazy stunt," he says. "We do a piece called 'The Gamble,' in which we juggle any three objects (heavier than an ounce, less than 10 pounds, and no bigger than a breadbox) that the audience brings in. Recent objects have included a giant blob of Jell-O, a John McCain action figure, and an 'Eggtopus,' which is a frozen dead octopus with raw eggs taped to the end of each tentacle. I shudder to think what terrible contraptions my friends are working on this week. Bring it on."
Sounds like a challenge.
For tickets, please click here.