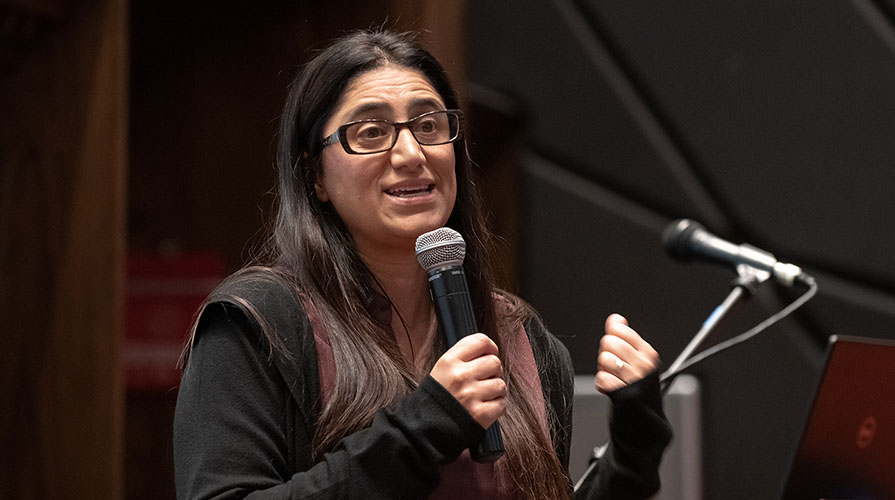 Sharing stories and insight from the frontlines of the Flint water crisis, physician, scientist and whistleblower Mona Hanna-Attisha spoke on campus Feb. 28 as part of the Phi Beta Kappa speaker series.
In the summer of 2015, Dr. Mona Hanna-Attisha was working as a pediatrician in Flint, Michigan. One of her patients, a four-month-old, had come in for a routine checkup. Now that the mother was returning to her job as a waitress, she had decided to stop breastfeeding and switch her daughter to formula, made by mixing powder and water.
It was the year after the City of Flint, to save money, had switched from water purchased from the City of Detroit to water pumped from the Flint River. The mother paused a moment before asking, "So is the water safe?"
"The water is fine," Hanna-Attisha replied, a reassurance that was supported by all the information coming from local officials. But what became clear in time was that the water was not fine. Lead, a poison and neurotoxin that is unsafe at any level, was leaching into the water supply. Worse, public officials were refusing to acknowledge the mounting crisis.
"The story of Flint is a story of an incredible crime committed with absolute indifference against some of the most vulnerable people in our country—our children," Hana-Attisha said during a lecture-discussion moderated by Bhavna Shamasunder, associate professor of urban and environmental policy. "It's also a story of how everyday people … came together in an unexpected team and said, 'We've had enough.'"
Doctors, mothers, students and journalists joined forces to fight on behalf of Flint's children and ultimately created a playbook of what it means to be a resister and create hope in our country, she continued.
Flint is the story of the power within all of us to open our eyes and to take action—it's so important to have the courage to take action when we see injustice."
She noted that the broader story is not just about Flint, but speaks to some of the larger crises Americans face, be it environmental contamination or environmental injustice. It's also a tale of what happens when we disrespect science.
Hanna-Attisha talked about how her immigrant background—her family moved to the United States from Iraq when she was four—gave her genuine gratitude for the freedoms available in America and perspective on the importance of giving back and serving her community. This pushed her to go into medicine as well as be in a place like Flint, she said, which has "an almost heightened antenna for injustice."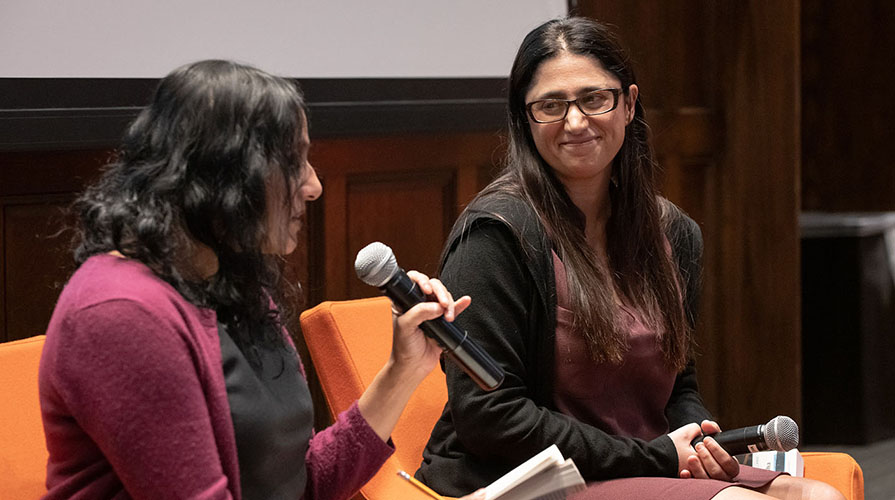 During the difficult period following the press conference where she first presented her research demonstrating the danger of the water supply, she said it was "her children" who helped her stay grounded and centered.
"It was almost as if the kids jumped out of my spreadsheets and my research and lifted me up and gave me the courage to keep on going," she observed.
An important aspect of her work has been encouraging more scientists, doctors and academics to get out of their institutions and into their communities to humbly work shoulder-to-shoulder with people to address issues.
At one point Shamasunder asked whether there was any advice or encouragement she had for Oxy students.
Hanna-Attisha talked about how inspired she was by students and young people. She encouraged them to connect with the power within all of us to open our eyes to the injustices that are happening everywhere.
"More importantly, take action, even when it's hard. It's so much easier to do this work when you have a team," she added. "Flint is the story of the power within all of us to open our eyes and to take action—it's so important to have the courage to take action when we see injustice."