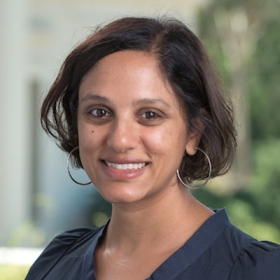 Associate Professor, Urban and Environmental Policy; Steering Committee, Public Health
B.S./B.A., UC San Diego; M.ES., Yale University; Ph.D., UC Berkeley
Hours:
Tues/Thurs 1:00-2:30pm or by appointment
Bhavna Shamasunder teaches and conducts research at the intersection of environmental health & justice with a focus on inequalities faced by low-income communities and communities of color who live and work in urban and/or industrial environments
Read our study; Community-Based Health and Exposure Study around Urban Oil Developments in South Los Angeles
Read our paper on "The Environmental Injustice of Beauty"
Research Interests
Environmental Justice, Environmental Health, Community Engaged Research, Chemical Exposures and Policy, Inequality, Social Movements. 
Current Research Projects
Taking Stock: Product Use Among Black and Latina Women funded by the California Breast Cancer Research Program.  Our co-PI on this project is Black Women for Wellness and co-investigators are Silent Spring Institute and Dr. Ami Zota, George Washington University, School of Public Health.  
The Environmental Injustice of Beauty
Environmental Justice impacts from oil extraction and new unconventional drilling practices in Los Angeles  (check out the video by the Liberty Hill Foundation on the oil rush in LA) 
Energy Justice; Environmental Justice Based Approaches to Renewable Energy Landscapes 
Current Research Funding
California Breast Cancer Research Project
National Institutes of Environmental Health Sciences (R21)
Courses
Environmental Health and Policy (UEP 201); Society and Environment (UEP 101); Senior Comprehensive Seminar (UEP 410/411)
Recent Talks/Conferences
Oil Wells & Gas Storage or Fewer Good Jobs in Our Neighborhoods: A Real Dilemma or a False Dichotomy?; 2018 Los Angeles Congress of Neighborhoods; September 22, 2018
Environmental Justice and Women's Health; Joint Annual Meeting of the International Society of Exposure Science and the International Society for Environmental Epidemiology (ISES-ISEE 2018); August 2018
Recent Finding of Higher Asthma Rates in Residents near Oil and Gas Activity; Asthma Committee, Los Angeles County; April 23, 2018
Kick-Off Speaker for Leadership in Sustainability and Environmental Justice: A Seminar in Engagement and Action; Scripps College; January 31, 2018
Speaker; Power Manifesto: Reproductive Justice =Voting Power + Accountability + Good Policy; Black Women for Wellness Convened; California Endowment; October 19, 2017
Guest Lecture; "No More Dirty Looks: Personal Care Products and Ways to Cut Your Exposure, Teach Others, and Join the Movement for Chemical Policy Reform"; Community Organizing for Public Health Course; MPH; University of Southern California; October 4, 2017
Strengthening Environmental/Health Participatory Science for Successful Outcomes; Institute for Advanced Studies; Reseau Francais; Marseille, France; October 12-13, 2017
Women's Reproductive Health & the Environment: Best Practices for Los Angeles County- Community, Science & Policy; Air Quality Panelist; The California Endowment; September 20, 2017
Community-Based Research: A Spectrum of Power and Practice; Mario Pando Social Justice Research Collaborative; First Generation Studies and Community Based Research; June 28, 2017. 
Popular Media
Crude LA: California's Urban Oil Fields; VICE News; April 27, 2016
"Flint is Just the Tip of the Iceberg"; New Republic; February 10, 2016