Submitted by kwall_admin on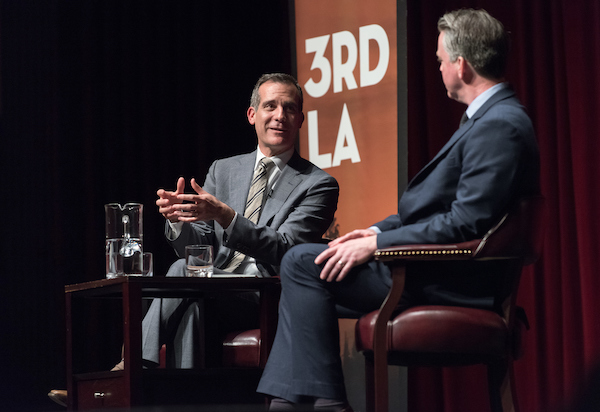 Christopher Hawthorne's latest career move began a year ago with a conversation on the stage of Occidental's Thorne Hall.
Los Angeles Mayor Eric Garcetti was being interviewed by Hawthorne, Los Angeles Times architecture critic and Occidental professor of practice, as part of Occidental's popular 3rd LA series when Hawthorne asked how the design of every-day new projects in the city could be improved.
Garcetti replied that he was considering appointing a chief design officer for the city. This week, Hawthorne let his readers know that he had decided to leave the Times after almost 14 years to become the mayor's chief design officer.
"I've always been interested in the intersection of politics and architecture," Hawthorne said in an interview with the New York Times. "A lot is up for grabs, in terms of the civic identity of L.A. For me, it really is about the timing. The mayor has a five-and-half-year term, and on top of that there is the arrival of the Olympics in 2028. It's rare that a city has that kind of civic deadline. It's really an ideal time frame."
Although he's moving to city hall, "I plan to continue to work with students and faculty at Oxy and continue our conversation about where Los Angeles has been and where it's headed, " Hawthorne says.
Garcetti's appointment of Hawthorne is just the latest example of city hall tapping the experience and expertise of Occidental faculty and alumni. In a keynote speech at Occidental last month, Garcetti announced an ambitious partnership with the College to accelerate and measure the city's pursuit of sustainable, inclusive, and equitable growth as part of the global Sustainable Development Goals movement. Heading that effort will be Sanjeev Khagram, Occidental's John Parke Young Chair in Global Political Economy.
Brenda Shockley '68 joined the Garcetti administration as deputy mayor for economic development in May 2016 after more than 24 years as president of Community Build, a nonprofit she helped found in the wake of the city's civil unrest in 1992. Rick Cole '78, currently Santa Monica city manager, served as Garcetti's deputy mayor for budget and innovation from 2013-2015.
Garcetti's respect for Oxy comes from first-hand experience: he taught as an adjunct assistant professor of diplomacy and world affairs during the 1999-2000 school year, co-teaching courses in international relations theory, international political processes and a senior seminar.