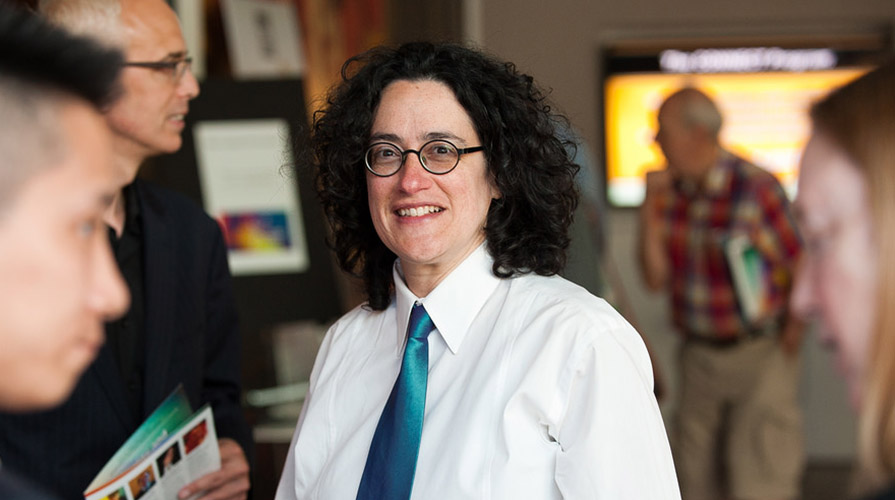 Trainer and advocate Cynthia Rothschild leads the Kahane Oxy-at-the-U.N. Program, which is continuing in a remote format this fall.
With a new director at the helm, the William and Elizabeth Kahane United Nations Program at Occidental College (Oxy-at-the-UN) is taking place virtually this fall due to the COVID-19 pandemic. In a typical semester, students move to New York City to intern at U.N. agencies and government offices, but a remote format promises to provide a similar and in many ways unique experience for a cohort of 18 students.
Occidental welcomes Cynthia Rothschild, who was appointed this summer as the U.N. Program's faculty director, taking over for Doug Gardner. Rothschild is a writer, trainer and advocate whose work has revolved around the U.N. for more than two decades. Recently, she has been a consultant with a focus on U.N. advocacy and policy, sexual rights, LGBTI issues, women human rights defenders, global clampdowns on civil society organizing, and HIV and AIDS. 
"I come to this position with a significant advocacy, training and facilitation background," Rothschild says, "and the opportunity to work over a longer period of time with students to help contribute to how they think about this political project [the U.N.]—that's a gift."
The Kahane U.N. Program, co-led with assistant director Jacques Fomerand, gives Oxy students unparalleled access to high-level internships within a variety of U.N. agencies as well as country missions (government offices that focus on the U.N. system). Internships are complemented by two academic seminars and an array of guest speakers.
The focus of Rothschild's seminar is human rights. Her course highlights non-traditional entry points for looking at the U.N. and its human rights "systems," including gender and sexuality. She also focuses on the effects of increased hostility toward "rights" and the U.N. itself.
Putting learning into practice
This fall, Oxy students are interning at nine different sites, including United Nations Children's Fund (UNICEF), United Nations Population Fund (UNFPA), United Nations Institute for Training and Research (UNITAR), United Nations Development Programme (UNDP), United Nations High Commissioner for Refugees (UNHCR), and the United Nations Foundation as well as country missions for the U.K., Guatemala and Costa Rica. 
So far, students have been busy. Some are observing the U.N. General Assembly meetings on behalf of their internship hosts. Others are making unique contributions, including a student at the U.K. mission who created a prototype design for the country's COVID PPE mask. Another student at UNITAR is assisting with the development of training programs that help government delegations and other U.N. staff work most effectively in U.N. spaces. 
Other projects relate to climate change and family planning through a lens of women's empowerment, the U.N. Security Council and Syrian conflict, and issues of U.N. reform—an important and timely subject, particularly in this political and economic moment.
Senior Johnny Hammer is a Diplomacy & World Affairs major who is interested in the development field and public policy. He is interning at UNICEF, where one of his projects is engaging young people in five Sub-Saharan African countries to share how their lives have been impacted by the coronavirus.
"Participating in the U.N. program has been my goal since I applied to Oxy as a high school senior," he says. "Despite the disappointment of COVID-19 and working from home, it is quite amazing to see how UNICEF's work continues as employees interact online from their home countries and communities worldwide. It becomes so clear how COVID has impacted everyone."
Building a bridge to social change
Rothschild has forged a career working with NGOs as well as passionate, visionary activists, helping to build a bridge between their work and U.N./human rights policy arenas. This new job opportunity builds upon her long history of supporting engagement in the U.N. system and helping others understand "what this morass of the U.N. actually is."  She adds, "To use the U.N. to our best advantage, and in the service of rights, we need to understand its complexity."
"In this moment of extreme nationalism when state cooperation and multilateralism are really under threat, a program like this so strategic. It builds the capacity and skill set of young people who may choose to either work in this system—or in defense of it—or who will do other work connected to these issues."
The U.N. is experiencing a serious budget crisis due to the global economy generally, but also due to decisions being made by various governments including the United States to withhold funding for political reasons. Rothschild sees the internships and courses as opportunities to focus on not only the mechanics of the U.N. but also the geo-political contexts that shape it and allow it to be, or not be, functional and effective. 
"I think we have to understand the systems of the U.N, and how to maneuver within them in order to respond to global human rights challenges," Rothschild says. "Because really, this is a project that is about social change."