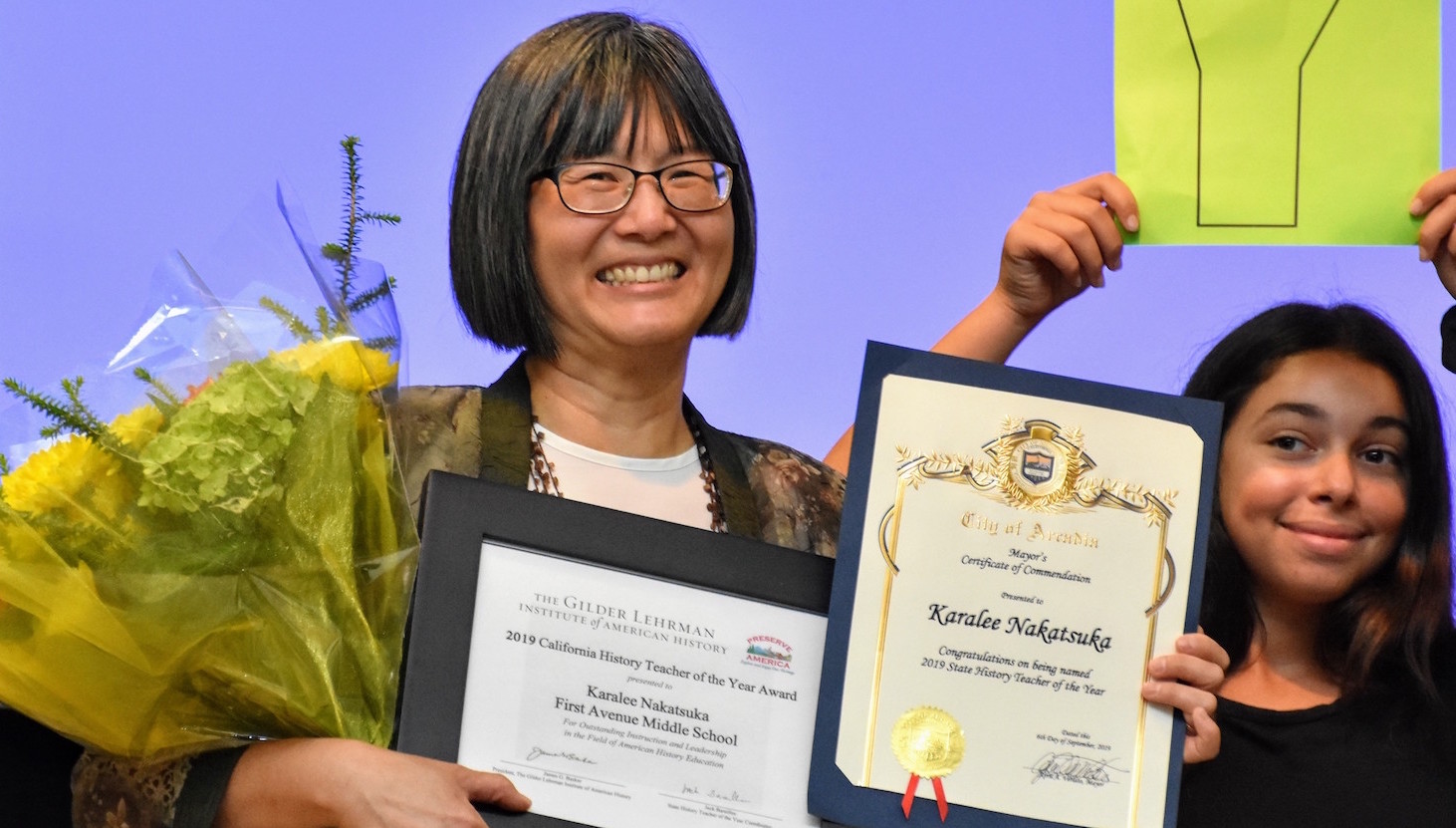 Middle school history teacher Karalee Wong Nakatsuka '89 has an unmistakable passion for her subject. "I like to make history come alive for my students," says the 30-year Arcadia Unified School District veteran.
The extent to which she has succeeded was made clear earlier this month when she was named the 2019 California History Teacher of the Year by the Gilder Lehrman Institute of American History.
There was standing room only in First Avenue Middle School's auditorium September 6 as Nakatsuka's students, family, friends, and colleagues gathered to celebrate the award that also makes her a contender for National History Teacher of the Year honors next month.
"Ms. Nakatsuka teaches important historical concepts in meaningful ways, opening the door for students to understand and engage with history and paving the way for rich conversation and interaction with the subject matter," said Jack Bareilles, Gilder Lehrman's California state coordinator.
Now in its 16th year, the Gilder Lehrman award recognizes K-12 teachers with a demonstrated commitment to teaching American history, who employ creativity and imagination in the classroom and make effective use of primary sources to engage students with the subject matter.
Nakatsuka embraces the challenge of an eighth-grade survey course covering all of American history, using technology including digital field trips and 360-degree photos (some of which she took herself on family vacations) to show that "real people experience history," she says. "It was real people who experienced what we are studying in class.
"I always loved history, and it was kind of a natural progression after I graduated to get my teaching credential," says Nakatsuka, who majored in American studies at Oxy and earned her master's degree in education at UCLA. Her Oxy education continues to shape her career as a teacher today.
"I still have my purple notebook with my notes from my awesome politics class with Roger Boesche that really challenged us to think," she says. "I wouldn't be who I am today without my Oxy experience. I'm just trying to pass those lessons along, to teach my kids to be human, to be good citizens and to make the world a better place."
Last year, Nakatsuka returned to Oxy as one of almost three dozen public school teachers from across California who participated in an intensive Gilder Lehrman-sponsored workshop titled "The History of American Immigration Through a California Lens." Assistant Professor of History Jane Hong "put on a wonderful program," she says.
Nakatsuka is not the first Occidental alumnus to win top teaching honors. Others include Jennifer Tróchez MacLean '91, named one of Los Angeles Unified School District's 2017-18 Teachers of the Year; I'asha Warfield '99, a seventh grade teacher for Oakland Unified School District who was named California Teacher of the Year in 2012; Sean O'Brien '90, an English teacher at West Ranch High School in Stevenson Ranch, who was named Los Angeles County Teacher of the Year in 2007; and Jonathan Wenn, a middle school history teacher for Glendale Unified School District, who was presented with the Disney American Teacher Award in 2001.