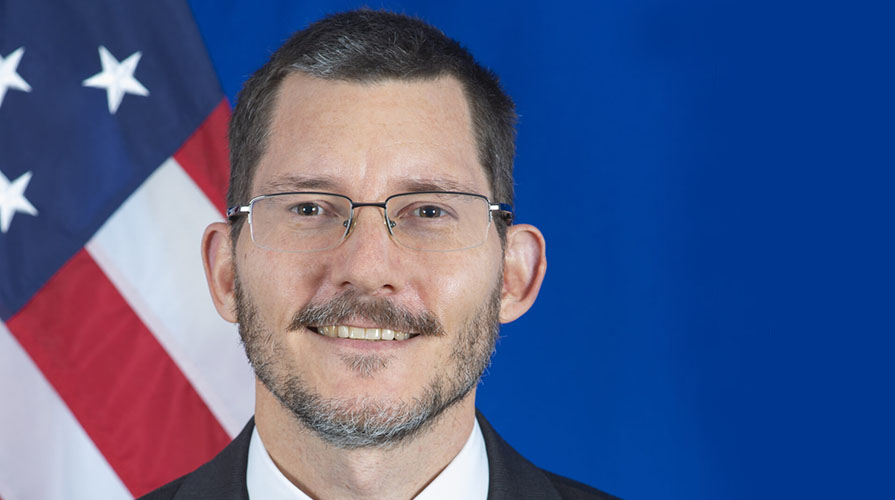 A career Foreign Service officer, Gonzales was nominated by President Joe Biden. He most recently served as deputy assistant secretary of state in the Bureau of African Affairs.
The first time Michael Gonzales '96 set foot in Zambia, he was an Oxy student hitchhiking through the country en route to see ancient ruins in Zimbabwe. He was in Africa through Oxy's Richter Grant program, studying education reform in Namibia. Little did he know that 27 years later he would be named U.S. ambassador to Zambia. 
Gonzales was sworn in on August 10, 2022, after a yearlong selection and confirmation process that concluded with the U.S. Senate's confirmation of his appointment. As ambassador extraordinary and plenipotentiary to the Republic of Zambia, he will oversee everything that the administrative and executive branches of the U.S. government engages on in-country. This includes the nearly half a billion dollars that the U.S. provides annually to Zambia in development and humanitarian assistance.
About 70% of U.S. ambassadors are career Foreign Service officers like Gonzales. "Many who enter the foreign service have the desire of one day becoming an ambassador," he says. "I'm just tickled that the State Department and the president have decided to entrust me with this position."
"I'm delighted to learn of Michael's recent appointment as U.S. ambassador to Zambia," says Professor Emeritus of History Brice Harris, one of Gonzales' mentors at Oxy. "He will continue further our shared enthusiasm for Africa and its peoples."
A Diplomacy & World Affairs major at Oxy, Gonzales has spent his career building partnerships with host governments, international partners, and civil society organizations with the goal of promoting good governance, opening political space, improving business environments, protecting human rights, and expanding economic opportunity.
In Zambia's 2021 presidential election, opposition leader Hakainde Hichilema won with a 59% majority after five failed runs, an exciting development. According to Gonzales, the new president is making all the right commitments in terms of democracy, accountability and an enabling environment for the private sector.
"These are issues I've spent my entire career focused on around Africa and Asia," he says. "It's been a wonderful year watching Zambia's renaissance and now having the chance to go out there myself and lead the U.S. government's contribution to it is really fantastic."
Most recently, Gonzales served for two years in the Bureau of African Affairs, where his portfolio covered West Africa and the Sahel Region. Before that he was the director for analysis of Africa in the State Department's Bureau of Intelligence and Research. A career member of the Senior Foreign Service with the rank of minister-counselor, Gonzales previously served as deputy chief of mission and chargé d'affaires, ad interim, at the U.S. embassies in Kathmandu, Nepal and Lilongwe, Malawi.
Occidental has a long history of producing ambassadors and other Foreign Service professionals. Gonzales is the second alumnus to serve as ambassador to Zambia, following David Dunn '71 who served from 1999 to 2002.