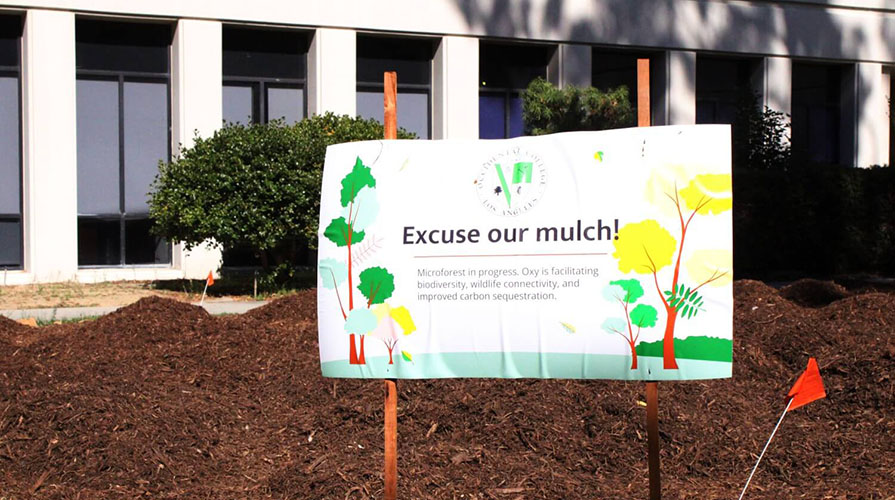 Student volunteers are creating a micro forest on campus which will foster biodiversity, increase carbon sequestration and save water.
This article was written for and originally published in The Occidental, the independent student-run newspaper at Occidental College. Read this article and more coverage online at theoccidentalnews.com.
By Yanori Ferguson
An untraveled nook between the Norris Hall of Chemistry and Arthur G. Coons Administrative Center will soon be transformed into a thriving, interactive micro forest by student volunteers enrolled in Plant Form and Function taught by Professor and John W. McMenamin Endowed Chair in Biology Gretchen North. According to North, planting this micro forest involves novel and effective methods for fostering biodiversity, increasing carbon sequestration and saving water.
The micro forest will also provide respite for students, build community and educate students on the importance of green spaces in LA, North said. Following approval from facilities and administration, and after letting their mulch decompose, student experts are getting their hands dirty with Occidental community members Nov. 19 to catch the rainy season and begin planting, according to North.
Why are micro forests important in L.A.?
Micro forests were designed by botanist and plant ecologist Akira Miyawaki to mirror the exceptional climate resilience of thickets of indigenous trees around Japanese temples and shrines. This emulation is done through densely packing small squares of land with native plants, which in turn conserves water, sequesters carbon, lowers temperatures and reestablishes plant, fungi and animal biodiversity, North said.
According to The Guardian, L.A. needs this type of climate change intervention, as it has the worst urban heat island effect — the phenomenon where pavement and buildings trap heat — in California. According to Olivia Plumb '26, a student in Plant Form and Function, Occidental's micro forest can serve as a starting spot for mitigating this effect of climate change.
"We live in an area of L.A. that does have more green spaces relative to the rest of the city, and we're really lucky to have that, but there are other areas of L.A. that don't," Plumb said. "Micro forests can have a really big impact in other neighborhoods that are not as privileged in that way."
Plumb also said that L.A. is exceptionally biodiverse, so it is particularly important to reverse the disruption caused by urbanization.
"California Floristic province is one of the seven biodiversity hotspots in the world," Plumb said. "There are a lot of endemic plants in this area that are not found anywhere else...[so] Southern California is [especially] impacted by climate change."
The impetus
Associate Professor of Economics Bevin Ashenmiller said she saw potential in the barren, unused turf outside of her office window in Fowler. North said Ashenmiller played a crucial part in institutionalizing the micro forest by reimagining the space through the lens of as many channels as possible, connecting and gaining approval from facilities, members of administration and other necessary contributors.
Ashenmiller said she thought the micro forest would serve as an opportunity for student research.
"We could engage a lot of different classes," Ashenmiller said. "Collecting data around carbon sequestration, shade and other measures can help further the science around [micro forests]."
Ashenmiller said the micro forest is also meant to be inspiration for off-campus interventions in public schools.
"Our urban schools have been paved over. They're hot, they're crowded and they're super noisy because natural barriers create noise suppression," Ashenmiller said. "So you can really change students' lives dramatically by changing the schoolyard."
Ashenmiller is on the LAUSD Greening Schools and Climate Resilience Committee and said she faces resistance when fighting for green spaces in schools because of deceiving logistical concerns.
"Most of it is related to lack of knowledge and concern about having to provide maintenance," Ashenmiller said. "Party line is if we plant trees in the middle of the schoolyard, children will run into them. It's such a false narrative."
Ashenmiller said that the micro forest on campus can be a measurable case study to show how affordable and low-maintenance micro forests can be.
"If we can say, 'This is how big it was, this is how much it costs and this is how easy it is maintain,' it's a lot harder for [LAUSD public schools] to be like, 'We can't afford that,'" Ashenmiller said. "It's an opportunity to show that this is actually really beautiful."
The student experts
On the lookout for the next plant to put in the micro forest, gardening expert Graham Luethe '26 leans to tear a leaf off of an especially fragrant plant of hummingbird sage residing outside the Moore Lab of Zoology.
"As the name [suggests], they attract hummingbirds," Luethe said.
Luethe said he is currently conducting research on re-landscaping the lawn outside the Urban and Environmental Policy Institute (UEPI) building. According to Luethe, it will function as a demonstration garden with educational materials on how community members can change their lawns into native landscapes, since mainstream landscaping aesthetics can be harmful.
"The traditional way of viewing landscaping [is] boxing hedges, using fertilizers when they're needed, and then using herbicides when they're needed," Luethe said. "But that contributes to the degradation of soil over time and creates increasing reliance on fertilizer."
Luethe said the micro forest aesthetic may not come intuitively to humans with an ingrained desire to discard leaf litter.
"[It] is one of the dumbest human desires in the world. Plants have this great thing that they've done, where they make their own molds, they make their own fertilizers, [and] increase transpiration of water," Luethe said. "And we've decided that it looks better if we blow it away."
Luethe said part of looking beyond the stereotypical landscaping view is searching for resources on Indigenous uses for land.
"Every plant has had a use or has had a reciprocal relation," Luethe said. "Native plant knowledge comes from Indigenous people, and if it doesn't, then it should."
With a team of 15-20 students, there are many different responsibilities to take on to make the micro forest happen, according to Luci Johnston '26, another student in Plant Form and Function. Johnston is bringing expertise from two years of doing habitat restoration with Green Kirkland—a community removing invasive plants, planting native plants and restoring parks in Kirkland, Washington—and was the one to suggest sheet mulching. Johnston said sheet mulching is a method of creating healthier soil by smothering the existing weeds and bermuda grass with wet cardboard and mulch.
According to The New York Times, mulch creates healthier soil by mitigating soil compaction, retaining moisture, regulating soil temperatures and providing material for saprophytic organisms—such as fungi, bacteria and earthworms—to break down. According to William C. Fonteno, a professor emeritus of horticultural science at North Carolina State University, this degradation releases humates that bind soil particles, leaving space for better oxygen and carbon dioxide exchange in the new soil.
Bianca Dal Bó '24 is also enrolled in Plant Form and Function and is going to be looking into the hardware that they will need—including wiring of the irrigation system—and planning how to productively channel rainfall.
Last spring, Casey Wisely '24 participated in micro forest planning and generated a list of plants and their water and sun requirements along with other students in Flora and Fauna of Southern California. He is now enrolled in Plant Form and Function.
The labor
According to Johnston, the process of mulching itself is quite laborious, and the hardest part was transporting the mulch that facilities deposited outside of the Bioscience Building. After picking the mulch up using shovels and putting it into tarps, they had to ensure it was six inches deep on top of the cardboard in order to completely smother the weeds, Johnston said.
According to North, students engaged the help of facilities when gathering recycled cardboard from places around campus. North said facilities also worked to dig out a nonnative, slightly invasive holly that had to go.
"[Facilities] came in at 6:30 a.m.," North said. "[The holly] was right in the center of where the oaks have to go."
Michael Reyes, a member of the grounds team, said he was driven by his love for students when providing cardboard.
"I care about the students here at Oxy," Reyes said. "If I have time, I'm available."
The plants
According to North, the micro forest team intends to put in about 150 plants. She said some of these plants are being freed from experimentation in the lab and 50 plants were obtained from the Theodore Payne native plant nursery, but most have been started by students simply collecting seeds.
Luethe said there are four layers of varying plant heights to include in a micro forest for it to be most effective. According to the LA Micro Forests website, the randomized, vertical layering of canopy trees, trees, sub-trees and shrubs maximizes space while preventing competition between neighboring plants.
North said larger trees will include two native species of oak. According to North, they will plant approximately 12 coast live oak and eight to 10 Engelmann oak along with elderberry and black walnut trees, which have important indigenous uses.
"Black walnut is a protected species [and] is used to protect land," Dal Bó said, "They're being used to occupy park lands so that they can't be taken over by developers."
According to Luethe, black walnut is threatened, so it is especially important to get it established.
Toyon is more shrubby, according to Wisely, and another important plant for indigenous populations.
"My favorite [plant] that we're planting is called laurel sumac," Wisely said.
Once set up, Wisely said the micro forest will have a sign with all the information about micro forests, detailing the native plants and their uses.
A place for respite and community
Dal Bó said that, down the line, there will be a path and bench in the micro forest to aid in fostering a restorative spot for students.
"I think it'll end up being a really nice space, even if we don't get to see that complete fruition," Dal Bó said.
According to Plumb, the purpose of the micro forest extends beyond the course curriculum and will outlive us all, so she encourages all students to show up Nov. 19 to start planting.
"Even if they're not explicitly involved in biology, I think it's something that will benefit the entire Occidental community," Plumb said. "I would love to see people turn out."