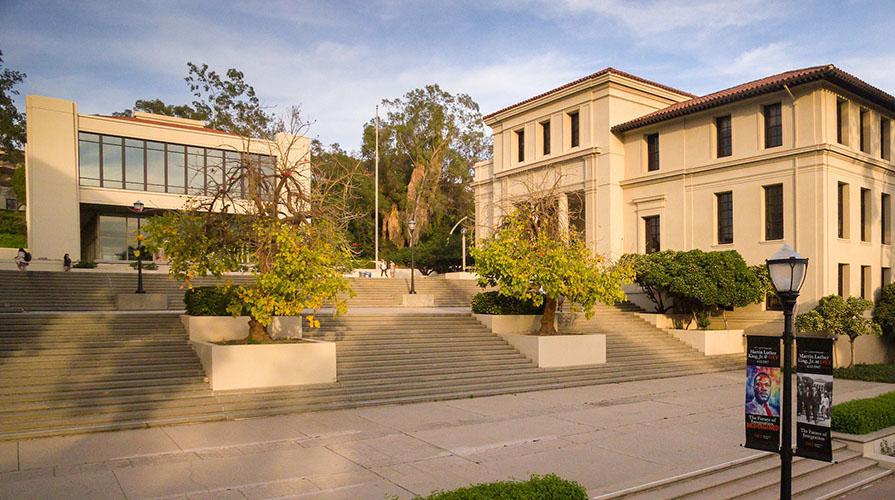 One week after fall break, infection rates at Oxy were lower than Los Angeles County levels.
This article was written for and originally published in The Occidental, the independent student-run newspaper at Occidental College. Read this article and more coverage online at theoccidentalnews.com.
 By Harper McKinney 
The week following fall break, Occidental conducted 1,634 COVID-19 tests, according to James Uhrich, vice president for Information Technology Services (ITS), chief information officer and co-chair of the COVID Operations Group (COG). Occidental had four new positive cases the week of Oct. 15, directly after fall break, and nine COVID-19 cases under management, according to an email from Marty Sharkey, the vice president of communications and institutional initiatives and co-chair of COG. Four of the reported cases under management are faculty and staff and the other five are students.
Cases under management is an umbrella term that includes all positive cases within the Occidental community, Uhrich said. These include positives from on-campus testing, people who have self-reported positive tests and, in rare cases, when a high-risk individual has to isolate due to exposure to a person with COVID, according to Uhrich. According to Uhrich, the college reports the numbers of cases under management among students, faculty and staff. These numbers are higher than the number of positive tests in a given week because they include people who received their test results off campus. In addition, individual cases may stay 'under management' for more than one week.
The week directly after fall break, there was a slight increase in cases under management on campus from the week prior. The week of Oct. 1 there were four cases under management, and the week of Oct. 8 the COG reported eight cases under management. Students traveling over fall break may not have directly caused the increase in cases the week of Oct. 15, Uhrich said.
"That's the most tests we've done in the single week, and the fact that we only had four positives [the week of Oct. 15] from that huge amount of testing, it's actually a really good percentage," Uhrich said. "The percentage total is considerably lower than you'll find in LA County. I was pretty pleased with the low number of positive cases that came from the students after fall break, considering we tested a lot of people."
LA County currently has a 0.82 percent testing positivity rate, while Occidental has a 0.24 percent testing positivity rate during the week of Oct. 10 through 16.
"I think we should congratulate ourselves as a community on our vigilance," Uhrich said.
According to Claudia Ramos, licensed vocational nurse at Emmons Wellness Center and COVID operations administrator, the testing center on campus is vigilant in ensuring student safety.
When students first arrived on campus this fall, they were required to be tested within their first five days on campus. After fall break, students were required to get tested by Oct. 18. According to Uhrich, there will be another round of testing the week after Thanksgiving break.
Students can expect to get an email in the upcoming weeks that they were selected for a randomized test, according to Uhrich. Uhrich said all students, faculty and staff are in the selection pool for randomized surveillance testing. However, if a student has tested the week before, they will be removed from the randomized testing for the following week. The school aims to test about a third of the on-campus population every week, Uhrich said.
"So we came up with a strategy to, say, let's take anybody who has not tested within the last week — they're the population selection. We randomize those and we take several hundred of those and we tell them, 'Come to test this week,' because it would give us a good picture into the rest of the community that isn't testing regularly," Uhrich said.
Uhrich said the number of positive tests has remained low and the college decided to implement randomized testing as a way of remaining vigilant.
"We decided that we wanted to increase our testing without making it an absolute hard requirement for everybody. And we thought of coming up with a random selection of community members — students, faculty and staff — was a good way to continue letting people know that testing is one of the tools that we have to make sure that we are remaining vigilant and we're staying on top of things." Uhrich said.
According to Adelina Lopez, interim director of Emmons Wellness Center, there was an increase in requests for the rapid tests after fall break. Although there has not been a significant increase in COVID-19 cases on campus, there has been an increase in viral respiratory infections, according to Lopez.
According to Lopez, if a student gets sick but it is not COVID-19, there are different routes to take to handle it appropriately.
"It depends on the case, we may ask them to still stay away from class if the patient has a fever, or they may have to use a KN95 mask until their symptoms improve if they attend class. It is student specific, so the best solution will be to get tested for covid-19 if negative, please see a provider and have them create the safest plan of care for you and your community," Lopez said via email.
Ramos said she recommends students utilize testing provided on campus when they feel symptomatic or have had outside exposure, regardless of whether they have student health insurance or not.
"I sometimes feel that they [students] do not know that whether they have Oxy insurance or not, they are all allowed to test at any time, during our testing hours. I feel there may still be confusion in that part," Ramos said via email.
Sharkey sent out an email Oct. 25 with the most recent COVID-19 testing data for the week of Oct. 22. The email reports four new positive cases, bringing the total cases under management to eight.