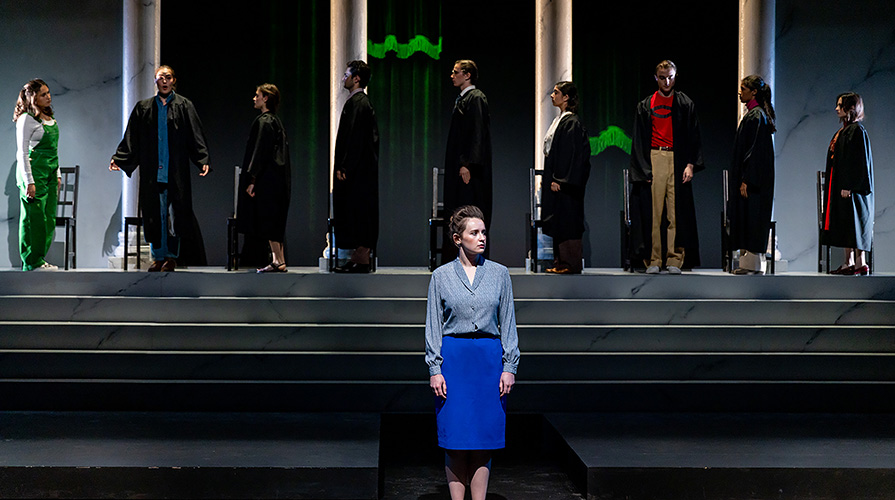 Occidental's Theater and Performance Studies department will open their production of Roe on Nov. 17.
This article was written for and originally published in The Occidental, the independent student-run newspaper at Occidental College. Read this article and more coverage online at theoccidentalnews.com.
"Genuine," "truth-seeking" and "heartbreaking" are the three words lead actor Day Rhizal (first year) would use to describe the play "Roe" by playwright Lisa Loomer.
"Roe" follows the landmark court case Roe v. Wade's young attorney, Sarah Weddington, and her plaintiff Norma McCorvey, also known as "Jane Roe," who wanted an abortion. The first act takes place before the Supreme Court's decision, while the second act focuses on Weddington and McCorvey's lives afterwards — illustrating the nuances of Weddington's life-long advocacy for abortion rights and McCorvey's conflicting shift to pro-life, although McCorvey has since confessed that she was paid to switch sides.
The scenic and lighting designer, Xinyuan Li, said the play was chosen with the Humanities for Just Communities' (HJC) theme for the fall semester in mind: health, illness and dignity. Another reason this play was chosen was its timeliness.
The Supreme Court overturned Roe v. Wade in June of this year and recently, California voted on Proposition 1, resulting in the addition of the right to abortion and contraceptive use to the state's constitution.
"It's very topical to our current political climate, and I also learned so much from the show, and I feel like it's been really revelatory to me in the way that it explores the very human things that happen behind big moments in history," Rhizal said.
Despite disagreeing with her character McCorvey in the second act, Rhizal said she enjoys how "Roe" emphasizes the humanity of the people involved in the court case.
"I didn't even know Norma McCorvey's name before the show," Rhizal said. "I just knew her as 'Jane Roe,' so I think it's really wonderful to get to know the people behind it."
The debate over abortion rights has caused major polarization, the extent of which is revealed through "Roe." According to the director Khanisha Foster, who is also the Wanlass visiting theater artist, the play's humor facilitates the delivery of its message.
"I think that comedy is honesty, and so it's not a contradiction to be honest — it is what gives us those polar spaces," Foster said. "Also, I think when people's rib cages are open, like when they're laughing, things are open to come inside. When you let someone laugh, and then you say something that is quite devastating and true, they receive it more than if it was just a dirge or a lecture."
Upon entering Keck Theater, Li said that the simplistic yet forceful scenery will set the mood for the play.
"When [the audience] enters the theater, they will see this marble, a really cold and harsh material that feels like it's a symbol of authority," Li said. "Then, we can introduce our really lively characters onto the stage and use that humanity to contrast the authority in the back."
According to Li, this play has been different from others he has designed for due its revealing quality, in which the multi-faceted stories behind Roe v. Wade are unwrapped while also making the audience feel included.
"When [other shows] start, it's all blackout, and all your focus is on the stage, but this time, we actually welcome the audience because they are part of the story," Li said. "Without [them], the case would not be the case [it is], and the show would not be the show it is, so in our theatrical world, the audience is a huge part of it, and we're not trying to exclude them. The entire theater becomes a whole."
Foster said that working with the entire cast and crew has been the most gratifying aspect of taking part in "Roe" behind the scenes.
"We are working on living history as an ensemble, so the process is not just about the performance and what we're capable of, but also about how we tell a story that's changing in real time," Foster said. "So it's very exciting. I consider every person in the room an active peer, [and] like a peer, we built it together."
The play is also just fun, Rhizal said.
"It's educational, it's entertaining, and it's supposed to be at least a little funny, so hopefully people laugh," Rhizal said.
"Roe" not only tells an important story of history, but also of now, as the status of rights is not unchanging.
"As a country, we are living and breathing this story," Foster said. "So many of us don't know the people who started the fight, and that was Lisa Loomer's goal — to really know where we began so that we can figure out where we're going."
"Roe" is running at Keck Theater from Nov. 17-19 at 7:30 p.m. and Nov. 20 at 2:00 p.m. Student admission is free.