Will Power , assistant professor of theater and performance studies, made his Center Theatre Group debut with his play Fetch Clay, Make Man , running from June 18 to July 16 at the Kirk Douglas Theatre in Culver City.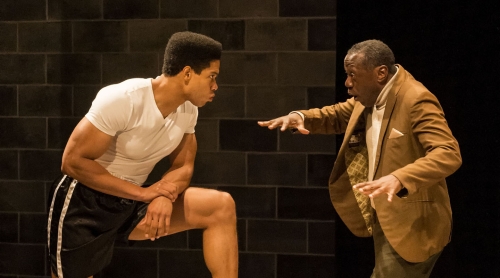 Directed by Emmy Award-winner Debbie Allen, Power's play explores the unlikely friendship between heavyweight boxing champion Muhammad Ali and controversial Hollywood actor Stepin Fetchit during the 1960s Civil Rights Movement.
Called "the best verse playwright in America" by New York Magazine, Power's plays and performances have received international praise and numerous awards. He is especially known for his pioneering of hip-hop theater and exploration of new theater forms. Before becoming an assistant professor of theater in 2020, he was named Occidental College's G. William Hume Fellow in the Performing Arts in 2009 and taught as a visiting professor in 2011.
For Power, Fetch Clay, Make Man is a uniquely Los Angeles story, both because it harkens back to Hollywood's Golden Age and interrogates the tensions that permeate perspective, perception and empowerment.
"I'm trying to unpack the complexities of who we are as human beings, particularly when we're trying to mold our public image and our private image in the context of class, sex, race and gender," he says. "Muhammad Ali's life was so epic. He was at the crux of real transformational change in American culture. His life was so critical to how we see the modern world."
I'm trying to unpack the complexities of who we are as human beings, particularly when we're trying to mold our public image and our private image in the context of class, sex, race and gender.
Power's inspiration for the play struck during a visit to the historic Marcus Books bookstore in San Francisco, where he found a photo of Ali and Fetchit together—a jarring discovery given the two figures' divergent reputations in Black cultural memory.
"Muhammad Ali was everything that we wanted to be as young Black boys: smart, funny, brilliant, courageous," he says. "I knew less about Stepin Fetchit, but I do remember a couple of elders in the community saying, 'He was an Uncle Tom, he was a sellout, never be like him.' When I saw that picture of them together, I thought, 'How could that be?'"
His discovery set him on a course to uncover details about their friendship. More than six years of research, interviews and writing eventually led to the play's 2010 opening at the McCarter Theater Center in Princeton, New Jersey, and subsequent productions across dozens of theaters and regional companies.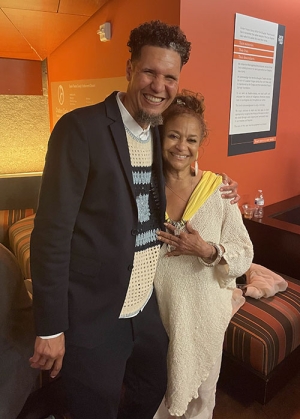 Power credits renowned director Allen for leading the Los Angeles cast with a deep understanding and reimagining of the story's spacing, character and pacing. On June 26, Allen joined Occidental College president Harry J. Elam, Jr. for an in-depth conversation about the production and the broader state of performing arts, sponsored by the California African American Museum .
"She's an icon, one of the greatest artists I've ever worked with," Power says. "The whole cast is phenomenal—it's like an acting clinic, what they're doing every night."
In addition to hosting Power's play, Center Theatre Group is one of the organizations participating in Occidental's 2023 InternLA program , which pairs students with Los Angeles-based non-profit organizations for summer-long internships. Michelle Teh '25, a history major and linguistics minor, currently supports the theater as a publicity intern.
In the classroom, Power hopes the play pushes students to grapple with the complexities of life.
"There's a version, or versions, of us that we give out in public, and then there's a more complex side that we may or may not even be aware of," he says. "I learned that both men were so much more complex than their public persona."
Power's next piece, Memnon—named after the biracial African king of Greek mythology who battled Achilles during the Trojan War—will run at the Getty Villa in Fall 2024.
Tickets for Fetch Clay, Make Man are available at the Center Theatre Group website , with performances running from Tuesday through Sunday.
Top Photo - from left to right: Alexis Floyd, Ray Fisher, Edwin Lee Gibson and Wilkie Ferguson II in "Fetch Clay, Make Man,"  produced in association with The SpringHill Company. Photo credit: Craig Schwartz Photography.