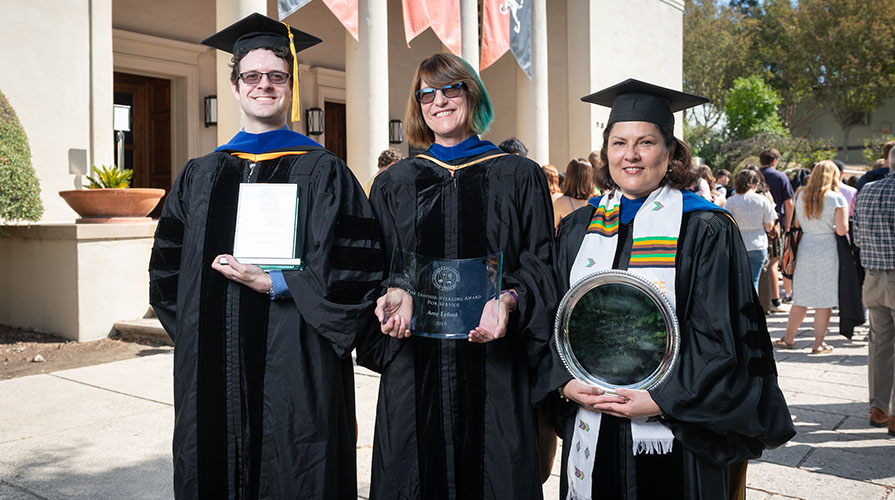 Occidental College Sociology Professor Dolores Trevizo '88 (right) will present Occidental's annual Sterling Lecture on September 30, a presentation delayed for 18 months by the pandemic.
Trevizo, a member of the Occidental faculty since 1996, was presented with the Graham L. Sterling Award, the College's most prestigious faculty honor, in the fall of 2019. Established in 1972 in memory of former trustee Graham L. Sterling, Occidental bestows the award annually to a professor with a distinguished record of teaching, service, and professional achievement. 
"Colleagues enthusiastically praise Trevizo as a scholar, teacher, colleague and mentor," Wendy Sternberg, vice president for academic affairs and dean of the College, said in 2019. "As a scholar, they cite her research into state violence and forced disappearances in Mexico that continues to earn her national and international recognition, with speaking invitations across the country and an invitation to a special conference in Florence, Italy.
"She also has been critical to the success of Oxy's Latino/a and Latin American Studies major and minor," Sternberg said. "She has taught the senior comprehensive class, guiding individual students' projects in disciplines ranging from theater to political science. Each year, she has organized a capstone celebration for LLAS majors—many of them first-generation students—at which they present their work to their peers, faculty, and their families.
"Finally, Trevizo is praised as an outstanding mentor to junior faculty at Oxy. As one of her colleagues said, 'I am inspired by how she maintains a prolific and high-quality research agenda with unerring support for each and every student in her classroom.'"
Traditionally, the recipient delivers a research presentation during the ensuing academic year. Trevizo's lecture, "Armed Vigilante Movements in Mexico, 2012-2015," will be delivered at 4:30 p.m. in Choi Auditorium. A reception will follow the talk at 5:30 p.m. on the Hameetman Career Center patio. 
Trevizo's research examines why vigilantes in Mexico illegally armed themselves in the name of enforcing the law between 2012-2015. Her talk will focus on those organized groups who declared they were providing security in specific places and whose collective actions were sustained for several weeks.
An Occidental graduate, Trevizo returned to the institution as a minority dissertation fellow and joined the faculty in 1996. Her courses focus on political sociology, social movements and revolutions, repression and human rights, immigration to the United States, and entrepreneurship in the United States.
She received her M.A. and Ph.D. from UCLA. Trevizo is a prolific researcher and editor, publishing dozens of journal articles and chapters and book reviews, in addition to two books: Rural Protest in the Making of Democracy in Mexico, 1968-2000 and Neighborhood Poverty and Segregation in the (Re-) Production of Disadvantage: Mexican Immigrant Entrepreneurs in Los Angeles (co-authored).
Trevizo is the recipient of numerous fellowships and awards, including the Haynes Foundation Faculty Research Fellowship (2007) and the UC MEXUS Postdoctoral Fellow (2002-2004). She also serves as the Chair of the Latino/a and Latin American Studies Department.