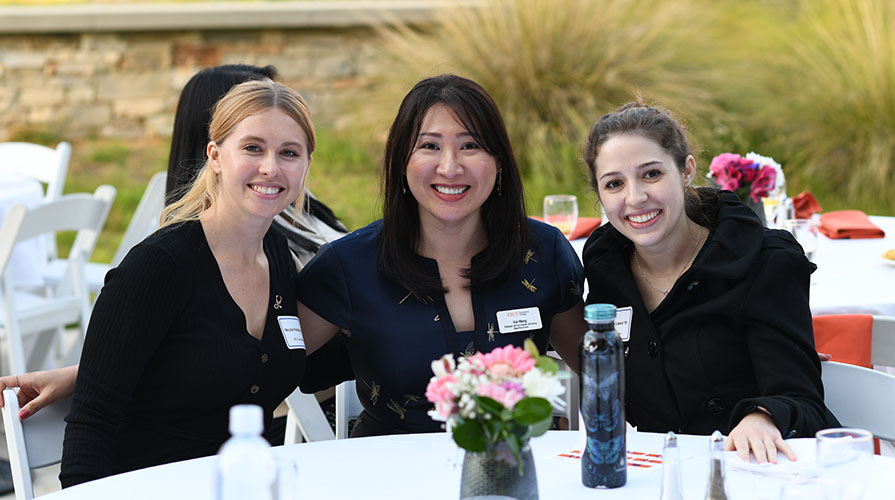 A dinner reception was held to honor the achievements of the 'pandemic cohort' of pre-health students—which include a 72% admission rate to graduate programs—and inspire future applicants.
Top image, from left: MD candidate Nicole Pelletier '19, Director of Pre-health Advising Kat Wang, MD candidate Vanessa Lopez '19
On Friday, April 29, an enthusiastic group of students, recent alumni, mentors and friends gathered on the Hameetman Career Center patio to celebrate the accomplishments of Oxy's pre-health program participants. Attendees included those who are entering or have graduated from pre-health MD or Ph.D. programs as well as aspiring undergraduates.
Oxy's Office of Pre-Health Advising (OPHA) supports students and alumni interested in pursuing careers in medicine, allied health and the biotech industry. It provides guidance and highlights opportunities as students select academic courses and engage in co-curricular activities such as research, volunteering and clinical patient interactions.
The dinner event included a traditional pinning ceremony for 12 graduating seniors and alumni who have been admitted to medical school and health profession programs. Many of the honorees received multiple offers from top-ranking medical schools such as University of California, San Francisco, UC San Diego, Duke University, Keck School of Medicine of USC and the University of Hawaii.
In addition to future physicians, these Oxy graduates are going on to become veterinarians,  physical therapists, nurses, physician assistants and optometrists. Those pursuing allied health fields have been accepted to competitive programs such as UC Berkeley, UC Davis and Washington University in St. Louis.
Students and recent alumni at the event represented the cohort that was most impacted by the global coronavirus pandemic, which canceled not only in-person learning opportunities but also in-person clinical shadowing opportunities, said Director of Pre-health Advising Kat Wang.
"However, these students demonstrated courage, strength and resilience, and many of them adapted to the challenge and become COVID-19 test-takers, contact tracers, or mental health counselors to combat the pandemic in their communities," she said. 
The hard work of this cohort is evident, as the admission rate for Oxy's medical school applicants for 2022 programs is an impressive 72% (vs. the national rate of 41%), and 28% of accepted students received full scholarships.
Dr. Mia Mattioli of Huntington Hospital, who led the virtual Huntington Hospital-Oxy Preceptorship program for Oxy students during the pandemic, spoke at the event. Her pre-med crash course helped students gain valuable insights into medicine by interacting with medical students, residents and attendings. Mattioli gave three pieces of advice to the future healthcare providers/physicians, whom she called future colleagues. Don't be afraid to make mistakes, she said, and take feedback graciously. Second, embrace teamwork and keep an open mind, recognizing that everyone is needed to take care of the patient. Finally, surround yourself with people and experiences that will remind you why you chose this career.
Associate Dean for Student Academic Affairs Carolyn Brighouse emphasized Oxy's pride in the diverse and talented students who are entering the healthcare workforce. 
"They will be harvesting cutting-edge science and technology to treat their patients, they will be delivering patient-centered care with effective communication skills, and they will be advancing medicine and health sciences through evolving research," she said. "Most importantly, they will be the agents of change in addressing healthcare challenges such as health disparity."
Pre-Health Student Association President Sherin Aboobucker Sidiq '22, a biochemistry major and pre-med student, also offered remarks at the event. She emphasized that no matter where Oxy students are on their pre-health journey, they are never alone. 
"There is such an incredible community of people here who can support and guide you during your time at Oxy and beyond," she said, speaking to her peers about the pre-health path. 
"Throughout your college career, you balanced rigorous coursework, prepared for grueling standardized exams, conducted research, performed community service, played sports, and represented your community through leadership. But, what really sets the pre-health community at Oxy apart from other institutions is not only our door-holding culture and fondness for the color orange, but also our commitment to supporting and uplifting each other."
Aboobucker Sidiq added that it was Oxy's tight-knit community that helped her and her peers weather the online learning during the pandemic.
"Even as our paths diverge," she said, "I hope that the sense of community and belonging we have created can continue to thrive long into the future."