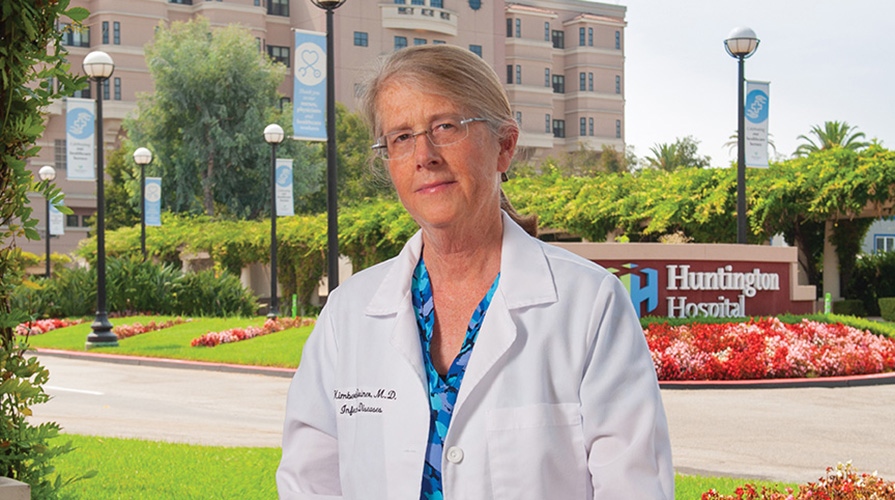 Through a new partnership between the hospital and the College's Office of Pre-Health Advising, 25 pre-health students have taken part in a tailored preceptorship program.
Main image: Dr. Kimberly Shriner '80 of Huntington Hospital, who started the virtual preceptorship program in Fall 2020.
This fall, Professor of Biology Roberta Pollock co-taught a course about the COVID-19 pandemic with infectious disease expert Dr. Kimberly Shriner '80 of Huntington Hospital. Starting in October, Shriner established a new opportunity for Oxy pre-health students to undertake virtual preceptorships at the 619-bed regional medical center.
Preceptorships are intended to help aspiring physicians gain clinical awareness and competency at diagnosing medical conditions by immersing them in clinical practice. Using Zoom, Shriner conducted regular rounds at the hospital that students observed remotely. Soon she began offering a weekly seminar class to discuss her patient case studies in more detail.*
Shriner's colleague, internist Dr. Mia Mattioli, took over the program in December, planning bi-weekly seminars to discuss various topics related to patient care and attend virtual panels with medical students and residents.
Kat Wang, Occidental's director of pre-health advising, encouraged her BIPOC students to participate, many of whom have very limited exposure to medicine but a budding interest in the field. Most of them are the first in their family pursuing a career in medicine.
"The value of such an opportunity is not just offering pre-med education for undergraduate students," Wang says, "but increasing the accessibility for the BIPOC community."
In addition to observing physicians and residents from a behind-the-scenes perspective during Zoom rounds, students are learning from case studies that also illuminate how medicine ties into public health and socio-economic issues.
Senior biochemistry major Maya Ushijima of Honolulu says that her preceptorship has made her future career goals much more tangible.
"In the classroom, we learn about the scientific basis of medicine, but this program has shown me how diseases present in real life and how healthcare providers approach treatment of their patients. It has also given me insight into the experience of a medical resident, which is valuable to me because it will be a big part of my path to becoming a physician."
For senior biology major Dafna Erana of Los Angeles, the program cemented her decision to pursue a career in medicine. She also gained an appreciation for how physicians work collaboratively with other professionals to support their patients.
"I was able to observe how physicians communicate with constituencies such as social services, bioethics committees and insurance companies in order to provide the best care possible for their patients," she says. "This experience demonstrated to me the ways in which physicians work to empower and advocate for their patients' health."
*Because students discuss real patient cases, they are required to complete the CITI HIPPA training offered by Oxy.