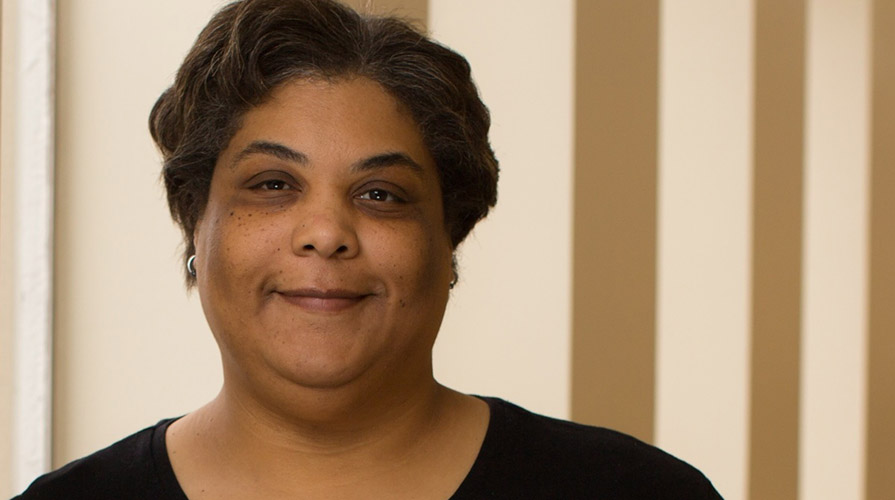 Through Occidental's inaugural Presidential Professorship, writer and social justice activist Roxane Gay will teach courses at the College during the spring 2022 semester.
Photo: Jay Grabiec/Harper Collins
As part of his broader efforts to promote social justice initiatives on campus, President Harry J. Elam, Jr. created the Presidential Professorship role for Roxane Gay this spring. The New York Times-bestselling author will be teaching in the Critical Theory and Social Justice (CTSJ) department this semester.
"Dr. Gay is the most profound and impactful social justice public scholar of a generation," says CTSJ Professor and Department Chair Caroline Heldman. "We're so honored that she's coming to Occidental College."
Gay is a writer, professor, editor and social commenter. She wrote the New York Times bestselling essay collection Bad Feminist in addition to the books Ayiti, An Untamed State, Difficult Women and the memoir Hunger. She is also a contributing opinion writer for The New York Times and founder of Tiny Hardcore Press. Gay has previously taught at Yale University, Purdue University and Eastern Illinois University.
This spring, Gay is teaching a course called "Writing Trauma," which already has an extensive wait list. A welcome event for Gay has been postponed because of the pandemic, but additional events will follow during the professorship, including at least one interview event hosted by the President's Office.
Dr. Gay's work is especially impactful because she reaches a wide audience, using an accessible literary style coupled with really deep critical thinking and theory.

–Professor of Critical Theory & Social Justice Caroline Heldman
"I can't imagine a scholar who's a better fit for Oxy," Heldman says. "She gives voice to concerns of racism, sexism, fat phobia and other forms of injustice. She has written some of the most powerful books on social justice issues."
Heldman originally reached out to Gay via Twitter to propose a teaching opportunity at Occidental, to which Gay responded that she was looking for an academic home. Amid competition from other institutions that were courting her, Gay ultimately chose Oxy. (She will be teaching at Temple University this coming fall.)
Gay's course will have a focus on teaching students how to use writing to change the world and using writing as a tool for social change.
"I think Dr. Gay's work is especially impactful because she reaches a wide audience, using an accessible literary style coupled with really deep critical thinking and theory," Heldman says. She's able to reach an audience that most social justice writers are unable to reach."