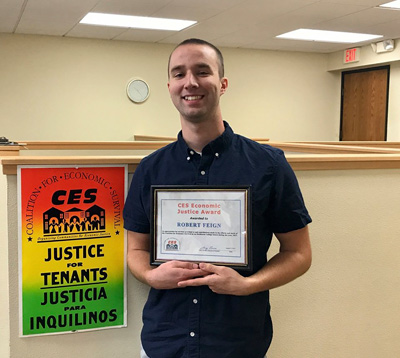 Occidental College's Robert Feign '19, an urban and environmental policy major from Chicago, recently received an Economic Justice Award from the Coalition for Economic Survival (CES) for his work as a summer intern. 
Feign was one of 13 students participating in the UEP department's annual summer internship program in affordable housing and environmental justice. After spending the last 10 weeks working full time as an intern with the CES, the group was so impressed with his work that it honored him with the award. Feign called the internship "an eye-opening experience." During his internship, he also got to meet California Lt. Gov. Gavin Newsom.
Each intern works full time for 10 weeks at different community-based nonprofits in Los Angeles, tackling affordable housing, environmental issues, planning, policy and organizing. 
Interns receive a $4,000 stipend and room and board on campus. They work with professional staff on a variety of projects dealing with housing development, housing policy, housing advocacy, environmental justice and community-based approaches to climate change, policy and planning.
The students are required to keep a journal and meet with Peter Dreier, the E.P. Clapp Distinguished Professor of Politics, and UEP associate professor Martha Matsuoka, who have run the program for 14 years, every Monday for two hours. They also write a final paper dealing with some aspect of the internship and the topic of affordable housing or environmental justice and policy.
This summer's interns and the nonprofit groups they worked with are:
Shahar Amitay '19 (UEP & biology), Strategic Concepts in Organizing and Policy Education (SCOPE) 
Gabriel Barrett-Jackson '18 (UEP), Strategic Action for a Just Economy (SAJE)
Tessa Blum '18 (politics & Spanish minor), National Day Laborer Organizing Network
Valentina Dabos '18 (DWA), Alliance of Californians for Community Empowerment
Robert Feign '19 (UEP), Coalition for Economic Survival
Ellen Hee (sociology, education minor), La Community Action Network (LACAN) 
Sarah Lasoff '20 (undeclared), Los Angeles Alliance for a New Economy (LAANE) 
Jaquelyne Rodriguez '18 (UEP), East Yard Communities for Environmental Justice
Samantha Royall '18 (UEP & American studies), LA Voice
Grace Sponaugule '19 (UEP), Southern California Association of Non-Profit Housing (SCANPH) 
Margaret Su '18 (sociology, English minor), API Forward Movement
Charlotte Umanoff '18 (politics & Spanish minor), Pacoima Beautiful
Kayla Williams '20 (UEP), Esperanza Community Housing