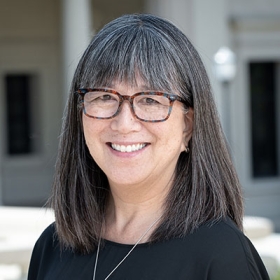 Professor, Urban and Environmental Policy; Executive Director, Urban & Environmental Policy Institute; Interim Faculty Director, Center for Community Based Learning
A.B., Occidental College; M.C.P., UC Berkeley Ph.D., UCLA
Department Chair, Urban & Environmental Policy
Hours
Click link to My Calendar for office hours.
Martha Matsuoka '83 focuses her teaching and research on issues such as metropolitan regionalism, sustainable community development, social movements, and environmental justice.
Matsuoka '83 focuses her teaching and research at the intersection of  community and regional development, organizing and social movements, and environmental justice.  She is the Executive Director of the Urban and Environmental Policy Institute, an applied community-based research center on campus.  
Her work in the field of community-based research draws on work with a wide range of NGOs including  the Asian Pacific Environmental Network, the Urban Habitat Program,  the Liberty Hill Foundation, the Jessie Smith Noyes Foundation, and the International Women's Network Against Militarism. She currently serves on the Leadership Board of the Los Angeles Food Policy Council and the Board of Interfaith Movement for Human Integrity.   Her first book, This Could Be the Start of Something Big: Regional Equity and America's Metropolitan Future, co-authored with Manuel Pastor and Chris Benner, was published by Cornell University Press in 2009.  Her recent work includes:
Matsuoka, M., Urquiza, J. Building community knowledge, resilience and resistance through research. GeoJournal (2021). 
Matsuoka, Martha and the Neighborhood Funders Group. Democratic Development for Thriving Communities: Framing the Issues, Solutions and Funding Strategies. 2017. California Funders Working Group on Gentrification and Displacement. June 2017.
Matsuoka, Martha, Jennifer Lucky with Alex Desautels, Craig Martinez, and Tida Leagnaver. 2017.  Power, Place, and Public Health: A Briefing Paper on Community Health and Inclusive Development in California. June 2017.