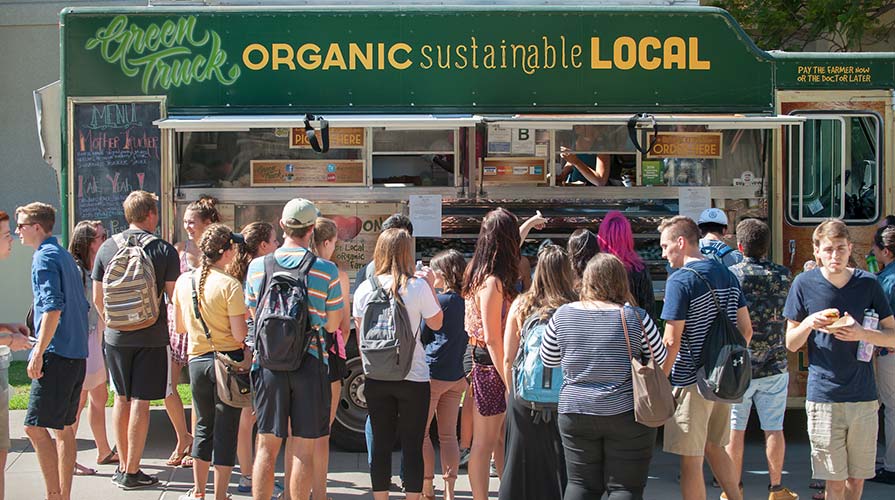 October is Food Justice Month!
Food Justice Month is a collaboration between many departments and clubs on campus to highlight the plight and rights of workers throughout the Food Chain. Come get involved with food in your community, and make sure not to miss the Harvest Fest Quad Fair on October 24th, when there will be tables on the Academic quad from FEAST, Campus Dining, the Green Bean and more.
This month long celebration of, and effort towards, Food Justice will feature food-related events and workshops, off-campus trips to forums, special sustainability theme meals in the Marketplace, a Food Justice quad fair (October 24th ) and more!
Check back soon for updates on events, and make sure to mark your calendars, so you can come join us for all of them! The calendar will be updated as more information/events become available. 
Thu October 3rd: FEAST Tea Workshop, 3-5 pm, located in the FEAST garden
Sat October 5th: Food Justice House Garden Clean-up 12-3pm, located at 4863 Stratford Rd
Thu October 8th: Food Chain Workers Alliance Speaker 1:30-3pm, located at 1882 Campus Rd. Conference Room (UEPI)
AND 
Highland Park Farmer's Market Trip 4-6pm - RSVP to dining@oxy.edu
Fri, October 11th: Cookin' it Up! Cooking Class 5:30-7pm, located in the Berkus kitchen
Sat, October 12th: Lorreto Elementary Garden Work Day 8:30am-11:30am
Thu, October 17th: South Pasadena Farmers Market Trip 4-7pm - RSVP to dining@oxy.edu
Fri, October 18th: Foraging Workshop 12:30-1:30 - meet in front of the MP
Sun, October 20th: Atwater Village Farmers Market Trip 10am-1pm - RSVP to dining@oxy.edu
Thu, October 24th: Food Justice Month Quad Fair 11:30-1:30pm 
AND
Thu, October 24th: South Central Farm Field Trip 11:45-3pm
Fri, October 25th: Annual Food Justice Themed Meal in the Marketplace 11:30am-1:30pm
AND Echo Park Farmers Market Trip 5-7pm - RSVP to dining@oxy.edu
Sun, October 27th: FEAST Feast 2-5pm in the FEAST garden
Email jenkinsk@oxy.edu if you have any questions.
For more information on Food Justice in Los Angeles, please visit the websites of the following organizations, who regularly host events, discussions, working groups, and workshops.