Welcome to the 2020-21 Occidental College Annual Report.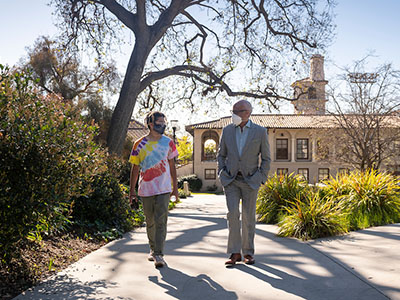 In the future, Occidental's 2020-21 academic year will inevitably be known as our pandemic year. Our unwavering commitment to the health and safety of our students and the Oxy community meant that first-years did not move into residence halls in the fall, Orientation was held online, athletic programs were put on hold and Oxy faculty had to teach remotely. Significantly, the challenges were many, the work was non-stop and the experience was nothing like what anyone had expected.
But to see how everyone rose to the occasion—faculty designing innovative online courses and mastering new virtual teaching tools; staff working nights and weekends to reimagine ways of getting the College's business done; students engaged and passionate about their education despite being scattered all over the world—was inspiring. With the availability of vaccines in the spring, we were able to start planning for the return of the vibrant in-person Oxy community we so cherish and end the academic year with genuine joy: socially distanced, in-person Commencement ceremonies for the Class of 2021 and, as promised, for the Class of 2020.
One of the most striking aspects of the year was the community's creativity and resilience. Students continued to participate in our cornerstone Kahane United Nations, Campaign Semester and Obama Scholars programs, even as they were remote. Despite logistical and other concerns, faculty still conducted their research and produced exceptional scholarship.
It will take more than a pandemic to slow the momentum of The Oxy Campaign For Good. This year, trustee Anne Wilson Cannon '74 became the most generous donor in Oxy history. An incentivized appeal offered by trustee Gil Kemp P'04, together with trustee Mike Gibby '68 and his wife, Barbara Nogy '68, generated more than $7 million in previously undocumented planned gifts. And the endowment produced a once-in-a-lifetime investment return that saw it rise above the $500 million mark for the first time ever.
We are greatly encouraged by and thankful for the support we have received, especially in this time of pandemic. Your ongoing commitment to the College not only fuels our optimism, it helps enable us to deliver Oxy's distinctive liberal arts education. I am so excited about Oxy's future.
Harry J. Elam, Jr.
President