Photos courtesy of Bella Kwan
Media Arts & Culture
Sociology
2024
Bella Kwan is a development & communications intern at Visual Communications, an organization dedicated to developing and supporting the voices of Asian American and Pacific Islander filmmakers and media artists.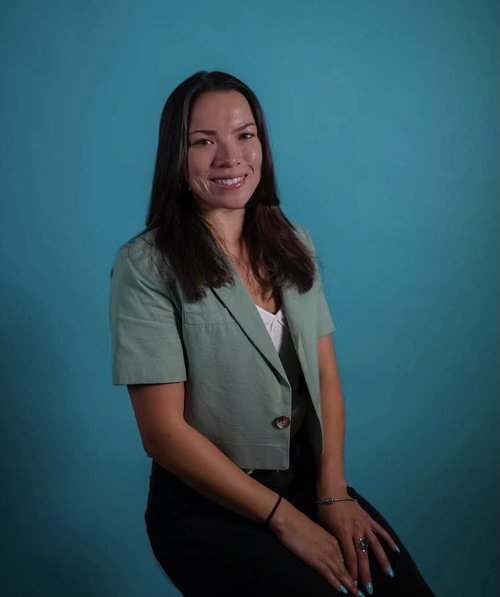 Tell us a little bit about yourself.
I am from Lewes, Delaware. At Occidental, I major in Media Arts & Culture and minor in sociology. I'm also a member of the lacrosse team and really enjoy the balance of being a student-athlete. I love photography, R&B music, going to the beach, and finding new food/drink spots with my friends!
How did you hear about Visual Communications (VC) and what drew you to apply?
I first learned about VC in the Fall of 2022 through Oxy's internship program, InternLA. InternLA is a donor-funded internship program that encourages Oxy students to gain real-world experience at a range of Los Angeles-based nonprofit organizations. I was interested in pursuing an internship centering around media or media arts and social justice. When looking at the list of organizations and exploring their websites, VC immediately caught my eye. I was drawn to VC's extensive history and current work that uplifts talented media makers within the Asian American and Pacific Islander community. I admired their community engagement through organizing screenings, exhibitions, and events that promote AAPI members. I was also drawn to their versatility in creating and presenting stories through various visual mediums, including film, video, and digital media.
What are your duties at VC? Which parts do you find most interesting?
As the development & communications intern, I am fortunate enough to gain experience in two departments. On the development side, my tasks include administrative duties, such as recording and cataloging donations, document preparations in support of grant applications, and gratitude practices. On the communications side, my tasks include organizing and creating content for VC's website and social media to increase exposure and outreach.
During my time at VC, I have found the work surrounding the archives to be the most interesting. The archives play a prominent role in VC's mission by housing and maintaining various films, videos, and photographs that have documented AAPI social movements and communities in California. My upcoming project involves taking a deeper search into the archives and sharing them via social media. I am very excited to begin this project and not only educate myself on past AAPI movements and individuals but be able to share them with others as well!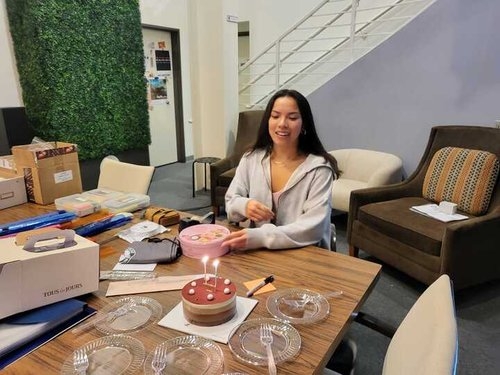 How would you describe your experience working at VC so far? Any memorable moments?
My experience as an intern at VC has been exciting and rewarding. As my first internship in Los Angeles, I was nervous on how everything would turn out. From my very first day, the entire VC family welcomed me with open arms. I have had the privilege to work alongside Elaine, on the development side, and Emily, on the communications side. They have been amazing mentors guiding me through my various tasks and duties. They have also taken the time to show me around Little Tokyo and introduce me to some amazing food/drink spots such as Café Dulcé and Rice & Nori.
One of my most memorable moments at VC was our staff lunch at Mitsuru Restaurant right near the office. I really enjoyed being able to sit down with everyone and get to know them while also eating delicious food. Another memorable moment is when I came into the office on my 21st birthday. Emily surprised me with my favorite blueberry matcha latte from Café Dulcé and Jason and Elaine got me a birthday cake! Despite only knowing me for two weeks, they still put the effort in to make me feel celebrated which goes to show how special the VC staff culture is.