Meet Katarzyna Marciniak of Media Arts & Culture, who focuses on the aesthetics and politics of transnational visual cultures, particularly on representations of foreignness, immigration, national (un)belonging, and the construction of border zones as sites of contention.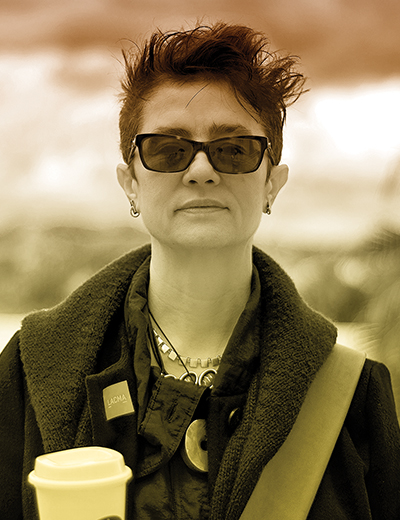 What attracted you to Occidental?
Oxy students and Media Arts & Culture (MAC) faculty. The students I worked with this past year were absolutely superb. They are intellectually curious, always probing, and always ready to challenge themselves during our discussions. In my classes I have had many international students and many students from immigrant families whose diverse viewpoints greatly enhance classroom collaboration. For many of them, questions of foreignness and national belonging, experiences of exclusion, xenophobia, and racism are lived realities and not just theoretical preoccupations, so they readily connect with the materials in my courses.
I thrive in an environment where students feel comfortable enough to engage in respectful disagreements and offer unfettered opinions. I owe a lot of my creative thinking to my students who challenge me daily in class. I have been fortunate to establish organic links between my research and my pedagogy. The work I do with my students reminds me that the ultimate value of our research is measured on the ground, in intellectual encounters with students.
Similarly, I am highly impressed with the MAC faculty. There is an interesting background story I can offer here. When I was choosing a pertinent writing sample for the hiring committee, I had in mind the article, "Foreign Women and Toilets," which I had published in Feminist Media Studies. All of my well-meaning colleagues advised me against selecting this publication as it felt too risky—it combines some autobiographical elements with the critical analysis of a diverse body of films featuring images of foreign women engaged in toilet cleaning. Acting on intuition, I went against their advice and submitted the article as part of my application. Several members of the search committee, whom I am now gratified to call colleagues, recognized the value of my writing and its political implication. Such a connection with colleagues is invaluable; it is something to cherish deeply. I am also very impressed by the camaraderie in MAC, both the faculty's genuine support for one another and their intellectual astuteness. I feel honored to be a part of such a smart and inclusive group.
After all the remote instruction due to the pandemic, what do you look forward to most about returning to campus?
I am a gestural teacher. I love the theatrical aspect of our pedagogical performances, so I have missed the bodily realities of teaching the most. In my classes, I enjoy seeing how my students roll their eyes, how we laugh and sigh together, how we thrive in a climate generated by our enthusiasm and wonder.
Media Arts and Culture is one of the fastest-growing departments at Occidental. How does the liberal arts approach to film studies differ from the film schools?
It differs greatly and this is what I love about MAC. More traditional film studies programs operate through a rather old-fashioned pedagogical model of focusing on national cinemas, or genres, or cinematic movements. Because of my training in philosophy and film studies and, because I also love performance art and various experimental forms of media, my social justice-oriented courses fit organically into MAC's interdisciplinary, politically progressive, and theoretically astute framework.
One of my favorite courses I teach is "Introduction to Visual Cultures and Critical Theory." This class fits MAC's liberal arts approach because, as I see it, it encourages creativity, experimentation, risk-taking, and critical thinking while grounding such approaches in a history of ideas—this is what distinguishes MAC from other programs teaching media.