Structural geologist Margi Rusmore was recently named the inaugural Gibby Professor of Science at Occidental. She blends a passion for teaching and research with a love for the outdoors and an abiding curiosity about how our planet works.
Growing up in Northern California, Rusmore fell in love with nature early on. She was only four years old when she began backpacking with her family. At 11, she learned rock climbing and mountaineering through the Sierra Club, going on to lead several club trips as a teenager.
"My parents were big conservationists, always aware of the open space and the wilderness around us," she says. "That's where I got my love for nature and the natural sciences—they fostered my curiosity and intellectual growth."
At 17, Rusmore climbed North America's highest peak, Alaska's Mount Denali, becoming the youngest woman to do so at the time. A few years later, she took a break from college to train for climbing in the Himalayas. In 1978, she and nine others were the first group of American women to climb Annapurna 1, the tenth highest mountain in the world.
She has remained very active. "I like cross country skiing,  hiking, backpacking and trail running, and I cycled intensely for years and years. I must be one of the only people on the planet that had to cut back on cycling and take up running because of joint problems."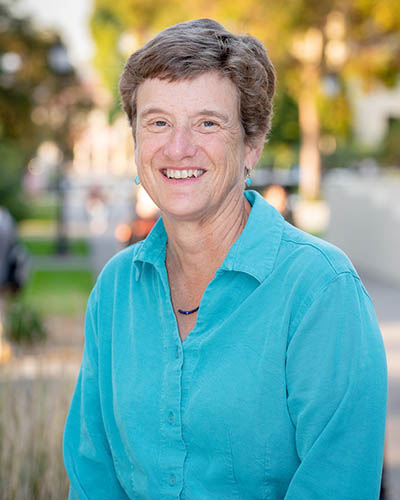 Rusmore, who has taught at Oxy since 1985, was selected for the Gibby Chairship on the basis of her active research profile and close involvement with student researchers.
"I was really surprised and gratified—it's quite an honor," she says. "Endowed professorships are a way for donors to recognize the work that faculty do here, and the role we have in students' lives and education."
A field-oriented structural geologist and tectonics expert, Rusmore studies how continents form, with a particular focus on the Coast Mountains of British Columbia.
"The middle of continents have been pretty structurally inert for hundreds of millions of years.  she says. "I'm interested in how something that stable becomes so complicated at the edges and what that tells us about how the Earth evolved. Geology uses the lens of time to help us understand current processes that happen deep in the Earth where we can't see them, looking at older rocks that have solidified and been affected by these processes."
Rusmore is currently chair of the geology department—her fifth time in the role—and played a central part in developing Oxy's environmental science program and the California Environment Semester. She has worked with numerous students through Oxy's directed science research program, with project sites both local and international.
"This year I've been working with a group of students to help them understand the structural and faulting history of rocks in the San Gabriel Mountains. They're finding out a lot about how you structure a research project and what it takes to frame a question that can be answered."
Rusmore's approach is similar to that of a graduate adviser, she says. While she typically frames projects for the students, she wants the students to "own" the research. Together they discuss what they're going to do, how they'll do it, and what tools they'll use. She's there as a resource, but wants students to lead their research, finding their own direction and pacing.
Rusmore often takes students out in the field locally for research projects, classes and  "methods trips," where they investigate new tools such as digital mapping techniques that can help them with their work. Other students pursue research further afield, looking at volcanoes in Hawai'i or joining a field camp in Nepal.
Rusmore loves to teach, and always has—everything but grading, she quips. She particularly loves to teach writing, since writing helps students clarify how they think.
"Fostering critical thinking is probably my biggest goal as a professor. I don't care what people go on to do, because whatever it is they're going to need those skills—now more than ever. The days of the scientist just puttering away are over. So it's great watching our students develop those communication skills and learn to really think through things."
As a researcher and a professor, being at Oxy has afforded Rusmore freedom to pursue her interests as well.
"I've done everything from land surface development to deep crustal structures because I don't have to keep to one niche in order to get my students trained up in that. I can be a bit more of an all-arounder, and I've liked that freedom. I've been able to think about lots of different things and collaborate with different sorts of scientists."