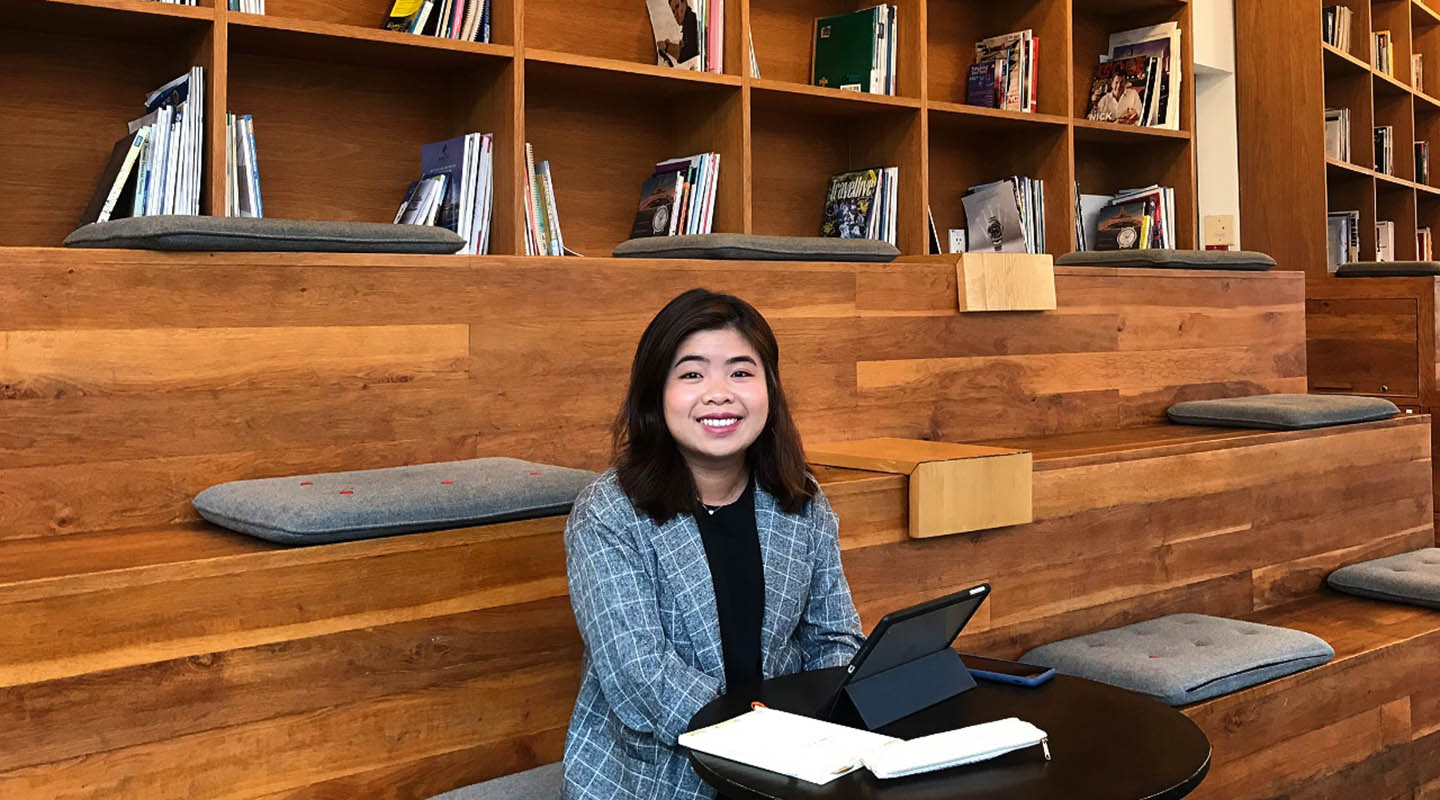 Diplomacy & World Affairs
Vivian Vuong majored in Diplomacy & World Affairs with an economics minor, which helped lead her to her current job as a Tax Trainee in the Business Process Solutions division at Deloitte Vietnam.
What inspired you to pursue a job in your current industry?
I had been working as a management trainee at a well-known FMCG (Fast-Moving Consumer Goods) group in Vietnam. During my time there, I felt like something was missing, a part of me was hoping to work for a company with an international network, where I would be able to not only work in a diverse environment but also grow as an individual. And I was lucky enough to receive a job offer at Deloitte Vietnam, so I took the opportunity.
What led you to choose your major?
I guess the biggest motivation would be curiosity. Growing up in Vietnam, politics and diplomacy are not really something you get to talk or learn about. Then I came to Oxy and took DWA 101 with Professor Lan Chu. Her class gave me answers to many of the questions I have about the world, and specifically my own country. Hence, it sparked a hidden interest in me I didn't know I had.
What were the most important skills that you learned during your time at Oxy?
I really learned to question the things about around me, and have an opinion about them. In my upbringing, you were never really required to have an opinion or question things. At Oxy, I've learned that you don't really have to take things the way they appear initially. The second skill I learned is how to give and not just receive. I learned to give people my time, my attention and support whenever they needed it.
Talk about the process you went through to land your first job out of college.
I spent the spring semester of my senior year searching for and applying to many jobs both in the United States and back in Vietnam. I landed my first job as a management trainee the same month I graduated. I chose this job because I realized I didn't have much knowledge about the fields I was interested in, and the job would compel me to use the shortest time to become an expert in each department of a typical company structure. So I familiarized myself in areas like marketing, trading, accounting and R&D work over the course of eight months.
The Hameetman Career Center definitely helped to ease the pain of job applications and making future plans that would allow me to achieve work-life balance.
Did any Oxy faculty, alumni, or others play a role in guiding you toward your post-graduation plans?
The Human Resources office definitely played an important role in giving me professional-world experience. The ladies in HR guided and mentored me on the soft skills and mentality I would need to succeed in the workplace. The Hameetman Career Center definitely helped to ease the pain of job applications and making future plans that would allow me to achieve work-life balance. I sought help from HCC staff for my resume and career networking, and they were wonderful and patient enough to help me with these things.
Any advice for current students at Oxy?
Don't hesitate to start small. Starting with an entry-level position might not be a bad thing because that is where you get to do different tasks that are not specifically tied to one job description. That's where you get to try out your likes and dislikes. Also, don't waste your summer—do at least one thing you can put on your resume, big or small. Finally, enjoy your time in college, I have to say that my time at Oxy was the most beautiful time of my life.
Read more young alumni profiles.