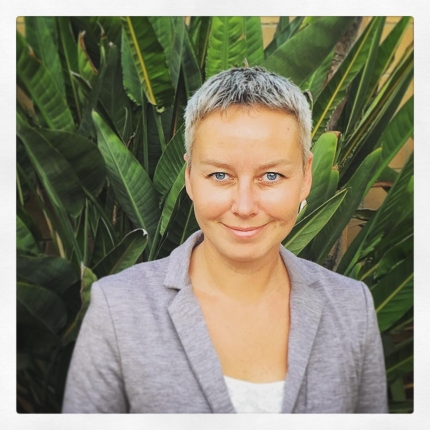 The Spring 2021 Biology Seminar Series continues with our very own Biology Lab Manager, Dr. Katie Zyuzin. The seminar is on Tuesday, February 23rd, at 12:00pm PST.
"Life [is] like a box of chocolates" and the story of why you should be careful eating chocolate if you have migraines
Dr. Katie Zyuzin was born in Estonia, a country in Northern Europe. She moved to the United States by herself at the age of 19 years old. Her first accomplishment was obtaining her bachelor's degree in Neurobiology from the University of Washington. She then relocated to Southern California where she received a position as a staff research associate in the UCLA Neurology department. During her five years at UCLA, she was able to use and develop a variety of electrophysiological and imaging techniques to study Cortical Spreading Depolarization (CSD) in mice. CSD is a slow wave of neuronal depolarization that travels through the brain at a speed of 2-5 millimeters per minute. It causes drastic changes in ion homeostasis, alters vascular function, and leads to sustained depression in neuronal activity. Interestingly, Spreading-Depolarization-like activity is found in the majority of animals studied and it seems to be playing a role in fundamental processes such as development, survival, and death. In humans, numerous CSDs are seen after a traumatic brain injury, stroke, or seizure. There is also evidence in patients with migraines that CSD is the underlying cause of the Migraine Aura. Dr. Zyuzin will share her unique experiences in STEM as a foreigner, as well as talk about her migraine research where Dr. Zyuzin collaborated with leaders in the field at UCLA. These many influencing events and milestones in her career and education are what have led Dr. Zyuzin to acquire her Ph.D. in Neuroscience.
Please reach out to oasin@oxy.edu for Zoom details.