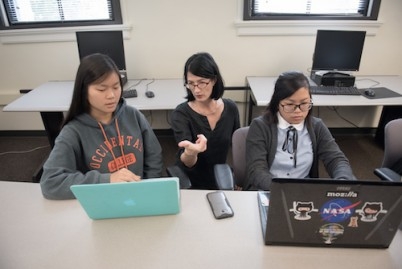 It took Occidental's new computer science major less than a year to make front-page news in the Los Angeles Times. Through extensive quotes from faculty and students, the story describes Oxy's innovative approach that asks students to explore technology's impact on the world and the challenges that come with it.
Launched last fall, the interdisciplinary computer science major is one of a growing number of programs established at liberal arts colleges that look beyond a narrow vocational approach to the field.
Computer science classes at Oxy "also push [students] to grapple with the inequalities and philosophical dilemmas that technology is creating out in the world," the Times reports. The goal is to make students "consider the real-world implications of what they are doing — that their code is not just abstract problem-solving but may have positive or negative impacts on real people," Assistant Professor of Cognitive Science Justin Li tells the newspaper.
Oxy's approach also is designed to tap talent from a broader range of students, including those who otherwise might not have considered the field. Nationwide, more than 80 percent of computer science majors are men, the Times notes. There are now 38 declared computer science majors at Oxy, almost half of whom are women.
Junior Chloe Zeller, a double major in computer science and cognitive science with a minor in math from Winnetka, Ill., tells the Times that she was worried that computer science would be too hard, but says the way Occidental teaches the material helped her find ways to make it her own.
"CS is situated in a lot of different places now," Zeller says. "It's not just this discrete thing that's by itself in a little box. In my very first class, there were a variety of math people, science people. I had a politics major in my class, a psych major."