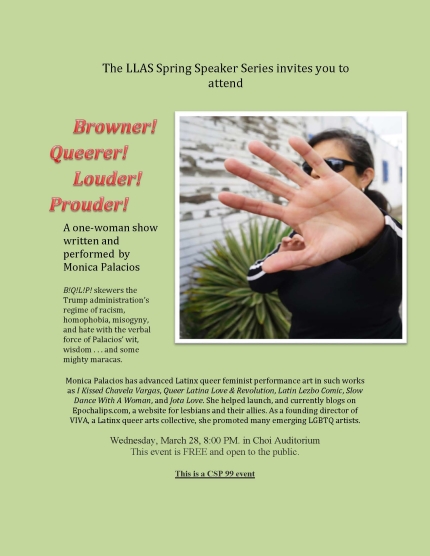 March 28, 8 pm
Choi Auditorium
B!Q!L!P! skewers the Trump administration's regime of racism, homophobia, misogyny, and hate with the verbal force of Palacios' wit, wisdom . . . and some mighty maracas.
Monica Palacios has advanced Latinx queer feminist performance art in such works as I Kissed Chavela Vargas, Queer Latina Love & Revolution, Latin Lezbo Comic, Slow Dance With a Woman, and Jota Love. She helped launch, and currently blogs on Epochalips.com, a website for lesbians and their allies. As a founding director of VIVA, a Latinx queer arts collective, she promoted and empowered many emerging
LGBT artists.
For more information about her career visit www.monicapalacios.com.
This show is FREE. On-campus parking is FREE.
**This is a CSP 99 event.**