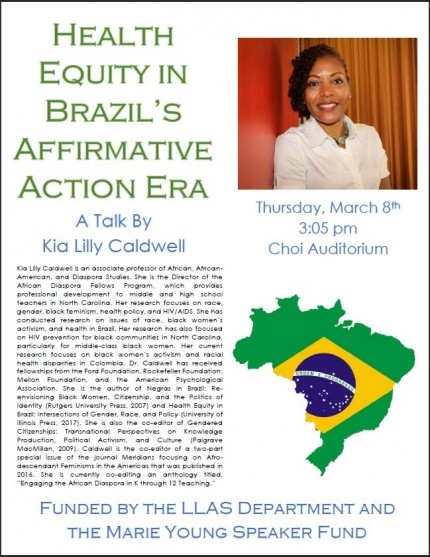 "Health Equity in Brazil's Era of Affirmative Action": A presentation by Dr. Kia CaldwellAn event in the Latina/o and Latin American Studies (LLAS) Speaker series 
Kia Caldwell is an associate professor of African, African-American, and Diaspora Studies at the University of North Carolina. She studies and teaches courses on race, gender, black feminism, health policy, and HIV/AIDS. Her research on issues of race, black women's activism, and health in Brazil has led to two book publications: Negras in Brazil: Re-envisioning Black Women, Citizenship, and the Politics of Identity (Rutgers University Press, 2007) and Health Equity in Brazil: Intersections of Gender, Race, and Policy (University of Illinois Press, 2017). Her current research focuses on black women's activism and racial health disparities in Colombia. 
 
This event is free and open to the public.
 
For additional event information, contact Prof. Raúl Villa, LLAS Program Chair: rhvilla@oxy.edu; 323-259- 2695.
 
This event is a collaboration among the LLAS Program, the Economics Department, and Black Studies.
 
The LLAS Speaker Series is generously supported by the Marie Young Speaker Fund and the Office of the Dean of the College.