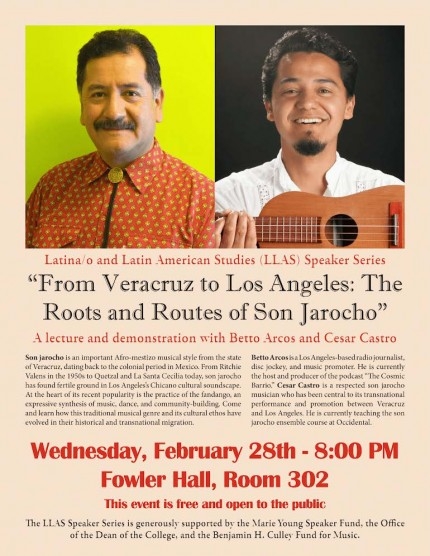 An event in the Latina/o and Latin American Studies (LLAS) Speaker series
Son jarocho is an important Afro-mestizo musical style from the state of Veracruz, dating back to the colonial period in Mexico. From Ritchie Valens in the 1950s to Quetzal and La Santa Cecilia today, son jarocho has found fertile ground in Los Angeles's Chicano cultural soundscape. At the heart of its recent popularity is the practice of the fandango, an expressive synthesis of music, dance, and community-building. Come and learn how this traditional musical genre and its cultural ethos have evolved in their historical and transnational migration.
 
Betto Arcos is a Los Angeles-based radio journalist, disc jockey, and music promoter. He is currently the host and producer of the podcast "The Cosmic Barrio." Cesar Castro is a respected son jarocho musician who has been central to its transnational performance and promotion between Veracruz and Los Angeles. He is currently teaching the son jarocho ensemble course at Occidental.
 
This event is free and open to the public.
 
For additional event information, contact Prof. Raúl Villa, LLAS Program Chair: rhvilla@oxy.edu; 323-259-2695.
 
This is a CSP 99 event.
 
The LLAS Speaker Series is generously supported by the Marie Young Speaker Fund and the Office of the Dean of the College.