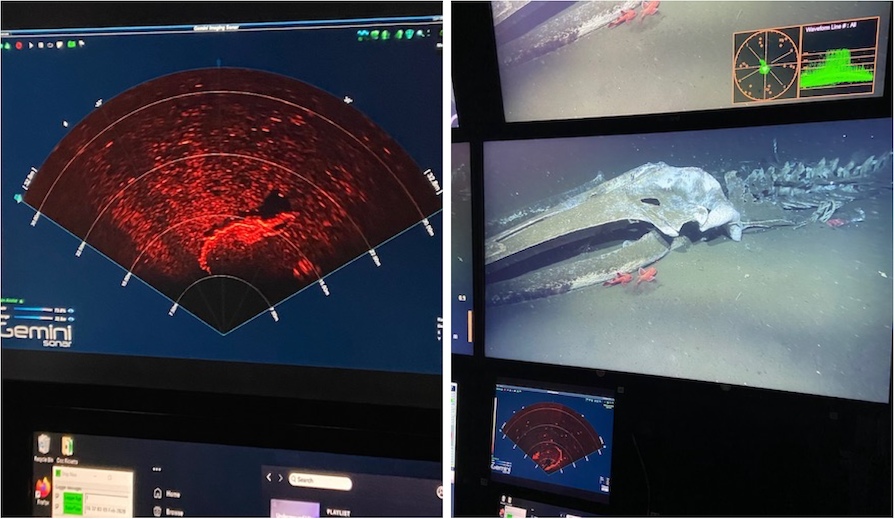 Our final post has two related messages about the hazards of shipping traffic and plastic on marine life. 
Rosebud' was a 21-meter long pregnant fin whale that was struck and killed by a ship in 2011 (according to an autopsy once she washed ashore in Pt Loma, San Diego). Dr. Greg Rouse, at SIO, gathered the necessary team and supplies (including 7 tons of metal chain) to sink her ~10 miles off the coast in order to return her biomass to the sea. This is a natural occurrence under whale migration corridors (ex. along the coast of California) and the resulting ecosystem that grew up around her body is fascinating. We have been visiting ever since and each time is different. In addition to abundant worms that look like red shag carpet on the bones (known as Osedax, which means bone-eating in Latin), we also noticed, and sampled, sulfide-reliant clams and snails ¾ an indication that the whalefall, as they are called, is in one of the final stages of decomposition. The truly final stage, especially at very low oxygen levels like we see in the area of Rosebud, will be a structural bone reef of sorts, where anemones and sponges might find a foothold.
While sampling the site we noticed an incredible amount of trash, mainly plastic bags. While common, it is still a shock to see so much trash so deep in the ocean (800m). You will see from the accompanying photo, the number of bags and a Happy Birthday mylar balloon we picked up in just 15 minutes of time devoted to trash collecting. We plan to visit this site again in 2022 to continue to monitor changes to the animal and microbial community.
By all accounts, our expedition was a success. We met our research objectives and luckily hit a calm weather window with ferocious winds just before and after our time at sea. We had an incredibly hard-working group of scientists who are all excited to get back to the laboratory to work on their samples and solve the many mysteries of life in the deep ocean.